Events in the Toms River NJ Area





---------------------------------------------


Submit an Event to Toms River Online

Featured Events:

The Antiques, Crafts, and Collectibles Faire is coming soon! New location: Toms River High School South, 55 Hyers St, Toms River, NJ 08753.
The Ocean County Historical Society is partnering with the Toms River South History Club to hold their 34th Annual Antiques, Crafts, and Collectibles Faire in the Toms River High School South Cafetorium. This two-day Faire will take place on Saturday, May 15th from 9am – 3pm and Sunday, May 16 from 9am to 3pm. There will be over 50 tables of antiques, crafts, and collectibles, plus NJ history books, baked goods, local historical societies' exhibits, local artist exhibits, children's entertainment, history reenactors, music, food & drink, 50/50, and more. Admission is $2 each day for people 18 and over. Masks are required.

The Downtown Night Out RETURNS beginning May 1st. From that point on you can enjoy dinner every Friday & Saturday evening, 5pm-10pm on Washington Street, Downtown Toms River. Restaurants throughout town are open for dining and a section of the street is closed for outdoor seating. The local brewery and distillery add extra excitement to the Night Out. Please call restaurants for reservations - see the list of participating restaurants (check back for updates). Everyone is asked to adhere to all social distancing guidelines.

The Downtown Toms River Farmers' Market starts on Wednesday, May 19th. The Market is in the parking lot of The New Life Church at 700 Main Street, Downtown Toms River. Hours: 10am to 4pm (rain or shine).

Toms River Fire Company #1 125th Anniversary Parade / Event -- Saturday, June 12, 2021, 9am to 5pm.
There is a Parade (10am) starting on Hooper Ave. by Toms River High School South that proceeds down Hooper Ave. to Water Street, and then right on Robbins Street ending at the firehouse. Enoy a Block Party on Robbins Street with Music, Craft Vendors, Beverages, and Food.

Toms River Pride Event - Sunday, June 13th from 11am - 5pm on Washington Street in Downtown Toms River. The Toms River Pride Committee and Exit 82 Theatre Company invites the the community to participate in Toms River's 3rd Annual LGBTQIA2S+ Pride Festival, This festival welcomes all and will be family friendly. Enjoy food, vendors, performances, shopping, and festivities! COVID safety protocols will be in effect, including the requirement of masks or face coverings, social distancing and sanitation guidelines.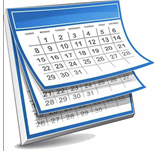 SEE THE EVENT CALENDAR

-------------------------------------------

Local Organizations & Non-Profit Announcements and Events

ALSO ---See our list of "Things to Do in the Toms River Area"

PARKING IN DOWNTOWN TOMS RIVER

See Ocean County NJ Events





Toms River has many great Events - The Annual Halloween Parade, the Wooden Boat Festival, Chili Fest, Ice Cream Festival, Harvest Fest, and many more.




------------------------------------------------------

External links on Toms River Online are made available to visitors for informational purposes. Toms River Online is not responsible for any consequences resulting from visiting (clicking on) external links.