Events in the Toms River NJ Area
Featured Events:


PARADE CANCELED DUE TO THE WEATHER....

Toms River 2017 Memorial Day Parade & Ceremony, Monday May 29 2017 9:30am
Toms River's annual Memorial Day Parade and Ceremony, hosted by American Legion Post 129, will begin at 9:30am, marching from the Office Lounge south on Main Street, turning left on Washington Street, and concluding with a Memorial Day ceremony in front of town hall.

----------------------------------

The FIRST Farmers Market of the Season is coming up on May 24th! Note the NEW LOCATION.
The Downtown Toms River Farmers' Market takes place at the Ocean County Parking Garage Lawn on Hadley Ave., every Wednesday 11am to 5pm. Convenient FREE parking is available. NJ Jersey Fresh farmers featuring fruits & vegetables, baked goods, pickles & olives, candy & nuts, NJ winery, homemade soaps, teas, and much more! For more info, contact Downtown Toms River: 732-341-8738.
----------------------------

EVENT CALENDAR
Submit an Event to Toms River Online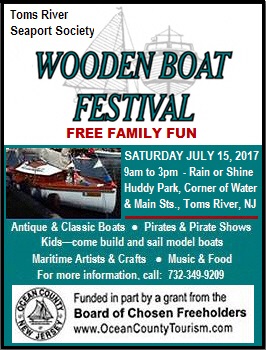 Local Organizations & Non-Profit Announcements and Events

ALSO ---See our list of "Things to Do in the Toms River Area"

PARKING IN DOWNTOWN TOMS RIVER

See Ocean County NJ Events





Toms River has many great Events - The Annual Halloween Parade, the Wooden Boat Festival, Chili Fest, Ice Cream Festival, Harvest Fest, and many more.




------------------------------------------------------

External links on Toms River Online are made available to visitors for informational purposes. Toms River Online is not responsible for any consequences resulting from visiting (clicking on) external links.