Events in the Toms River NJ Area
Featured Events:

28th Annual Chili & Salsa Cook-off, Saturday May 20th 2017, 11am to 5pm. The festival takes place on Washington Street, Downtown Toms River. Vote for your favorite chili and salsa! Music, vendors, inflatable rides, face-painting, sand art and more for the Kids!

------------------

EVENT CALENDAR
Submit an Event to Toms River Online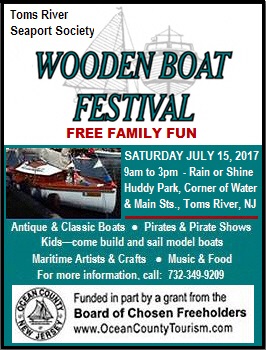 Local Organizations & Non-Profit Announcements and Events

ALSO ---See our list of "Things to Do in the Toms River Area"

PARKING IN DOWNTOWN TOMS RIVER

See Ocean County NJ Events





Toms River has many great Events - The Annual Halloween Parade, the Wooden Boat Festival, Chili Fest, Ice Cream Festival, Harvest Fest, and many more.




------------------------------------------------------

External links on Toms River Online are made available to visitors for informational purposes. Toms River Online is not responsible for any consequences resulting from visiting (clicking on) external links.