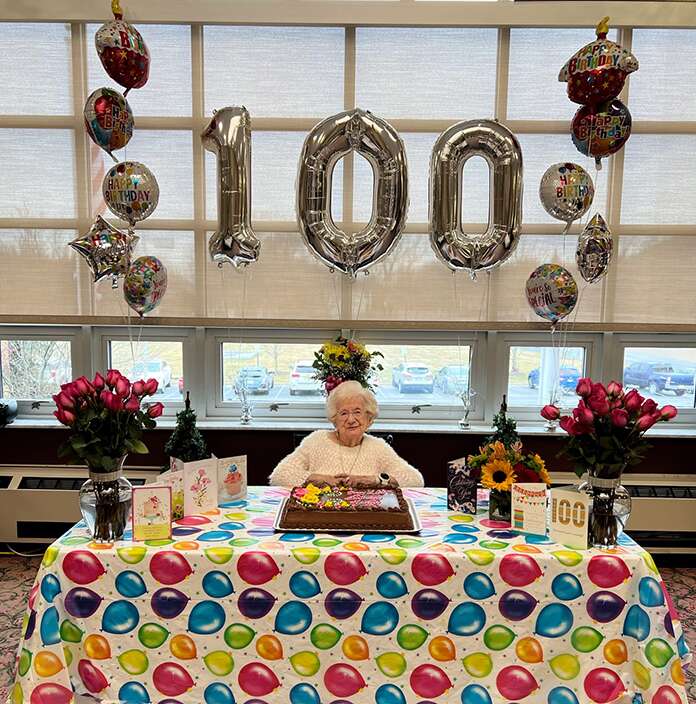 TOMS RIVER – In a life surrounded by family, art, reading, and love, Rose Garden Nursing and Rehabilitation Center celebrated her 100th birthday on March 10.
Virginia "Ginny" Huhndorf has three loving children – Hope, Eric, and Valerie. She was married three times and spent much of her time traveling, being a "bookworm," and being an artist.
She was asked what she wants people to know about her life. "I think life almost stopped when we had the virus – I stopped painting, and almost gave up. It took a long time to get back to myself," she said. "Today, being 100 years old, I can't understand why I'm living this long, and it's not because of eating a lot of cheese or ice cream; it's good genes, living a nice life, having something to look forward to each day and helping people when you can."
She currently teaches a weekly painting class for her fellow residents at Rose Garden Nursing and Rehabilitation Center. She's created hundreds of paintings. Some, she has sold; some are given to family, friends, residents and staff.
"My best friend has what looks like an art gallery of my paintings," she said. "I look at some of them and think, 'Did I do that?'"
She lived most of her life in New England. She worked at a jewelry factory, attended Quinsigamond Community College, and later became a secretary at a vocational High School.