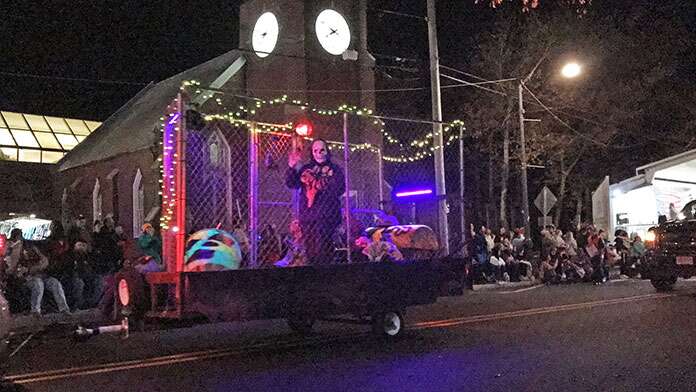 TOMS RIVER – Jaywalking is about to become a major problem as hordes of ghouls and ghosts will be roaming the streets of downtown Toms River.
The annual Halloween parade will be held on October 31, starting at 7 p.m.
The parade is run by Toms River Fire Co. No. 1, but they don't control the Trick or Treat night for your town. They just ask that the towns don't double book these two activities on the same day so that everyone can enjoy them both, Halloween Parade Chairman Captain Carl Weingroff said.
Registration to march, drive, or shuffle menacingly in the parade is from 8 a.m. until 4 p.m. on the day of the parade only. Registration is at the firehouse, 26 Robbins Street in downtown Toms River.
There will be 10 walking divisions and 14 motorized divisions for awards, including new ones for this year.
The fire company notes that there will be no walkers around motorized vehicles. Also, nothing will be thrown off motorized vehicles.
Marching bands from the Toms River School District as well from Manchester High School will be in the parade, Weingroff said.
The parade will make its way from Highland Parkway, down Route 9, turning on Washington Street and ending at the county Administration Building. The roads will be closed in the evening to make it safe for all the undead.
Parade watchers are welcome to mark their seats with chairs along the parade route on that day only. However, they are being asked to secure them so they are not a traffic hazard. If they are blown out into the street by the wind, they might be confiscated by township police.
People are being urged to park in parking lots. Make sure you don't block any fire hydrants or driveways.
There is no grand marshal this year. Last year, they honored all front line health care heroes.
  If you can't make it to the parade, it will be broadcast live at facebook.com/trfchalloweenparade or facebook.com/TomsRiverFireCo1 and downtheshoreradio.com. It will be broadcast afterward on the school district's YouTube channel.
  Like in previous years, it is being run by the Toms River Volunteer Fire Company No. 1, while Company No. 2 provides fire coverage for the night. This will be the 84th parade. The first one was in 1919. However, a few years in the 1930s were missed due to lack of funds. There were also no parades during some years of WWII, in the aftermath of Superstorm Sandy and the pandemic. Its billed as the second largest Halloween parade in the country, falling behind Greenwich Village.