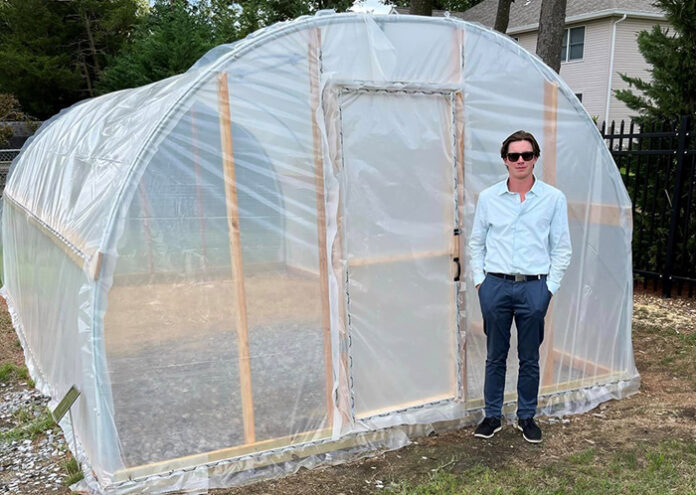 TOMS RIVER – James Monahan, an Eagle Scout with Toms River BSA Troop 59, recently completed his Eagle Scout Service Project on the grounds of St Joseph's Catholic Church.
James, with the help of his fellow scouts, designed and constructed a large greenhouse with the goal of reducing food insecurity for local Ocean County families. The greenhouse also serves as an outdoor classroom for teaching students about sustainable agriculture.
To achieve the prestigious rank of Eagle Scout, scouts are required to demonstrate leadership while performing a project for the benefit of any religious institution, school, or community organization. James, a parishioner of St. Joseph's Church, devoted his project to a beneficiary who holds special meaning for him. He hopes his project can help supplement his church' food pantry with freshly sourced produce.
James recognized that hunger is still a major issue in Toms River and Ocean County. He expressed, "I don't want anyone to go to bed with an empty stomach. I want my greenhouse to contribute towards the greater solution." According to a recent Needs Assessment conducted by the New Jersey Department of Children and Families, Ocean County endured a rise in household food insecurity. At age 17, James joined a broader league of community advocates and organizers who are committed to eradicating local hunger.
Following the successful completion of his service project and board of review, James achieved the rank of Eagle Scout on September 18. He earned a total of 35 merit badges, two eagle palms, and the difficult BSA mile swim award. James is a junior student at Christian Brothers Academy in Lincroft. He participates in a number of school service clubs, plays clarinet in the band, and is a varsity Junior PGA golfer. James also interned with the United States House of Representatives. He has a goal of attending college to pursue a career of meaningful service.
  To learn more about St Joseph Church's food pantry, and their community resources, visit stjosephtomsriver.org.