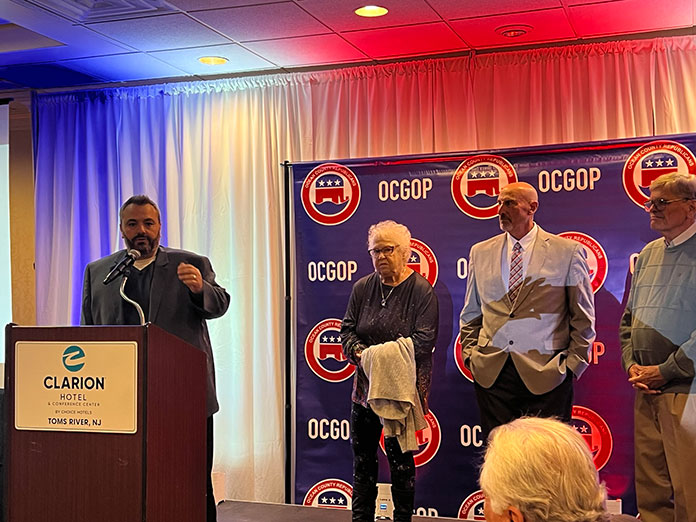 By Bob Vosseller, Stephanie Faughnan and Chris Lundy
TOMS RIVER – Ocean County Republican Chairman George Gilmore announced Dan Rodrick's name as Toms River's newly elected mayor, setting off a resounding burst of applause from the exuberant crowd assembled at the county GOP's watch party.
"You just kept pushing and pushing," said Gilmore. "Did you hit 70 percent, tonight, Dan?"
"I think he's going to do a lot for Toms River," Gilmore added. "I think it's something the town desperately needs going forward in the direction that all the residents of Ocean County and Toms River, in particular, needs."
While it was widely known that Gilmore favored Geraldine Ambrosio as his preferred candidate during the primary race, when the time came to support Rodrick in his campaign against the Democrat Ben Giovine, the Republican party rallied together in a unified front.
  In his victory speech, Rodrick expressed his gratitude for the party's unity and the hard work of his supporters, with a particular emphasis on bridging the divide between factions within the Republican Party.
Touching upon the issues that had dominated the election, Rodrick noted, "I believe tonight's vote is a referendum on the downtown redevelopment plan. No one wants to live in a city; we moved to Toms River to get away from cities."
Highlighting the importance of preserving the town's unique character and charm, Rodrick indicated that addressing the redevelopment plan would be among his top priorities.
In addition to thanking his family and supporters, the new mayor-elect made it a point to thank the presidents of both Toms River Republican clubs for their support and called for unity among the clubs.
"We are so much stronger together as a Republican Party," asserted Rodrick.
The unofficial tallies have Rodrick with 13,071 votes over Giovine's 5,715. There were 142 write-ins.
The residents who will join the Township Council next year are Republicans Lynn O'Toole, 12,850 votes; Tom Nivison, 12,797 votes; and Craig Coleman, 12,671 votes. They bested Democrats Michelle Williams, 5,448 votes; Rhetta Jackson-Fair, 4,967 votes; and Ruby Franco, 5,172 votes.
There were two write-in candidates this year, Republican Dana Tormollan and Democrat Paul Williams. There were 510 votes for write-ins. Even though the identity of those write-ins won't be known for days, they won't be enough to beat the 12,000 votes that the winners received.
These are considered unofficial vote totals because the County Board of Elections will take some time to certify the results.
Tom Nivison is the owner of Silverton Farms. Lynn O'Toole is the president of adult community Holiday City Silverton Phase II. Craig Coleman is the former principal of Ocean County Vocational-Technical School.
  After the election, there will be another new council member once Rodrick vacates his spot. That member will be appointed by the Township Council.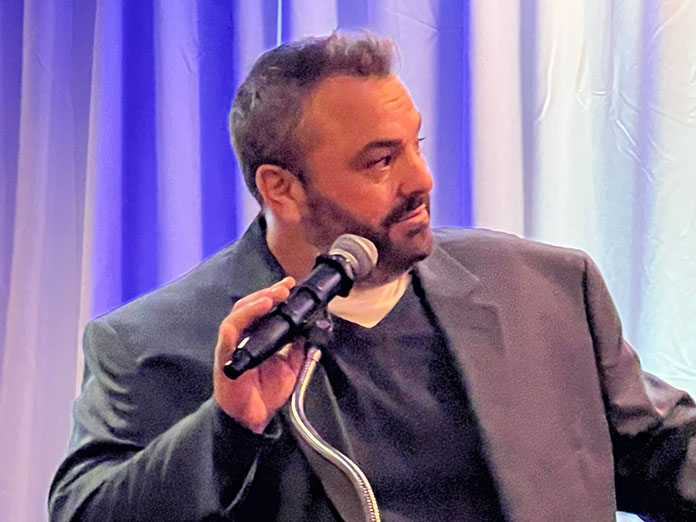 Giovine Team
The gathering at the B2 Bistro Bar which served as Giovine election night headquarters remained positive despite the outcome that saw many Democrats fall short of their goals.
Giovine joined Democratic Municipal Chair Jeff Horn and his three council running mates, Michelle Williams, Rhetta Jackson-Fair, and Ruby Franco after the results came in. He thanked his wife, sister, brother, other family members and running mates for supporting his effort to become mayor.
"Obviously, this is not the result that we wanted tonight," Giovine said. "It is not the result that I think is best for Toms River and for that we as a community will have to move ahead. We put our message out there for about what we want to do for the future of Toms River."
  Giovine said, "I am so proud of this race. It is insane what we have been able to do together in the last 70 days, less than the length of a college semester." He also noted that in speaking with residents of the township along the campaign trail he identified a number of concerns and issues that residents would like to see addressed.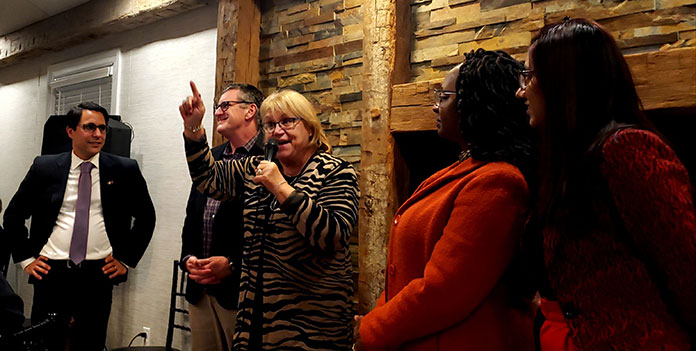 Giovine also noted the passage of his mother shortly before the campaign began and that she had inspired him to give back to the community.
"We delivered a positive message, not a message based on fear, racism, anti-Semitism. We presented a message people could embrace," Horn said.
Williams, who currently serves on the township School Board, thanked her husband, family and support from the public. "It carried us through and we are grateful for it."
"If I could change anything today, I absolutely would not. I prayed for a good team and God gave me a great team. Let's continue to work do good in our community," council candidate Jackson-Fair said.
Franco added, "thank you so much for supporting us. Thank you for giving me the experience and this opportunity."
Difficult Race
This campaign season began with a four-way fight among Republicans and a few false starts for the Democrats.
The primary election saw Rodrick victorious over current Mayor Maurice "Mo" Hill, Geri Ambrosio and Robert Bianchini.
Running as a Democrat in Ocean County has always been an uphill climb, with Brick being the outlier.
Originally, former township committeeman John Furey was the Democrat choice for mayor. He stepped down, as did Kajal Lal, who got replaced by Ruby Franco.
Giovine stepped in at the end of summer.
This was not the first time Giovine and Rodrick had sparred.
In 2018, Rodrick was a Democrat. He won his spot on the council as a Democrat. He fought to lead the Toms River Democrats since the chair of that party was stepping down. Giovine was running against him. The New Jersey Globe reported that Giovine beat Rodrick 25-20.
In an Asbury Park Press story, Rodrick said he had been a Republican for 20 years. He changed to Democrat and won election to the council in 2017. He switched back to the Republicans in 2018 after losing the race for party chair.
Rodrick said his decision to switch sides was largely related to his disdain for Governor Phil Murphy's decisions and other Democrat policies, such as their take on immigration.
School Board
The Toms River Board of Education also had a race this year, even if it was overshadowed by the municipal election.
Incumbent Ashley Lamb kept her spot with 8,808 votes. Paola Pascarella, 7,317 votes; and James Capone, 7,915 votes; won the other two seats.
They bested Diane Oxley, 7,317 votes; and LeRoy Marshall, 6,258 votes. There were 413 write-ins.
This was a close race and the winners were from two different slates.
Ashley Lamb, Diane Oxley, and Paola Pascarella ran under the slogan Vote Common Sense.
James Capone and LeRoy J. Marshall ran under the slogan For The Students.