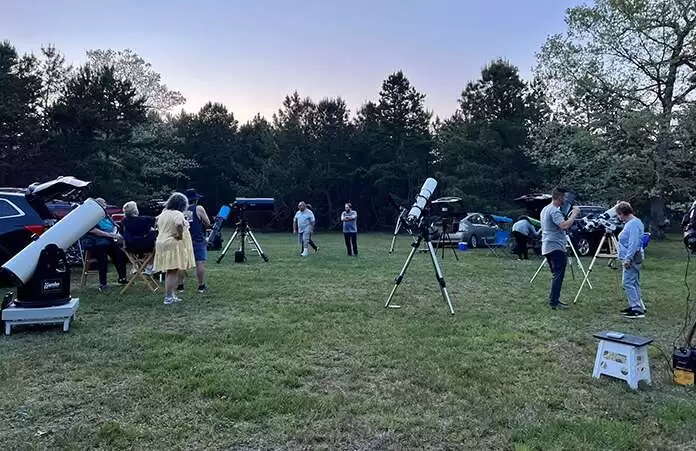 TOMS RIVER – In today's modern world, the majority of the population spends a great deal of time looking at a computer screen, a television, and of course, their phones. But for a small group of individuals in the Ocean County area, looking up into the night sky is a burning passion.
The origins of astronomy date back thousands of years, with conventional wisdom citing its genesis in ancient Mesopotamia. Early beliefs held that the heavens revolved around the Earth, and it would not be until hundreds of years later that a Greek astronomer, Hipparchus of Nicaea, was credited with compiling the first stellar catalogue that listed over 800 stars. But today's modern telescopes now peer far into the known universe, looking not only past our solar system, but even our Milky Way Galaxy to others that lie lightyears beyond.
  The Astronomical Society of the Toms River Area (ASTRA) is an organization of amateur astronomers and celestial enthusiasts who hold their monthly meetings at the Robert J. Novins Planetarium on the campus of Ocean County College in Toms River. The group convenes once a month for their scheduled meeting to share their common interest and discuss club business. But, they also hold frequent "star parties" wherein club members and newcomers from the general public gather in the evening to gaze upon the wonders in the night sky.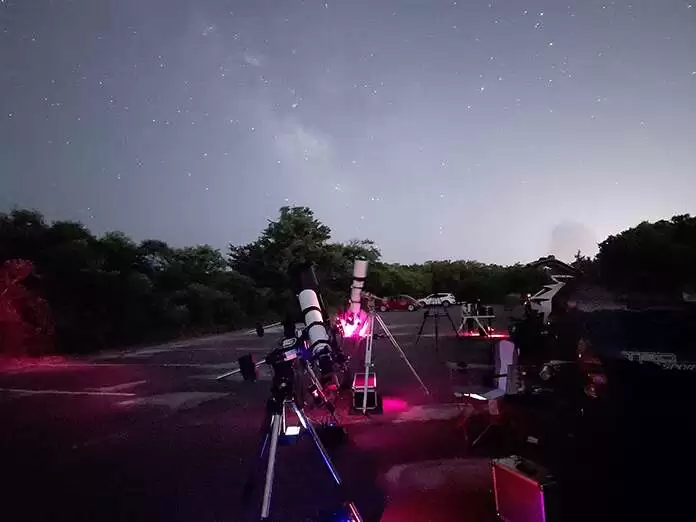 Founded in 1977, the group has risen from its humble beginnings to 74 members with several hundred followers on their Facebook page. The club is led by Jim Webster, who has been with the organization for seven years, now serving in his second term as club president.
An avid sky watcher since he was a child growing up in Brooklyn, Webster also combines his love of photography to capture images of the night sky, particularly the grandeur of the Milky Way galaxy.
"I was a kid," Webster recalls of his childhood in Brooklyn, "and I had a telescope pointing out my tenement window. But unfortunately, you can't really see too much there." His interest in stargazing waned, but it was rekindled thanks to another of his hobbies.
"I took photography up," Webster says, "and started doing some nice Milky Way pictures." By this time, he had moved to New Jersey and stumbled upon the ASTRA club. "I was like, 'yeah let me go check out the astronomy group here' and I ended up joining. So, I've been involved with them now about six or seven years."
Closely tied with Webster's love of astrophotography is his involvement with the International Dark Sky Association (IDA). As part of their mission, the IDA seeks to reduce light pollution by encouraging research, educating the public, and looking to influence lawmakers at all levels of government.
  The concerns of Webster's IDA group are well founded. Besides being a nuisance, according to the National Science Foundation's website, Globe at Night, light pollution interferes with astronomical research, disrupts ecosystems, and wastes energy. As reported last year by National Public Radio, a recent study done at Northwestern University showed that just a small amount of light during nighttime sleep may have adverse effects on both cardiovascular and metabolic health.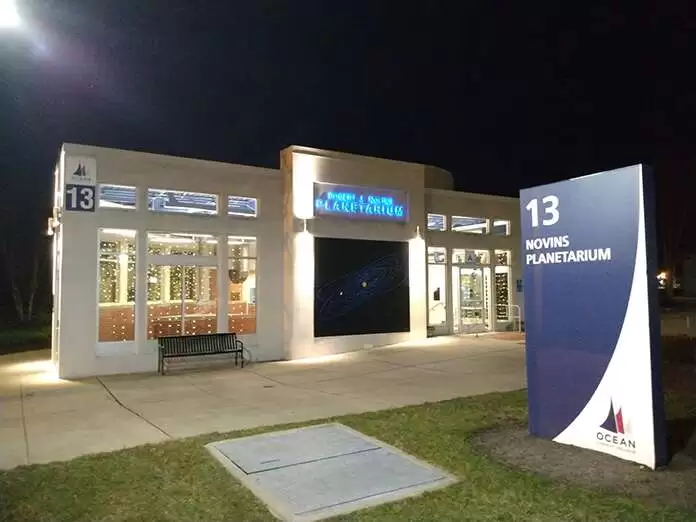 Finding rural, dark sky locations in the country's most densely populated state may be something of a challenge, but it is not impossible. As one may expect, the best locations for astronomical pursuits tend to be rural areas, which makes open fields in state forests or parks ideal for such activities. These tend to be where ASTRA holds their "star parties," and club members gladly welcome members of the public to join them in their pursuit. The star parties are held at local area parks such as Island Beach State Park, Cattus Island, and Jakes Branch County Park. April is of particular note for the group, as they will be participating in the Cattus Island Nature Festival.
The club encourages novices to join such events, if not the club itself, without any expectation of prior experience or knowledge of the hobby. In fact, experience levels among ASTRA club members varies from novice to advanced, with the only requirement for members being an interest in astronomy and space science. Just like anyone playing music or pursuing photography, the learning curve has to start somewhere.
For those who may want to join but would feel more comfortable having some knowledge of the subject, New Jersey has six observatories spread around the state. While two are housed within the campuses of the state's two most prominent universities, there are four others in Cranford, Galloway, High Bridge and Paterson. In addition, New Jersey boasts two planetariums, located in Jersey City and Newark.
The ASTRA group actively seeks guest speakers to discuss techniques in astrophotography, equipment and telescopes, and even upcoming astrological events of interest. The recent February ASTRA meeting featured a lecture conducted remotely by Dr. Eileen T. Meyer, an astrophysicist at the University of Maryland, Baltimore County.
"I think interest groups are actually going pretty strong in the age of the internet," says Meyer regarding groups like ASTRA. "It makes it easier to find people with similar interests and hobbies. And these groups not only meet and talk amongst each other, but often spread word about outreach activities. So, they're good to partner with if you're a researcher interested in talking to the public."
Following Meyer's presentation, club member Vic Palmieri gave two talks on scientific topics that featured interactive demonstrations.
  Of course, hobbies that involve the natural world are critically dependent upon the cooperation of nature. With a hobby like astronomy, weather conditions are important.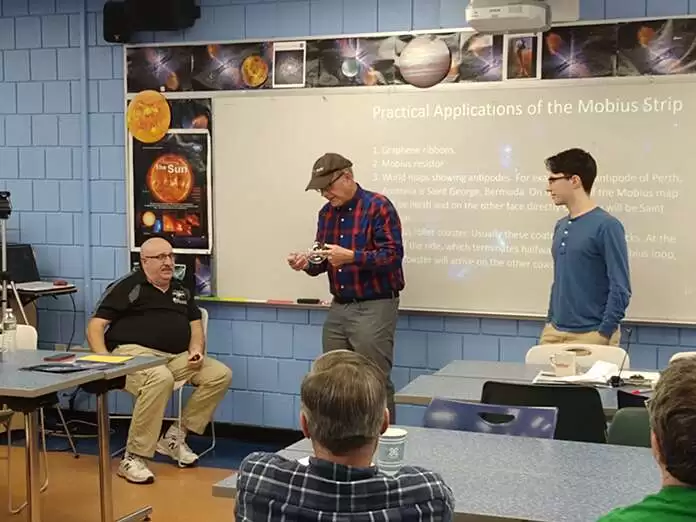 Webster will monitor as many as five different weather reports in advance of the club's scheduled star party events, because unless there is a clear sky, viewing the infinite reaches of space becomes impossible. Also critical to ensuring optimum conditions are the phases of the moon.
"The new moon is ideal for us," explained Webster, "especially for the astrophotographers. But if we're doing star parties, having the moon, too, is a good subject matter for the public, as well."
  Astronomical events have been at the forefront of the news lately, with the recent celestial visit of Comet 2022 E3 (ZTF), colloquially called the Green Comet, which has not passed our solar system in some 50,000 years. In addition, the recent unveiling of the first photographs of a black hole in May, 2022 have increased the public's interest in astronomical pursuits.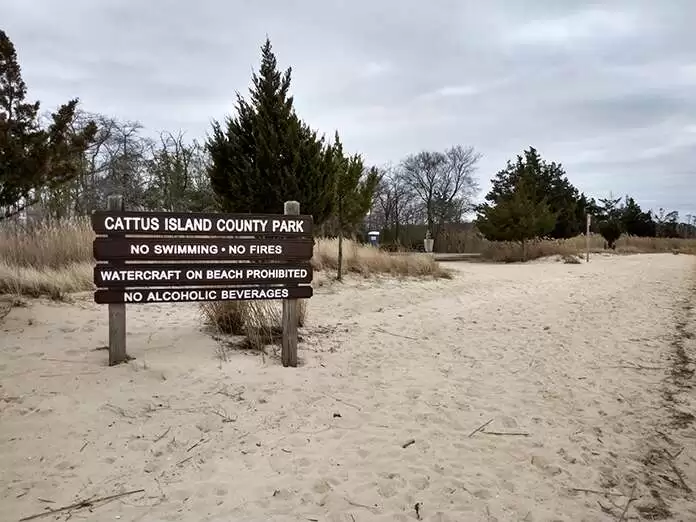 For those who are curious about the pastime, but either do not currently own a telescope or are unsure about whether or not to make the financial outlay for such equipment, the ASTRA club has a telescope loan program whereby club members may borrow such equipment for up to a month at a time.
  The club meets on the second Friday of each month, and those who wish to become members may join for yearly dues of $20 annually. The next club meeting is scheduled for March 10, with a star party slated for March 25 at Jakes Branch Park. Additional information about the club, its meeting times and calendar events may be found on their website, astra-nj.com.