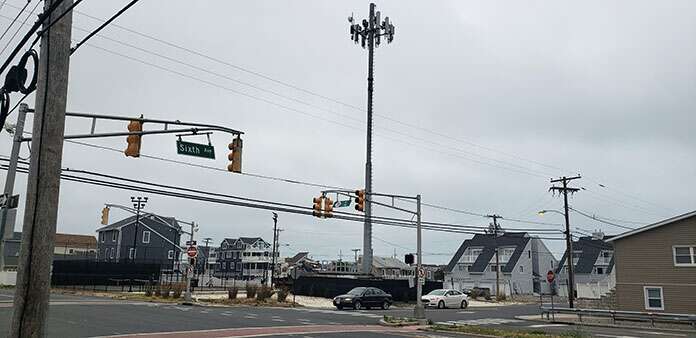 TOMS RIVER – Local residents have a lot of hang-ups about a cellular tower installed recently.
The tower is in the area of Route 35 and the pickleball courts at 6th Avenue. Ortley Beach residents have said it's unsightly and the generator gives off a lot of noise.
The tower is expected to provide additional cell service during the busy summer months in an area that sometimes has spotty reception.
Anthony Colucci, president of the Ortley Beach Voters and Taxpayers Association, said that it had previously been on a nearby condominium. However, Verizon was difficult to work with so the condo association didn't want to have it back.
He came to a Township Council meeting to ask why that location was chosen.
Township Business Administrator Louis Amoruso said "We didn't get to choose. We were approached by Verizon."
It might be unsightly, but it makes the town safer, he said. The township wasn't involved in the situation last year.
Colucci said that the owners of the nearby water tower was also approached but didn't want the cell attachment either. The best location would have been the Ocean County Utilities property instead.
  During this Council meeting, they authorized a license agreement with Cellco Partnership, doing business as Verizon Wireless, for the temporary use of the property, located at 1931 Railway Avenue, during summer months. Councilmen Daniel Rodrick and Justin Lamb voted against it but the rest approved it.
Colucci asked if the contract would be renewable. And if so, who has the option of renewing?
Amoruso said that this location was an emergency situation and it is only for this summer.
Council President Matthew Lotano said that Jersey Central Power and Light is installing a line, and then the generator will be turned off.