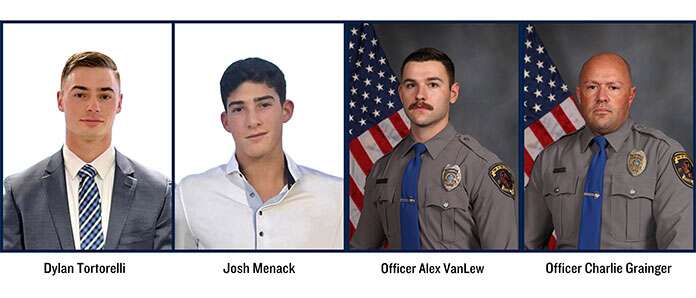 TOMS RIVER – Four off-duty first responders saved a man's life after he suffered from a medical episode Sunday afternoon, police said.
Around 3:50 p.m., a man had suffered sudden cardiac arrest while exercising at the LA Fitness on Hooper Avenue.
Two off-duty EMTs, Dylan Tortorelli and Josh Menack, who were working out at the time, performed CPR while police were dispatched. Two-off duty Toms River police officers, Alex Van Lew and Charlie Grainger, who were also in the gym at the time of the incident, rendered aid by utilizing an automated external defibrillator, or AED.
Police said the man regained consciousness shortly after and began to breathe on his own.
Silverton First Aid and RWJ Paramedics responded and transported him to Brick Hospital for further treatment. Police confirmed that he has since returned home.
Dylan Tortorelli was sworn-in as a full-time police officer with the Neptune Township Police Department on Monday and is a Manchester Township EMT. Josh Menack is a volunteer with the Point Pleasant Beach First Aid Squad and a SSH Beach Patrol Lifeguard and EMT.
"We'd like to commend them, and everyone who jumped into action and rendered aid to help save a stranger's life," Toms River Police said.