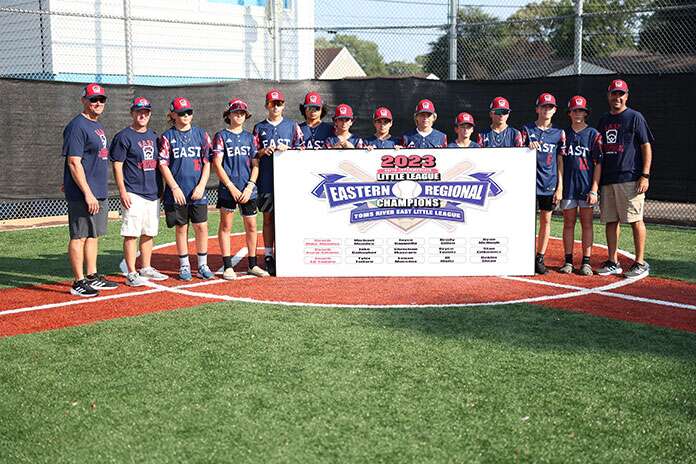 TOMS RIVER – It was a perfect day for baseball – sunny with temperatures in the mid-80s, low humidity and a pleasant breeze.
And it was a perfect day to honor the Toms River East Little League All-Star team, which enjoyed a near perfect summer.
There was a third-place finish in the United States in the 13-under Little League Intermediate (50/70) Baseball World Series at Max Bayer Park in Livermore, Calif., a San Francisco suburb. There was a fifth-place finish in the world and a 2-2 record in the Series. There was an Eastern Regional championship. There was a New Jersey state championship. There was a Section III championship. There was a District 18 championship. And there was a 15-2 overall record.
The team was honored with a parade which began at the East Dover Fire Company on Fischer Boulevard and ended at the Toms River East Little League Sports Complex. Leading the parade was a Toms River Township Police Department squad car. The team rode atop an East Dover Fire Company No.4 Station 28 fire truck. A ceremony followed at Gaynor Field, named for Mike Gaynor, manager of the Toms River East American All-Star team which won the Little League World Series in 1998 in South Williamsport, Pa.
The 2023 team left the truck and entered the field where it exchanged fist bumps with league president Tommy Noone. The team posed for numerous photos.
Noone spoke briefly, congratulating the team.
"First and foremost," he said, "congratulations. Congratulations to this group of boys. They worked very hard for this."
A colorful sign containing the names of the team members and the history of the team was unveiled. Team members received personalized posters.
Manager Mike Mendes, who competed in football under legendary coach Warren Wolf at Brick Township High School and played baseball for the Green Dragons, followed, stating, "I am pretty much also at a loss for words. I am extremely proud of the team's hard work and dedication. They gave up another summer for baseball. We went from hanging out to going on a plane to California. We received texts that said, 'Congratulations. Keep it going.'
"The boys played on ESPN+. The bars were packed with people watching the team play. The boys were on national television. Their hometown supported them very much. It was very much appreciated. You guys deserve this sign and more."
Noone followed, stating, "Any fundraising helps with the maintenance of our fields and our All-Star endeavors. Congratulations boys."
Noone told the media after the events, "There is a lot of pressure and history here. There is a lot to live up to. Towns want to beat us. Our kids want it, the pressure. This team wore the retro jerseys worn by our 1998 team. It's 25 years later and we're in a World Series again. Pretty impressive.
"This team was successful because of its chemistry. The boys have played together for a long time since they were young and it definitely helps them. They know each other and everyone plays the same position. Our pitching greatly improved over the year. We played in a lot of one-run games. That comes down to good defense and good pitching."
Center fielder-pitcher Brady Gillen of the 2023 team told the media after the events, "We have been with each other for a while. We have always had success. We have always listened to our coaches. Everyone knows our name across New Jersey, across the nation and across the world. We had a swift style of play. We had a lot of power. We had a lot of speed. We had a lot of big hitters who came through at crunch time. I felt we would do as well as we did. We believed in ourselves and in our coaches. We felt we would make it to California.
"We played to the end. We played tough teams to beat from start to finish. We were respectful. We talked no smack. We respected our opponents. We just played our game."
  The team had a ritual.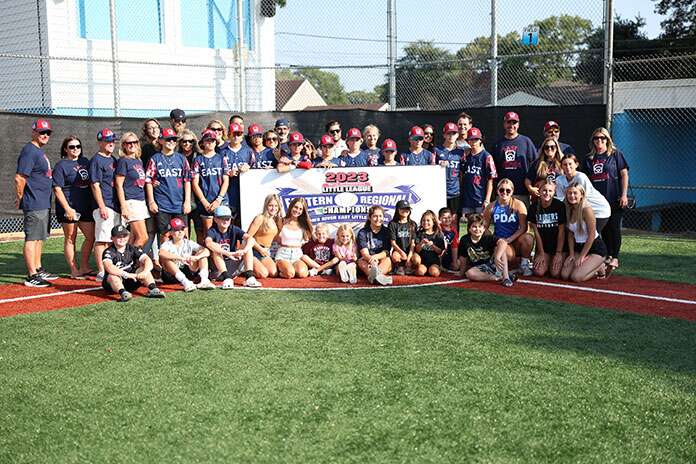 "We played a game called Flip," Gillen said. "A baseball is used. It is flipped around and whoever drops it loses one of their four lives. If you lose all four of your lives, you are out. We started it three or four years ago and kept doing it before every single game."
Gillen's mother, Vicki Gillen, the head girls basketball coach at Toms River High School North and a member of the New Jersey Interscholastic Coaches Hall of Fame, said, "It's Toms River baseball in general. They have been together since they were real little and they are a really great bunch of kids and families. The coaches are great leaders for these kids. For coaches, the boys had an administrator, a state trooper and a school teacher. The boys worked well as a team. They had a lot of depth with a lot of kids playing multiple spots."
Speaking to the media after the events, manager Mendes said, "We did so well because they are a team. They are friends off the field and are real supportive of each other. We told them at the start of the tournament season, 'If you want to go far, you have to support each other.' I will take luck all day long. A baseball bouncing four inches one way or the other could wind up being the difference in the game. There is definitely some luck in competition.
"From the beginning, we talked about responsibility in baseball and in life. We told the boys, 'It's not what happens to us. It's how we respond.' For the most part, the kids responded pretty positively. I would like to see this team leave a legacy as one of a complete team. In every game, there was a new hero. In each win, a different kid was a hero. It's a team sport. The best team wins as you can tell by our record."
The team won the District 18 title 13-5 over Beachwood at the Barnegat Little League. It captured Section III, downing Lincroft 3-2 at the Middletown Little League. It won the state title 1-0 over Stafford at the Middletown Little League. It bested a Pennsylvania team 4-3 to win the Eastern Regional title at the Dover Little League in Delaware. In All-Star play, the pitcher's mound was 50 feet from home plate. Bases were 70 feet apart.
Third baseman Jake Gallagher played big biceps baseball against Beachwood, blasting a two-run home run and a three-run homer in the same inning.
"He is a big kid with a lot of strength in his legs," manager Mendes said.
Second baseman Michael Mendes batted .250. Other team members were shortstop Jayce Cappello, outfielder-pitcher Tyler Todaro, first baseman-pitcher Logan Macchia, first baseman-pitcher-outfielder Christian Mascaro, catcher Ryan McHugh, outfielder Bryce Tomitz, pitcher Deklin Sloan, first baseman Stan Citkowicz and outfielder J.R. Moltz.
Gallagher, who hit three homers and one double in All-Star play overall, drove in eight runs and batted .389. Cappello hit .311 and added one homer and one double and drove in six runs. Todaro batted .312. He struck out six hitters in 11 innings. Macchia batted .333. He hit two homers and one double. He drove in nine runs.
Mascaro slugged three homers and three doubles. He drove in eight runs. McHugh batted .561 and hit one homer, two triples and four doubles and knocked in 13 runs.
Tomitz batted .326 and hit two homers and five doubles. He drove in 11 runs. Sloan drove in four runs and whiffed nine in 15 innings. Gillen batted .351, hit two doubles and drove in four runs. He struck out two in two innings. Moltz batted .267.
In a four-hitter against Stafford, Mascaro struck out 10 and walked two. He tossed 97 pitches, including 70 for strikes. He stroked two hits in three at-bats and scored one run.
In a 3-2 nine-inning win over the Nutley America East Little League All-Stars in the state semifinals, Macchia whiffed 15 and allowed two runs, including one earned, on three hits. He walked none. Of his 99 pitches, 71 were strikes. Todaro pitched a perfect ninth. He threw five pitches, including three for strikes.
Mendes is the director of guidance operations in the Freehold Regional High School District. His coaches were George Gallagher, a New Jersey State Police Trooper, and Ed Todaro, a teacher at the Tinton Falls Middle School. Mendes noted the team has won five district titles, three sectional titles, two state championships and one Eastern Regional crown.
"I am just proud of the kids and the All-Stars," manager Mendes said. "We have had them since they were nine years old. We complement each other very well as a staff. I am the loud guy. Ed is quiet and reserved and when George speaks they listen."
  Fans brought signs to the events. "Way to go East!! Proud of you all!!," read Amy Macchia's sign.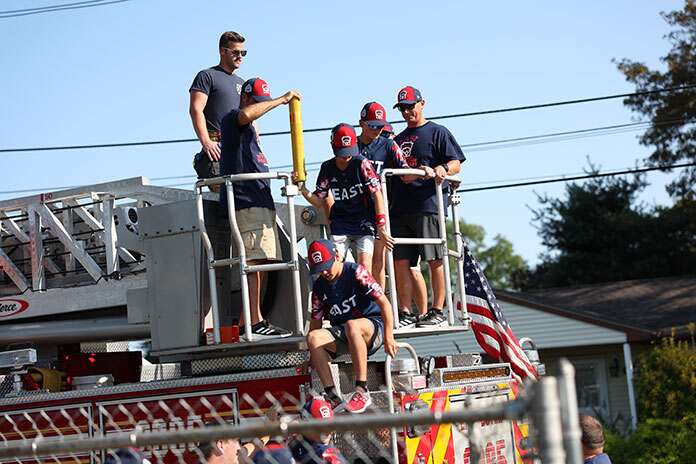 "These boys have been playing baseball together since they were eight years old," she said. "It was a true team effort. Not one kid outshined another. The boys were fighters. They battled until the last out was called. They never gave up. They rooted each other on. They had true heart. They were all in, all the time. They were great friends off the field. The coaches gave up so much for our kids. They gave up a tremendous amount of vacation so that a group of boys could play winning baseball two years in a row. Last year's team was one game away from Williamsport."
Lending support at the events was the Paul Mika-managed Junior All-Star team, which lost in the state finals. The team hoped to play in a major tournament in Michigan.
"We are one big family," Mika said.
Mendes, a 1996 Brick graduate, played defensive back and wide receiver under Wolf, who retired as the state's career wins leader. Mendes played shortstop, second base and third base under then-coach Bob Paturzo.
"Oh my gosh, everyone knows coach Wolf," Mendes said. "He is a legend. He taught me the team aspect and that every person on the team has a role to play. When I was an assistant coach at Monsignor Donovan, I went to his practices to learn to coach. I learned how to communicate with my players and coaches. He taught me to see everything. The way he helped kids was just second to none."