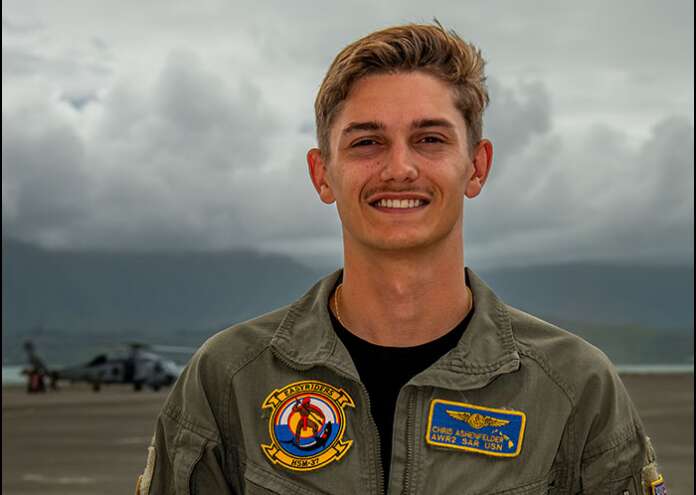 TOMS RIVER – Petty Officer 2nd Class Christopher Ashenfelder, a native of Toms River, is serving with Helicopter Maritime Strike Squadron (HSM) 37, operating out of Pearl Harbor, Hawaii.
Their mission is to conduct sea control operations in open-ocean and coastal environments, which includes hunting for submarines, searching for surface targets over the horizon and conducting search and rescue operations.
Ashenfelder graduated from Toms River North High School in 2018 joined the Navy five years ago.
"I joined the Navy because I always loved helicopters and felt I needed to do a job that can help others while serving my country," said Ashenfelder.
"The lesson from Toms River that I have kept with me throughout my Navy career is to look out for not just my friends and family, but anyone who needs help along the way," he added.
Ashenfelder serves with the helicopter squadron that flies the U.S. Navy's MH-60R Seahawk helicopters. The MH-60R is a "twin-engine helicopter used for anti-submarine warfare, search and rescue, drug interdiction, anti-ship warfare, cargo lift, and special operations."
"The United States Navy is vital to national defense because we maintain freedom of navigation for the entire world," Ashenfelder said
"My proudest moment was a rescue in March of 2021. We flew 26 miles off the northwest point of Oahu at night. I was lowered into the water and saved a fisherman whose boat had capsized," he added.
Ashenfelder said he is grateful to others for helping make a Navy career possible.
"Serving in the Navy means I have to sacrifice elements of my life that others don't have to so our citizens can be free," Ashenfelder said. "I would like to thank my wife, Lauren, for supporting my career and taking care of my family while I'm away."