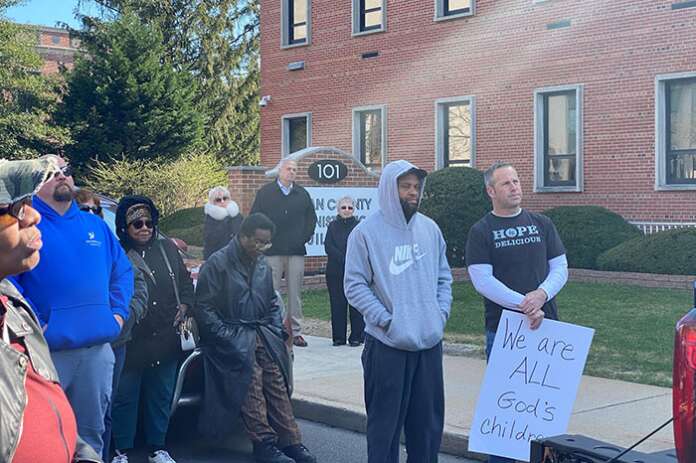 TOMS RIVER – Bryan Hutchinson, the chief executive officer of the Monmouth Ocean Regional Realtors, may have never experienced homelessness himself. However, one might guess Hutchinson knows a great deal about selling housing concepts.
Last Saturday, Hutchinson joined hundreds of advocates marching in favor of year-round transitional housing for the homeless in Ocean County. He said that "housing matters."
Hutchinson hopped up in the back of a black pick-up truck to address an impassioned crowd prepared to make a trek down Hooper Avenue to the Ocean County Administration Building.
"The ability to have a place to lay your head every day in safety and security is not just a privilege that only some should have," declared Hutchinson. "It shouldn't be just underneath the shadows of big beautiful Victorian homes, but rather what our shadow casts itself upon a tent in a field."
   "Housing and the ability to be safe at night is a human right we should exercise together as we love our neighbors," Hutchinson continued. "As we walk today, we're not just walking to demonstrate something but rather to start loving our neighbors more."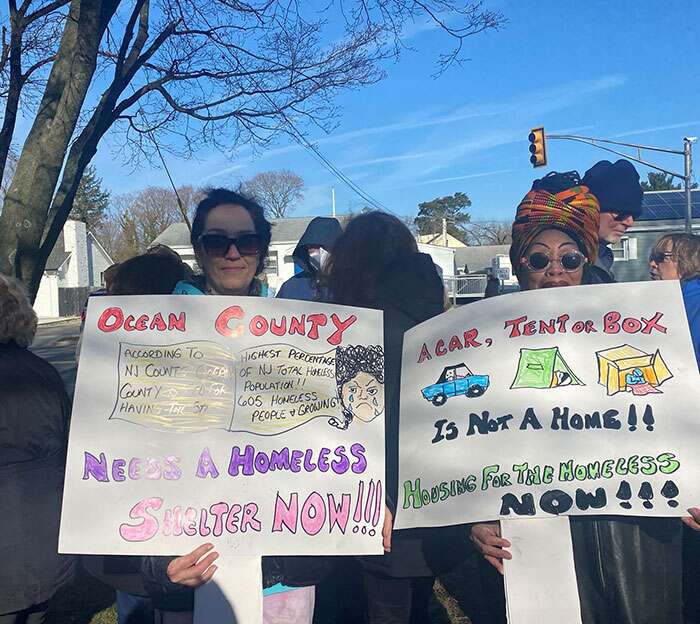 Terrance Turnbach, a former Toms River councilman, said he organized the walk to try and restart communication with the county commissioners about getting a year-round transitional housing facility for the homeless. A non-profit and two faith-based organizations currently run Code Blue warming centers from November 1 to March 31.
"We had 126 guests at our Code Blue center at Riverwood Park this year," shared Paul Hulse, the chief executive officer of Just Believe, Inc. "There's a real need for transitional housing, and it needs to be emergency based with all of us coming together."
Saturday's walk was just two days past the dates warming centers closed for the season. Turnbach said the fact that it was a cold day seemed appropriate.
"We don't want to be comfortable," suggested Turnbach to those bundled up for the demonstration. "People who are out of their homes are uncomfortable."
When temperatures plummeted below freezing a couple of years ago, Turnbach took to the streets and spent an entire night sleeping outside. The Ocean County Commissioners declined his suggestion they join him to experience the frigid temperatures without shelter.
However, three county leaders were on hand for Saturday's walk. Ocean County Deputy Director Virginia "Ginny" Haines, Commissioner Bobbi Jo Crea, and Commissioner Gary Quinn all heard the event's introductory remarks. The three also joined the clamorous procession led by the Toms River High School South Marching Band to the conclusion of the march.
Representatives from the Toms River High School East Raiders also attended the walk to show their solidarity in helping the less fortunate.
"We're here because we're upset that the warming centers are being closed right now," said Emma Bruker, a member of the Toms River South Color Guard. "Ocean County is the only county (in New Jersey) without a place for the homeless all year round."
Protesters held signs that said taxes from legalized cannabis businesses could help pay for a shelter.
At the end of the walk, the three county government officials stayed and listened to renewed cries for assistance from a couple of familiar figures who personally experienced homelessness themselves.
"I was homeless for eleven months, three weeks, and five days with five kids," said Apostle Thomas Simpson of Lakewood, founder of the T.E.S. More Than Conquers Ministries. "I slept in a basement, and when it rained, water came in the basement, and the rugs would float."
  Simpson said that he had a station wagon during those tough times and set up the back so his kids could sleep when nighttime fell.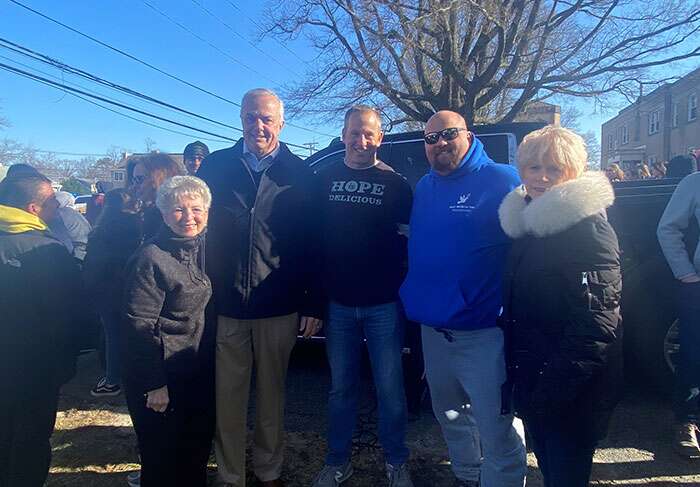 Gregory Andrus, who inspires audiences with positive messages in his "Portraits of the Jersey Shore," shared his own rise from homelessness to a daily life of taking care of others.
"I was battling homelessness and battling alcoholism because I've never believed in myself," Andrus said. "It took getting shot in the head by a police officer when I was caught in the crossfire, laying in the street almost bleeding to death."
Andrus said the opportunity to take advantage of a second chance at life and meeting an amazing woman gave him a sense of determination.
"Homeless people matter because they are God's children," stressed Andrus. "I want the commissioners to know that we need them to please do something."
  Local interfaith leaders and homeless advocates agreed that Ocean County leaders need to do more. And – it appears Turnbach may be the person to make things happen.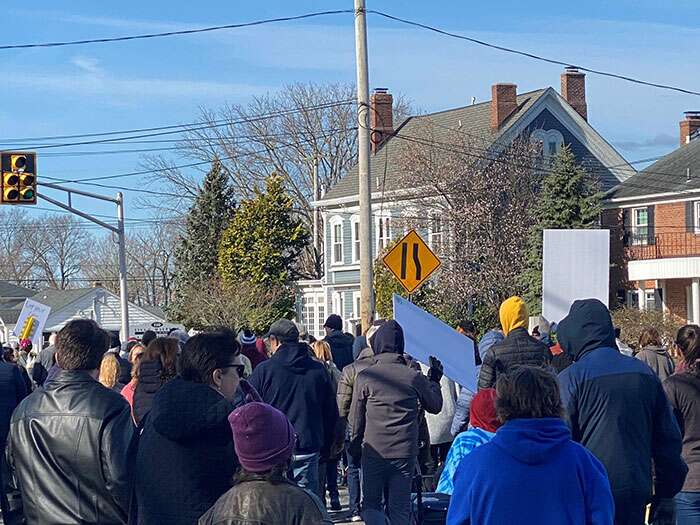 "I've already started conversations with Commissioner Quinn based on this walk and we've discussed setting something up in Toms River," said Turnbach. "That's where they think is the most positive response from the township and the community."
Toms River Township began a Housing and Homeless Coalition a couple of years ago to address critical housing issues. Pastor Susan Jones of Holy Cross Lutheran Church said the group partners with non-profits and government agencies in working on the creation of a local emergency and transitional housing center.
  Quinn acknowledged that he and the commissioners have been working with Turnbach and volunteer groups to develop a solution for the county's homeless crisis.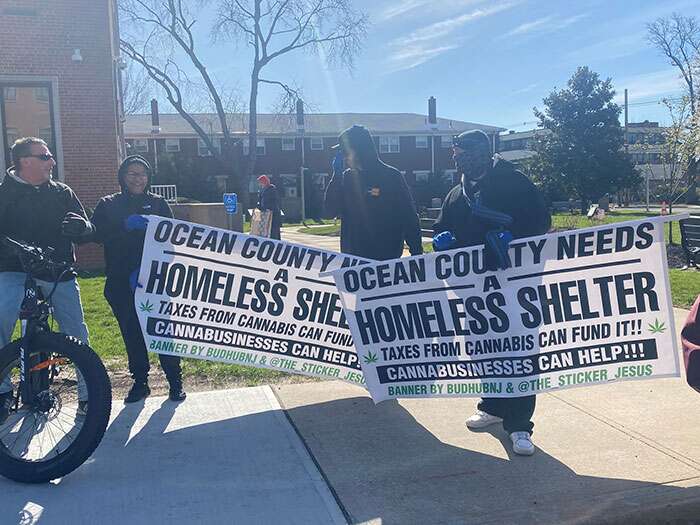 According to Quinn, while county government officials agree there's a need for transitional housing, they don't want to own an entity or build one or maintain one. Instead, the plan is to help non-profits who have expressed an interest in taking on the venture.
"Terrance is a great asset to us and has connections with all these different groups," Quinn said. "I truly believe that right now, we have the support of the Board of Commissioners to be able to try and push this along and get funding. The American Rescue plan money is available, and there may be other options."
  Ocean County is the only county in New Jersey that does not have year-round transitional housing available for those in need. Resources listed on nj211.org document that non-profits and faith-based organizations operate virtually all of the emergency shelters throughout the state.