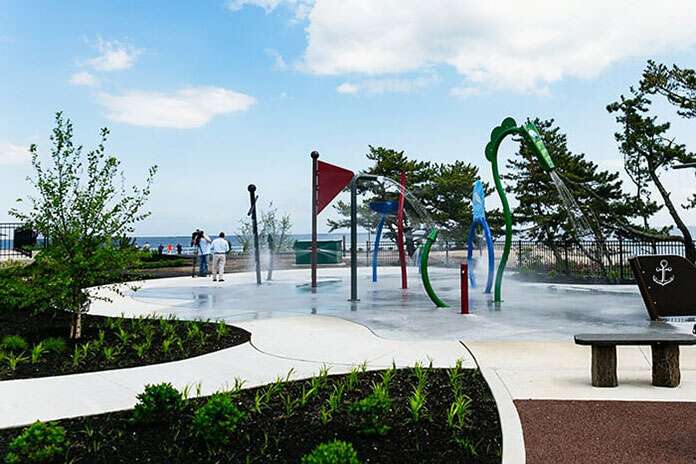 TOMS RIVER – During the first Township Council meeting of the year, politicians like to set goals. This time, Councilman Joshua Kopp said he'd like to look into building a splash park for Toms River.
He said he enjoys taking his 4-year-old daughter to the one in Berkeley Township. In 2023, he'd like to look at locations in town that could host it.
The one he's referring to opened in 2018 at Berkeley Island County Park. This was later renamed the John C. Bartlett, Jr. County Park at Berkeley Island. Bartlett was a county leader who championed preserving open space. He lived in nearby Pine Beach and the park had been his baby since 1982.
Berkeley Island sits on a 25-acre peninsula that juts into Barnegat Bay and Cedar Creek. It's located at 399 Brennan Concourse.
The park had been wrecked by Superstorm Sandy in 2012, but it had been feeling its age even before that, the late Bartlett had said. The storm gave the county the impetus to make improvements to it.
The splash park was new in 2018, and it was the only one in the county. It was inspired by a splash park Bartlett had seen in Philadelphia.
The park also has a fishing pier picnic area with pavilion. It has shoreline protection to prevent serious damage from future storms. It was also updated with parking, lighting, native plants, and changes to be compliant with the Americans With Disabilities Act.
New Council President
The first meeting of the month was also a time to change leadership on the council. The all-Republican board will usually choose a new leader every year.
Councilman Matthew Lotano was sworn in as Council President. This is the person who runs the meetings and sets the meeting agenda. The vice council president for this year will be Kevin Geoghegan, who served as the president last year. Both of them are up for re-election in November.