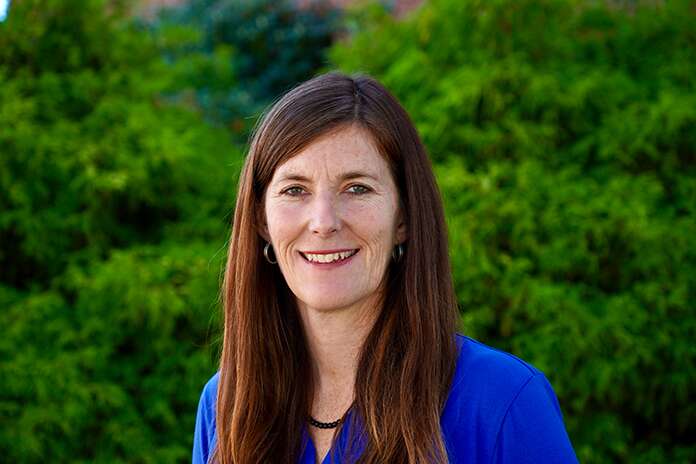 TOMS RIVER – Christine Girtain, teacher and Authentic Science Research director at Toms River High School South and High School North, has been named the state's Teacher of the Year by the New Jersey Department of Education.
This achievement makes history, as it's the first time ever an Ocean County educator has been granted the title. Back in August, Girtain was named Ocean County's Teacher of the Year by the NJDOE.
On October 12, NJDOE officially awarded Girtain while she was joined by her family, friends, and students, as well as district representatives.
"Christine Girtain personifies what it means to be a teacher here in Ocean County and Toms River, which is student-focused and with a passion to develop our children into lifelong learners," said Superintendent Michael Citta, who has known Girtain for years and who worked alongside her while principal of High School South from 2018 to 2022. "Ms. Girtain operates without physical or intellectual boundaries – she has organized national and international science-based trips, and her educational approach and sheer personality challenge her students and colleagues to think beyond the ordinary. The result of her teaching is that students believe anything is possible, and their achievements reflect that. What more can you ask from a teacher? Ms. Girtain is an immense source of pride for this county, community, and me personally."
Girtain has spent the beginning of the school year promoting innovative professional development, seeking funding and studying DNA.
"I am excited to represent Toms River and Ocean County as the 2022-2023 NJ State Teacher of the Year," Girtain said. "New Jersey is ranked highly nationally because of the great school districts we have across the state, and all the people who help make education function."
Girtain has taught science at Toms River Regional Schools for 27 years. Not only was she a former student athlete, she's a High School North graduate. Her efforts to teach others while expanding her own knowledge of science has allowed her to become an expert in securing funding, hosting field trips, forging partnerships with agencies of higher education and more.
"I love networking different interest groups together, using their individual strengths to combine for a more robust, broader reach," she said. "Sustainable growth, both mental and physical, means that as we grow we meet our needs without compromising the needs of future generations."
A pep rally will be held rally at RWJBarnabas Health Arena October 17 to honor Girtain's accomplishment.
"Christine Girtain is a mosaic of inspiration as an educator, an innovator and simply a genuine person who makes a difference in our community," said High School South Principal Kevin Raylman. "She creates a scaffolding of opportunities that enable individual students the chance to accomplish great things. Ms. Girtain has established an academic structure that pushes students and enables them to realize their untapped potential. Additionally, her educational presence impacts her colleagues as she both inspires and encourages the professionals around her. Whether it is an intense student-driven experiment or through something as mundane as a collegial conversation in the hallway, Ms. Girtain is making a positive and profound change.
"We are truly proud to have the good fortune to grow and learn from her on a daily basis," Raylman added.