TOMS RIVER – Members of Toms River's finest put a new spin in providing service at the 32nd Annual Vest-A-Cop fundraiser event held on Washington Street.
A number of local law enforcement officers held their pens poised as they spoke with patrons ready to dine on one end of the roped off street. Rather than giving orders, the good-natured cops were there to take them.
  Customers seemed all-in as officers scribbled out food checks rather than writing out traffic tickets. The newly transformed waitstaff expertly carried out trays of beverages and quick menu items. Some even took time to visit with residents who'd come to support their important event.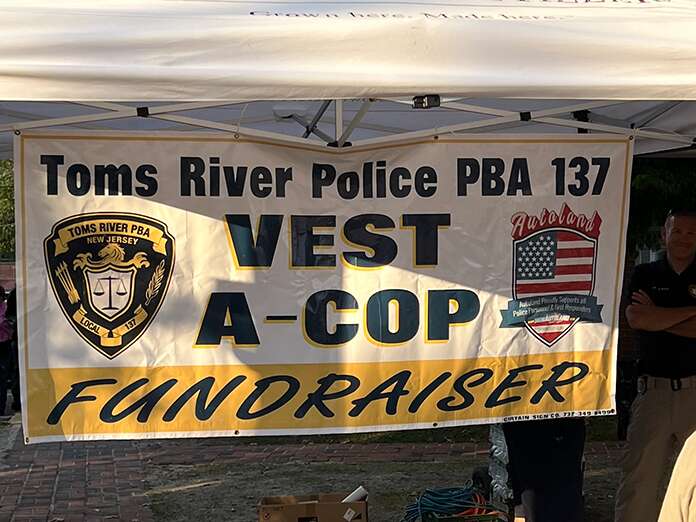 Servers at Capone's, Crave, A Thyme for All Seasons, Safu and Tacotastic all wore the same grey Vest-a-Cop tee-shirts and took in more than the usual percentage in tips. The participating restaurants also donated a portion of their proceeds to bring the totals higher.
For yet another year, the Toms River Police Department and Toms River PBA 137 had come together to raise money for the Bullet Proof Vest Fund. A change in location from Pizza Hut on Route 37 changed up the menu with other options.
The event made for five hours of fun with additional space for family activities all the way to Hooper Avenue.
  Kids of all ages took off their shoes and enjoyed the chance to literally spring into fall. Another set of Toms River officers helped children climb inside large inflatables and bounce around. A fully uniformed officer positioned in a dunk tank made repetitive splashes as ball throwers made their mark.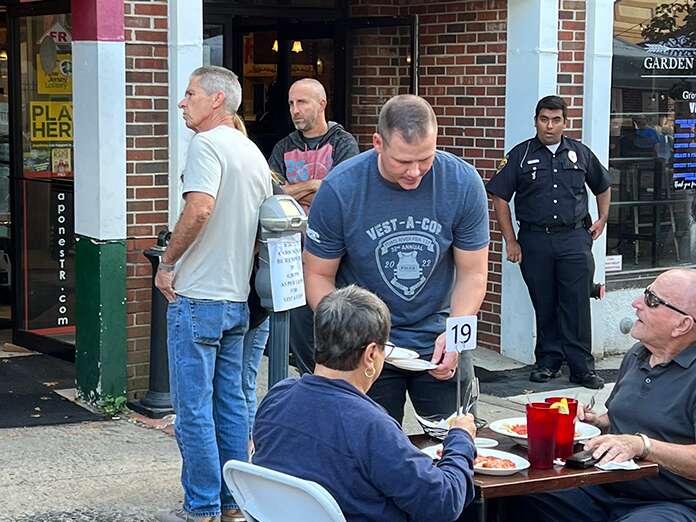 Officers raffled off items and held a 50/50 drawing that grew to enormous dollar amounts. One of the most popular vendor booths was manned by the Toms River PBA, which sold shirts with the event's logo. Long sleeved shirts and hoodie jackets can still be ordered from an online store for anyone who missed out on purchases at the actual event.
Music blared at the end of the night, and a big screen featuring Monday Night Football made everyone feel at home. While some watched the Giants and the Cowboys play, others decided to try their hand at axe throwing and cornhole games.
  All in the name of fun – and certainly all with a great cause in mind. Money raised for the Vest-a-Cop event goes to fund bulletproof vests for the Toms River Township Police Department.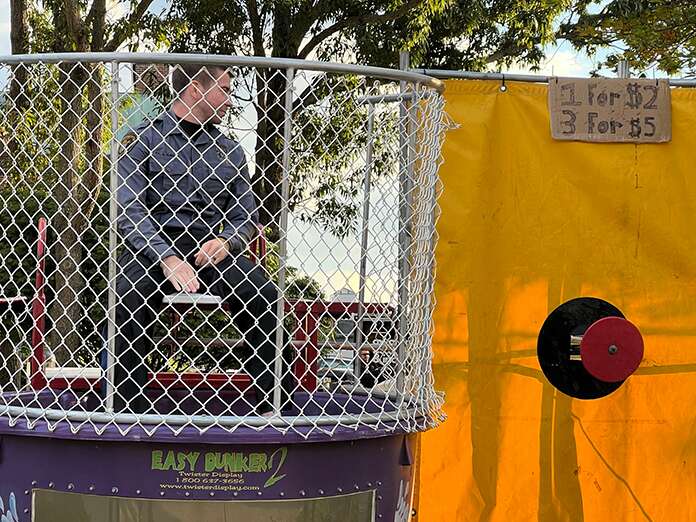 While any kind of body armor comes with expensive price tags, the cost of keeping local officers safe is immeasurable. Last year's event had space limitations related to COVID-19 restrictions and still brought in lots of contributions.
With vests requiring replacement every five years, out of pocket expenses for law enforcement members can certainly add up. From all accounts, the 2022 Vest-a-Cop Day was the biggest ever – with lots of donations targeted for the $1,200 vests.
  Toms River spokeswoman Jillian Messina was not available at the time this article went to press. It is unknown how many people attended the event or the total amount of contributions.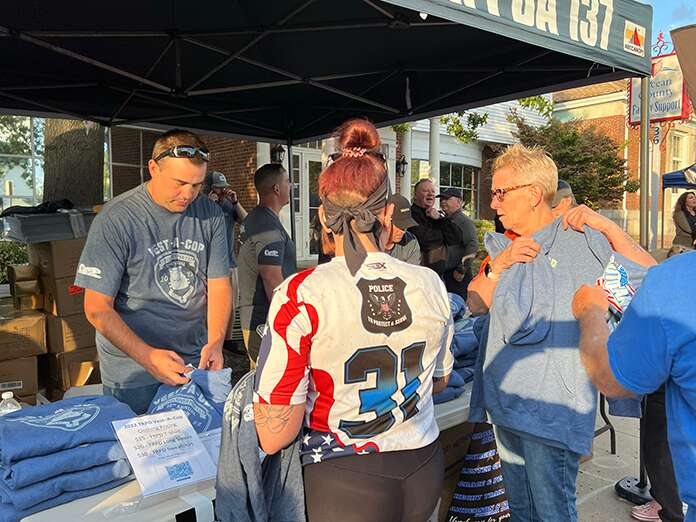 Autoland of Springfield, the Grunin Foundation, Toms River schools and other downtown businesses, all participated in sponsoring this year's fundraiser.