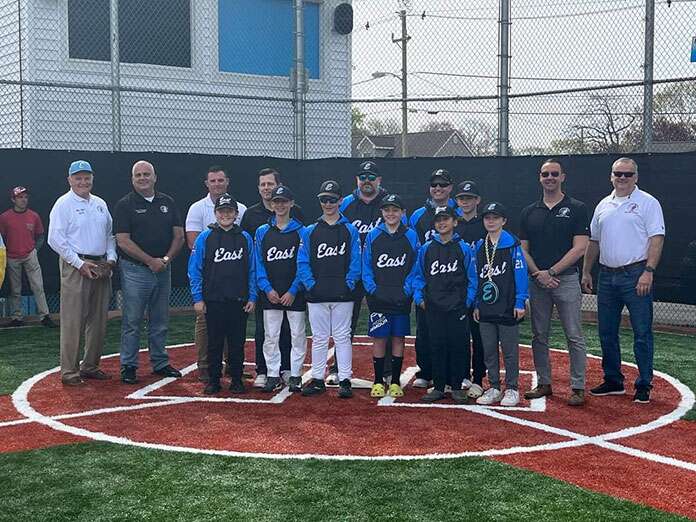 TOMS RIVER – Hundreds of fans displayed their love of baseball at the Toms River East Little League Complex on a recent Saturday morning when the organization staged its Opening Day ceremonies.
The Toms River East American Little League all-star team, which won the 1998 Little League World Series in South Williamsport, Pa., led the honorees. Also cited were the league's 12-and-under New Jersey 2022 state champions, its 13-and-under Eastern Regional winner in 2022 and its 12-and-under 2022 Majors Mason Invitational Tournament winner.
The day's highlight was an appearance by Todd Frazier, one of the 1998 team's top players. The two-time major league All-Star also sparkled at Toms River High School South and Rutgers University and was a silver medalist at the Olympics in Tokyo.
  "The outpouring and support of the people here in Toms River for baseball is like nothing has ever changed since 1998," Frazier said. "Now, it is time for the younger generation to do what we did – hopefully."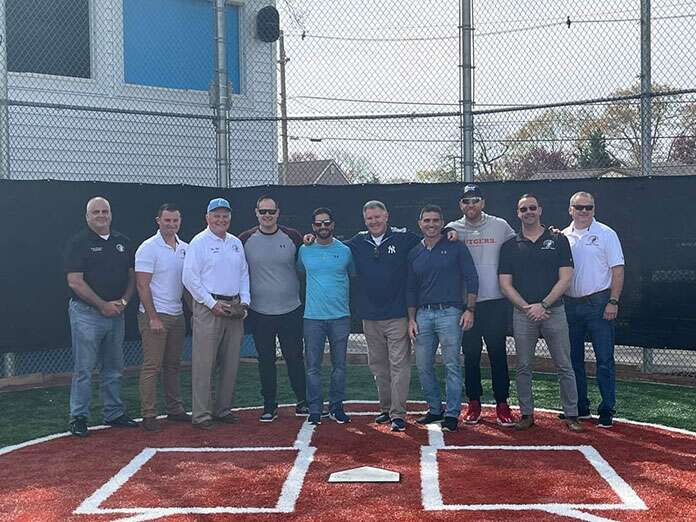 The ceremonies took place at the artificial turf Gaynor Field, named for Mike Gaynor, who managed the 1998 team. Frazier and Gaynor received hearty cheers as they were introduced by league president Tommy Noone.
"Hey guys," Frazier said, "this is awesome. Look at that beautiful field. We are fortunate and blessed to have it. First and foremost, I want to thank the parents of the players. I hope the kids hug their parents. They work at their jobs and then come here to work endless hours. Be competitive. Work hard. Have fun. Understand that baseball is the best sport in the world."
Frazier posed with his teammates, Gaynor and dignitaries at home plate. Frazier served as the catcher for Toms River Township Mayor Maurice Hill, who tossed the ceremonial first pitch.
"My glove is 60 years old and my arm is 75 years old," Hill said during his speech. "I told Todd that if I bounce it it's because the lights were in my eyes. The township provided state of the art lights and money for the field. I thank the Department of Public Works, our business administrator and the entire league for their work. Practice good sportsmanship. Do not showboat. Win with grace. Lose with grace. Play with humility."
Brielle MacDonald, 11, a Cedar Grove Elementary School student, sang the National Anthem. Doves flew over the field. There was a flyover by the New Jersey State Police.
 "She's an amazing little girl," said Noone, who emceed the event. "She has a bright future."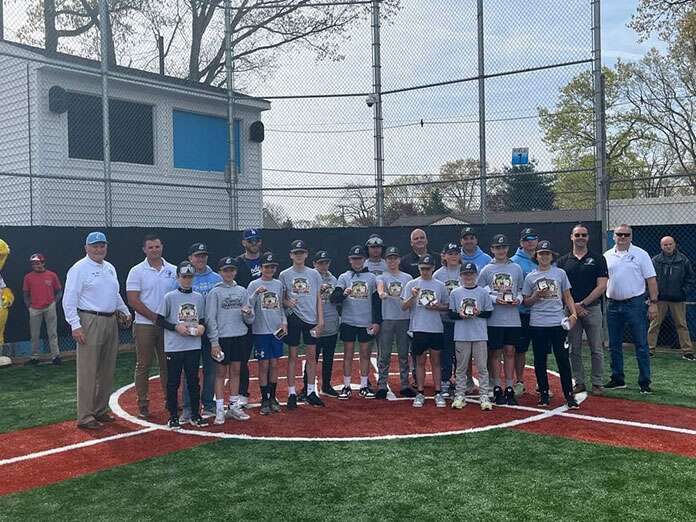 Gaynor, whose club was 5-0 in the 52nd LLWS, introduced 1998 team members Frazier, Chris Cardone, Joey Franceschini and Tommy Gannon before telling fans, "It is a beautiful day. There is nothing better than Opening Day…Opening Day was right up there with Christmas morning. Our 1995 and 1999 teams are overlooked as we did not win it all. Thoughts of going to Williamsport are in the minds of kids from California, Texas and Florida.
"The kids from Toms River kicked the door down. If not for our 1995 team, we probably would not be here today. I give a shoutout to my coaches who made it happen. It's never a one-man show. Coach Franceschini (Joe) has died. May God rest his soul. He was a Teddy Bear kind of a guy. His presence meant so much to our team. Ken Kondek, who lived near this field, loved kids and loved Little League. The kids affectionately called him grandpa. He's retired and living in Arizona where he's loving life.
"Parents, all I can say is I miss those days. We had a great time back then. Enjoy this time of life with your kids – the barbecues, the pizza parties, Mrs. Walker's. It's not about strikeouts, home runs and hits. Relationships are more important than wins and losses. Good luck. Have a good season."
"The title was special as it put Toms River on the map not only in the state and in our country, but globally," Noone said.
Cardone slugged two home runs, drove in three runs and scored two runs in the World Championship Game on ABC television. His team was the first American club to win the LLWS since 1993.
"I was pretty homesick," he said. "When we were playing in Connecticut and Williamsport, it was my first time away from home. Knowing it was our last game provided me with a sense of relief. We were already the national champions and we didn't have much time to let that sink in before we played in the World Championship Game. A lot of it had to do with my being relaxed for the first time in a while. There was a sense of relaxation and we all played the way we knew we could play.
"It feels even longer than 25 years since we won it. I remember the highlights like everyone else. At the beginning of the summer, we never even talked about going to Williamsport. We were a tight knit group of guys. We all knew each other."
  Cardone's daughter, Chloe, 6, plays baseball with the boys on the league's River Bandits team.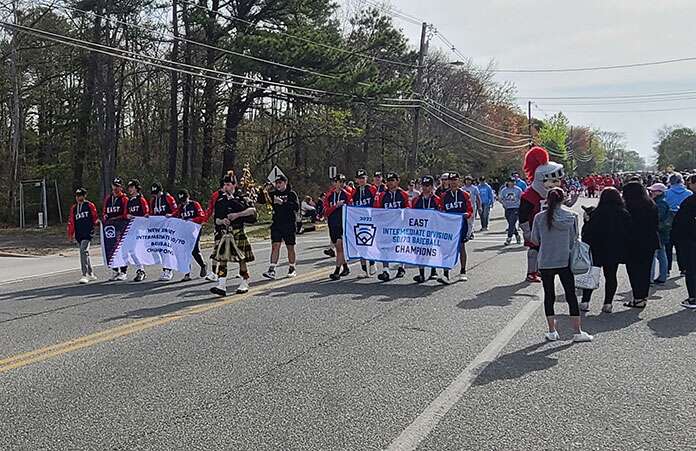 One of the league's facilities, the Frazier Field House, is named for the family. Todd Frazier and his brothers, Jeff, a former South and Rutgers standout and a retired major league player, and Charles, an ex-South star and a former minor leaguer, donated two scoreboards to the league. Todd Frazier, who played for several major league teams, including the New York Yankees, is in his first season as a pre and postgame studio analyst with the YES Network, the club's regional television station.
The former third baseman is scheduled to work 17 regular-season games. He also appears on Foul Territory, a Podcast. And, he will serve as a commentator during the Little League Baseball World Series on ESPN.
"I'm a spot starter," laughed Frazier, who hit a leadoff home run and was the winning pitcher in the World Championship Game, a 12-9 win over Japan. "I am working 80 to 100 days per year, which is great. I love working for YES. It's such a good time."
  Frazier began his major league career with the Cincinnati Reds in 2011 and threw out the first ball at a Reds home game earlier this season. He also played for the Chicago White Sox, the Yankees, the New York Mets (two tours of duty), the Texas Rangers and the Pittsburgh Pirates before retiring in 2021. In regular-season play, he hit 218 home runs, drove in 640 runs, scored 604 runs, batted .241, stole 73 bases, put up a .318 on-base percentage and slugged .445. His WAR (wins above replacement) was 25.2. He won the 2015 Home Run Derby in which Charlie Frazier was his pitcher.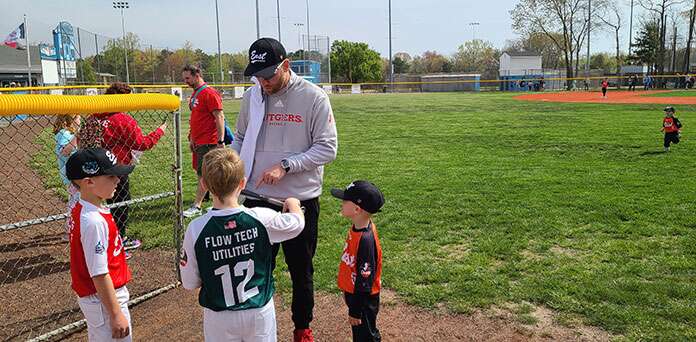 A devoted family man, Frazier, 37, coaches his sons, Blake and Grant, in the TRELL.
"I miss playing in the major leagues to an extent," he said, "but my kids make it easy for me not to miss it. I don't miss it as much as I felt I would if you want the truth. There is no way I can pick up a bat and play 160 games."
Frazer spoke fondly of his Little League days, stating, "I remember hitting home runs off the Nibble Nook and being a young kid. Those are memories that will last a lifetime. I want kids to enjoy the process. Our coaches put no pressure on us to win (in 1998). We were goofy, but when it was time to play the games we got after it. Little League kick started my career and it all started on Windsor Avenue."
Wearing a Rutgers Scarlet Knights shirt, Frazier chatted with Hill, signed autographs and exchanged hugs, handshakes and kisses with admirers, including Buster, the Jersey Shore BlueClaws' mascot, and the Scarlet Knights' mascot. Other 1998 team members were Scott Fisher, Chris Crawford, Brad Frank, Casey Gaynor (a son of Mike Gaynor), Eric Campesi, Gabe Gardner, Mike Belostock and R.J.Johansen.
The club earned numerous honors, including visits to the White House where it met then-President Clinton and the State House, visiting then-New Jersey Governor Christine Todd Whitman. And there was a trip to Yankee Stadium where the team was honored in an on-field pregame ceremony.
At the TRELL ceremonies was Paul Mika, who managed a team to the 13-and-under title. His coaches were Paddy Matera, Bobby Arnesen and Charlie Frazier. Team members were Steven Malato, Carson Frazier (Charlie's son and Todd's nephew), Jason Verderrosa, Cole Garrison, Jayden Luongo, Max Mika (manager Mika's son), Cailen Cimorelli, Adrian Bilotti, Jalen McLean, Joey Dimeo and Tyler Arnesen. Mika managed TRELL teams that competed in the 2021 Little League Baseball World Series and the 2022 Intermediate World Series.
"This is incredible," he said. "It is amazing, a dream. We now have lights. We have a new public address system. The dugouts are freshly painted. At one time, the public address system barely worked. I am so happy that our plans came to fruition. I am elated."
  The manager of the 12-and-under state championship game was Mike Mendes. His coaches were George Gallagher, Ed Todaro and Josh Alster. Team members were Michael Mendes, Tyler Todaro, Bryce Tomitz, Gavin Senger, Christian Mascaro, Jake Gallagher, Brady Gillen, Kevin O'Donnell, Jack Gillen, Jayce Cappello, Ryan McHugh, Phil LaGrossa, Logan Macchia and Deklin Sloan.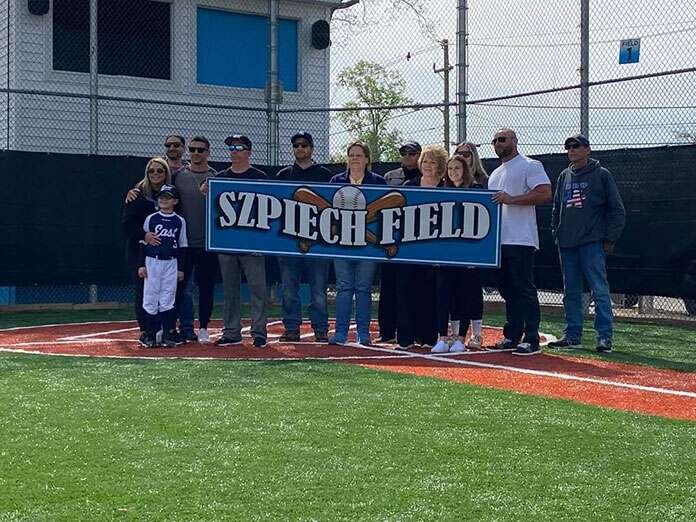 "Teams wanted to knock us off," said manager Mendes, whose team advanced to the Metro Region Tournament semifinals. "We saw every team's best pitcher. People knew who Toms River East was. The support we received from our league motivated our kids to play for our town and our league. We could not have done it without our coaches."
Noone managed the Majors team. The club was 7-0. The event was hosted by the Manchester Township Little League. The team's coaches were Nate Morton, Joe Ciaravino and Jeff Frazier. Team members were Aiden Ciaravino, Austin Bartlow, Gavin Vukan, Gino Simonetti, J.R. Moltz, James Noone, Johnny Verderrosa, Matthew Maresca, Stanley Citkowicz, Tristen Hanley, Tyler Connolly and Tyler Morton.
"Our boys played their hearts out," manager Noone said. "It was a tournament for the boys who were on the cusp of playing in the all-star tournament. It was an amazing tournament, an amazing opportunity for boys and girls to play baseball during the summer."
  A parade which began at the East Dover First Aid Squad building on Garfield Avenue and ended at the field preceded the ceremonies. Hundreds of past and present players marched, led by a bagpiper.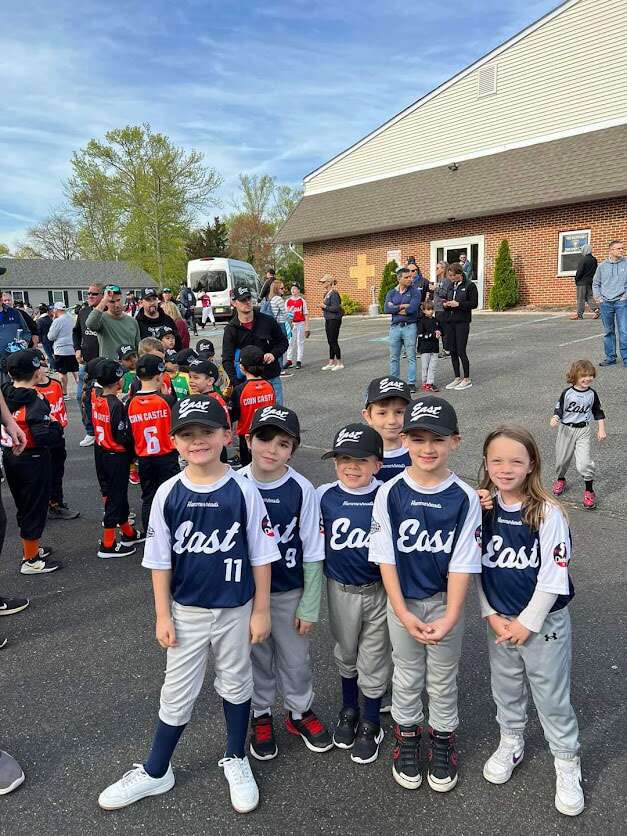 An unmarked Toms River Township Police Department car led the parade. Among its other participants were the assistant chief of Toms River Fire District 11 of the East Dover Fire Company, a hook and ladder fire truck from East Dover Fire Station 28, special operations of the East Dover Fire Company, Toms River Township Emergency Medical Services and the Silverton First Aid Squad.
Four New Jersey State Police officers rode horses. Spectators lined the streets. Among the onlookers were Mark and Corey Coleman. Their nine-year-old son, Zachary, was a marcher as a member of the Dash team sponsored by the Roy Rogers Restaurant chain. The Dash is a Triple-A team.
"This is a big deal," Mark Coleman said. "I remember them winning it. This is a big day for my son. I am super excited."
"I am super excited for the kids," Corey Coleman said. "The fields look amazing with the artificial turf and the new mounds. I saw the '98 team on the news. It was a big deal."
The league dedicated Field Three as Spziech Field in honor of Jim Spziech, who died last year. The dedication took place at home plate.
"Myself and our board of directors decided to dedicate a field in Jim's honor for all of his years as a dedicated coach and mentor to the kids in our league," Noone said. "We thank the Spziech family for giving us its husband, father and grandfather for so many years. The Toms River East Little League was lucky to have him."