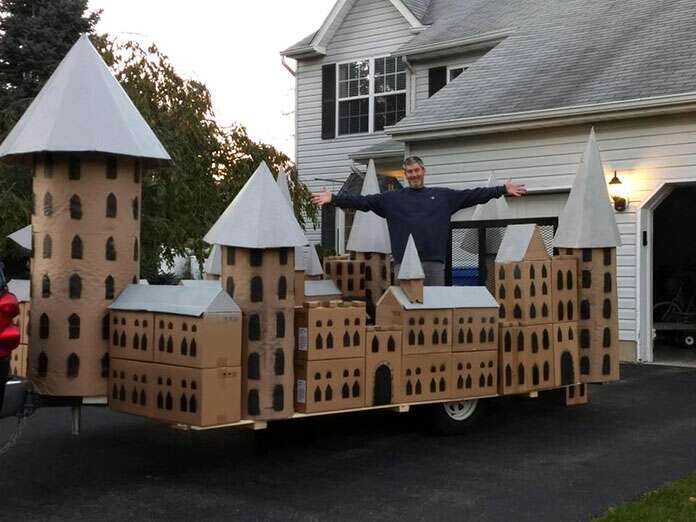 TOMS RIVER – To say the Davis family loves Halloween would be an understatement. Their enjoyment of the holiday is only surpassed by their dedication to being noticed during the annual Toms River Halloween Parade.
Township resident Tara Davis said thanks to her husband Ed and their children, the family has been entering the family float division of the Toms River Halloween Parade since 2015. "My husband is very talented, and does not give himself enough credit. He masterminds these floats, costumes, props all from everyday items, cardboard, papier mache, balloons and more."
  Davis said her husband, "spends very little money to create these wonderful family friendly floats. He initially started doing this for our children, he enjoys seeing their smiling faces. Our daughters Brooke,15 and Emily, 13, now a little older, are able to help make costumes, props, etc. as well."
Their first float went down the parade route in 2015 and the family won a prize for the theme of Hotel Transylvania. The following year it was SpongeBob and in 2017 they donned cloaks, capes and magic wands with a Harry Potter theme. The family did a Toy Story float in 2018 and How to Train Your Dragon in 2019. Now the family is back as there was no parade in 2020 due to the COVID-19 pandemic and last year Ed's mother passed away. The family has won four, first place trophies and one second place trophy. This year's theme is the Muppet Show.
"My husband said in 2015, hey we should do a float. He thought the kids would like it and he's very creative so his wheels started turning and we started thinking about what the theme should be and we all had our two cents in and we all kind of agreed to Hotel Transylvania because that film was really popular back then so that is what we decided."
  Tara Davis added, "we won a second-place trophy for Hotel Transylvania in the family float division, not affiliated. That was our first. My husband calls it our trial run. It was our first time doing it and we didn't know what to expect."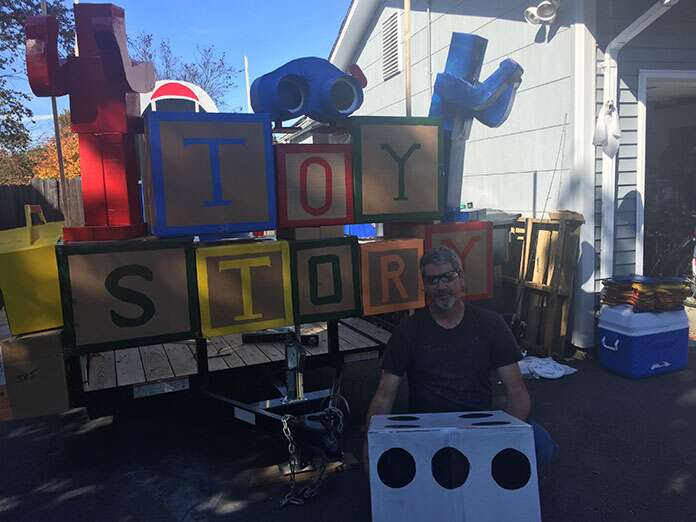 "Then he thinks of what he can do in designing the float once the theme is chosen. Costumes and props to decorate the trailer and his pickup truck that pulls the trailer and then he sketches it out and then he starts to create all these things and then the house is taken over by big costume heads and papier mache and glue, feathers and all kinds of different things," Tara Davis said.
"He finds stuff in peoples' garbage that he can use," she said with a laugh. "He takes extra cardboard from his job. All the discarded cardboard and he does all this with hardly any money."
  Ed Davis works for Verizon/Fios. He said he was self-taught in this area of his hobby but that his father was an artist. "He wanted to be an artist and wanted to draw but his dad just didn't have the time to teach him so he learned a lot from his love of comic books on how to draw. He is also good with woodworking and has done sketches for tattoos," his wife said.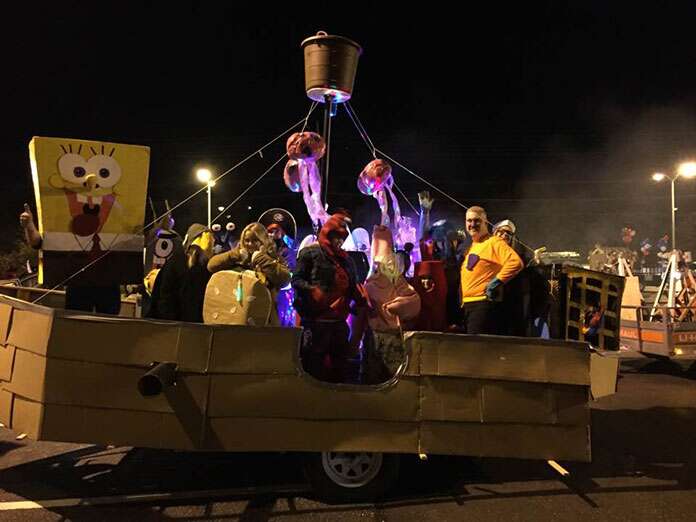 The Davises have friends who take part as characters or who give him a hand on the day of the parade.
"Each year it grows and gets more elaborate," she said. In 2021, the family skipped the parade due to the passing of Ed's mother who was also a big part of the Halloween tradition.
  "She would come down to the Kohl's Plaza and she would take pictures and she made him a photo book the year we did Toy Story. She printed out all the pictures and wrote an inscription in the photo book like 'never grow up,'" Tara said.