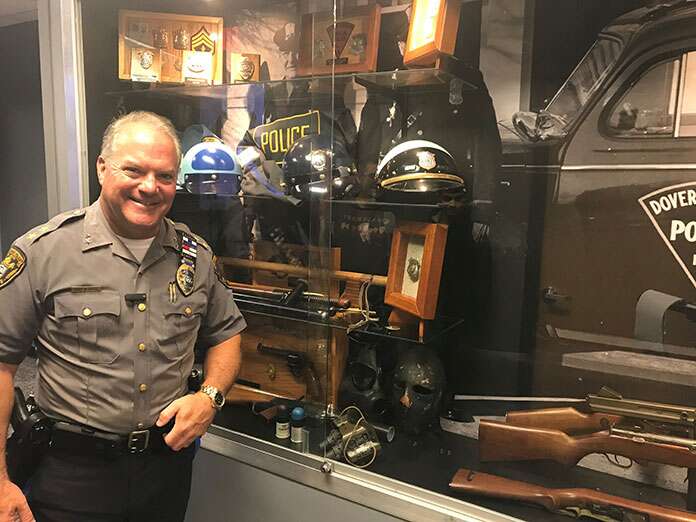 TOMS RIVER – When police officers sign off on their last shift before retiring, there's often a walkout ceremony, when they leave the building for the last time and are recognized by a row of their peers before entering civilian life.
Many retired officers, still local, got a chance to do that at an event welcoming them back, and asking the public to share in their history. The unfortunate rainy weather didn't stop the officers from heading out of the headquarters to applause from friends and family. Police Chief Mitch Little greeted them as they passed. They walked over paving stones which had names of officers, their badge number, and their years of service.
"We wanted to remember all of the veteran officers who made their mark in this place," Little said. "They never really got an official walkout."
After the ceremony, everyone went inside to take a stroll down memory lane. Hallways in the front of the building have been redesigned as a museum celebrating the history of the department. The stories run the gamut from the riots in Lakewood to the theft of a Ronald McDonald statue.
Different portions mark different eras, and large panels explain the different units, like K-9. Screens cycle through old photos. There are a few shots of buildings that used to house the police. Installations show uniforms, weapons, gear, and more artifacts.
Included in these displays are Little's father's own weapon, and the want ad he replied to when he got the job. A 1972 photo shows the Ocean County Prosecutor checking out the radar in a cruiser. That prosecutor was future mayor Thomas Kelaher. There's an article in the New York Sunday News about their new uniforms in 1969, showcasing Chief Rick Clement.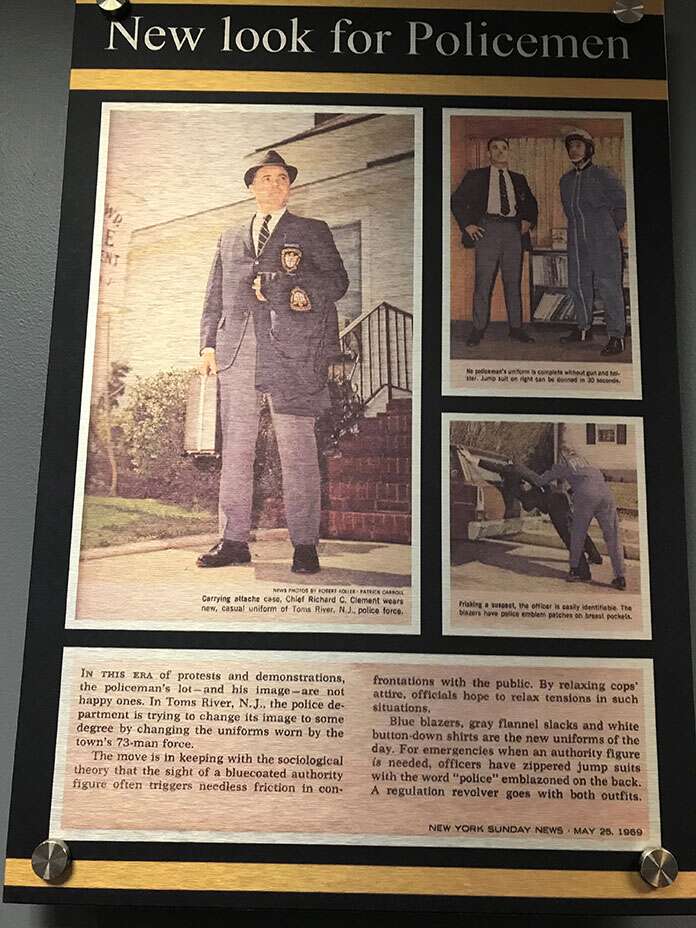 A great help in assembling these photos came from Detective Charlie Dallago, who had assembled a yearbook previously, Little said.
The department will be communicating with schools and groups like scouts to provide tours, he said. They might even create educational material for them.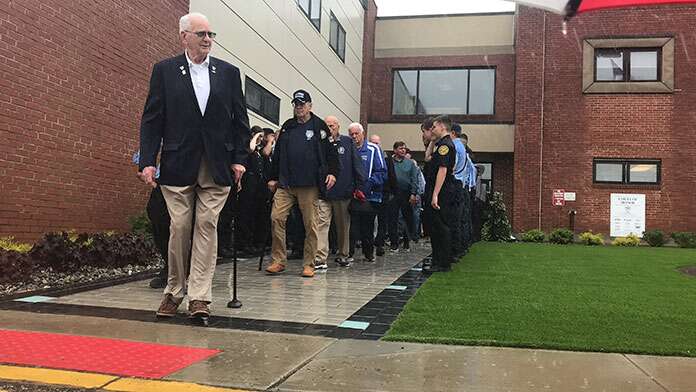 One of the plaques dedicates the fitness center to Detective Mark J. Catalano, who inspired many officers to reach fitness goals. Written on it is a fitting quote from the classic movie "The Sandlot," where Babe Ruth inspires with the line "Heroes get remembered, but legends never die."