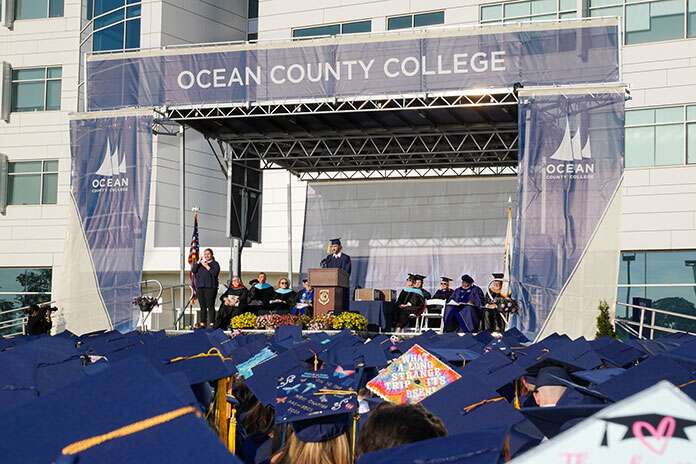 TOMS RIVER – Ocean County College conferred 1,387 degrees, including the associate in arts, associate in applied science, and associate in science, at its 56th Annual Commencement Ceremony on May 25, the culmination of the graduates' academic achievements at the two-year college.
640 students participated in the event, which took place on the Gateway Building lawn on the college's main campus in Toms River.
The ceremony began with a warm welcome from Linda Novak, Vice Chair of the OCC Board of Trustees, followed by a vocal performance of the National Anthem by students from the Ocean County Vo-Tech Performing Arts Academy (PAA). The Ocean County Sheriff's Department provided the Honor Guard.
Reverend Lisa A. Hoffman from Christ Episcopal Church in Toms River delivered the invocation.
In his remarks, OCC President Jon H. Larson thanked the OCC Board of Trustees and the Ocean County Board of Commissioners for their steadfast support and praised the entire OCC faculty, calling them "the finest teaching faculty among all 1,042 community colleges in America."
President Larson also acknowledged a number of distinguished guests, including the incoming OCC president, Dr. Pamela Monaco, who assumes the role on July 1; Dr. Aaron Fichtner, president of the New Jersey Council of Community Colleges; and dignitaries from OCC's partner universities in Egypt, who traveled to the U.S. to attend the ceremony.
This year's graduates included 116 students from OCC's Nursing class, 56 local high school students participating in OCC's Early College program, 30 students who earned OCC degrees in performing arts while simultaneously attending PAA, and 30 Egyptian students who earned associate degrees in Business Administration through the partnership between OCC, Kean University and Ain Shams University.
President Larson also acknowledged the College's veteran graduates, thanking each of them for their service, as well as members of numerous honor societies and special groups that encourage academic success and provide support for students.
"We are indeed proud of these students, as we are of all our graduates, for their resourcefulness, their hard work, and their commitment to reaching their goals," Larson said.
This year's Student Commencement Speaker, Casey Conner, offered an inspirational call to action to the class of 2023. "I have seen firsthand the incredible work that can be done when a community comes together," Conner said. "Our strength as individuals only lies in solidarity with those peers around us that share a common goal. When these individuals come together, not only does the community benefit, but it also sets the right example for other communities that surround it. Like a pebble in a river, the seemingly small impact that we have ultimately ripples and spreads. The solidarity of a community is a strong bond that, once together, is impossible to be broken. But this bond starts with you – with each and every one of us here today."
Dr. Lamont O. Repollet, president of Kean University, also shared words of wisdom for the graduates. "Be empowered and courageous," he told them. "Continue to show up, day in and day out, for the things that are worthwhile and important, because the world needs you."
  The 56th Annual Commencement Ceremony was broadcast on ocean.edu and on Ocean TV-20 via Comcast of Toms River and Long Beach Island (Channel 20) and Verizon FiOS of Northern Ocean County (Channel 24). Repeat broadcasts will be available throughout the month. For more information, visit ocean.edu.