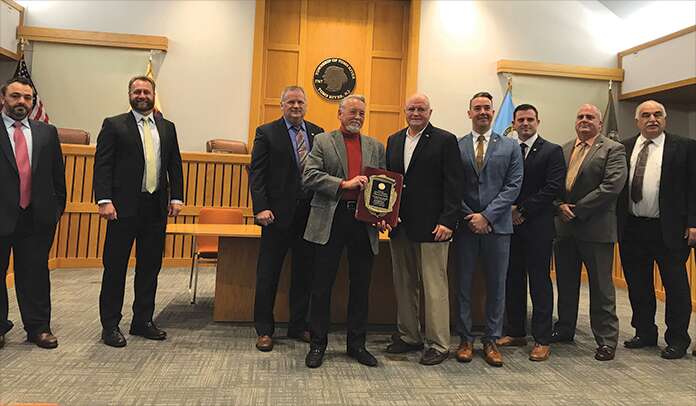 TOMS RIVER – Township Planner David Roberts, who oversaw such projects as bringing the Veterans Administration clinic to town, was thanked by officials upon his retirement.
Roberts has been with the township since 2016, and "he has done a marvelous job," said Mayor Maurice "Mo" Hill during a recent Township Council meeting. "I can't thank him enough.
"Dave will always give you the right answer, but not necessarily the short answer," he said. This was a joke based on Roberts' tendency to explain a situation thoroughly based on his extensive knowledge.
Hill credited Roberts with putting together the package that brought the veterans administration clinic to town. The VA took years to find a new location, knowing that the demand was greater than the current Brick facility could manage.
"I appreciate the credit but a lot of folks are responsible for it being built," Roberts said. He thanked his staff and others who helped him along the way, particularly engineer Robert Chankalian.
Roberts remembered July 30, 2021 when the VA officially signed that it would be in Toms River. He said "Well, now the hard work really begins."
Although in retirement, the hard work can really end.
He started his career in 1981 and said he loved working for Toms River. He recalled looking around at a department head meeting at the dedication, talent, and professionality of those leaders.
"Six years went by in six days," Roberts said. He thanked former Mayor Thomas Kelaher for hiring him and Hill for keeping him on.
He also said he was fortunate to work with several organizations that cared strongly about their areas of town, such as the Ortley Beach Voters and Taxpayers Association as well as Downtown Toms River.
During the public comment portion of the meeting, Paul Jeffrey from Ortley Beach said he appreciates the work he did with zoning and an upcoming streetscape project.
"We all want to say 'thank you' to him," he said.
His replacement will be the assistant township planner, Robert Hudak, the former mayor of Manchester.