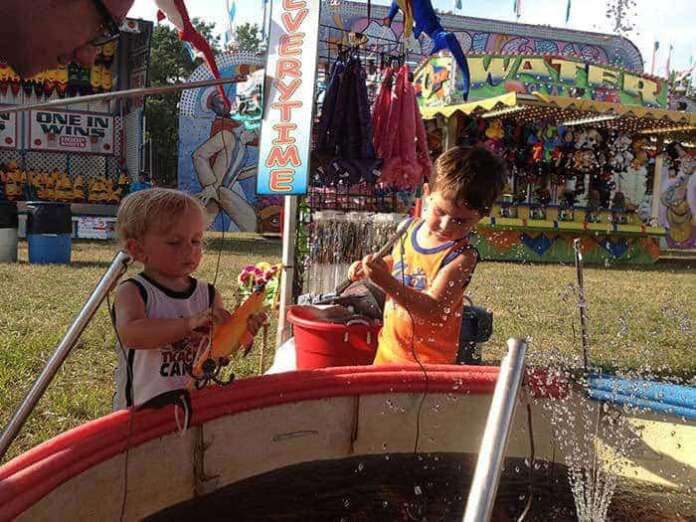 BERKELEY – There is much to see and do at the upcoming Ocean County Fair. Here's a snapshot of what to expect so that you can plan your trip.
The fair will be from July 13 through July 17 at the Robert J. Miller Air Park on Route 530 in Berkeley. Admission is $9. Kids under 10 are free, and parking is free. The times are as follows:
Wednesday: 5-11 p.m.
Thursday: 5-11 p.m.
Friday: 11 a.m.-11 p.m.
Saturday: 11 a.m.-11 p.m.
Sunday: 11 a.m.-5 p.m.
Food, Rides, And More
Fair food is back on the menu as the midway will have vendors offering traditional items like ice cream and fried treats, as well as some more interesting surprises.
Families can buy tickets for a variety of rides, from slow ones for little kids to high-rising ones for older fair-goers. Unlimited ride wristbands are available on Thursday and Sunday.
  The 4-H will be involved once again. As a long-running partner with the fair, they will be having animals that are part of their clubs' projects. Members raise and care for the animals, and then teach the public about them. They also have displays that serve as the culmination of other lessons in disciplines such as art and environmental sciences.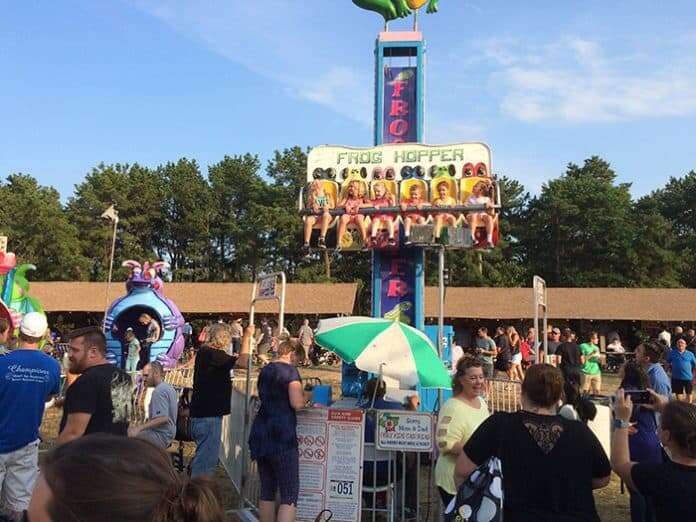 Entertainment
The midway will have performances throughout the fair, with times to be announced. Many of them will be there every day, such as Dynamo Dogs, Bwana Jim's Wildlife Show, Pig Races, Chainsaw carver, pony rides, and the Mermaids Show.
There will also be the following special performances:
Wednesday: Fish Eyed Blues Band; Toms River's K-9 Police Unit at 6 p.m.
Thursday: It's All Good Band
Friday: Whippoorwill Bluegrass Band; After the Reign
Saturday: Strictly 60s; Jersey Jukebox; Magic of Marco
Sunday: Cowboy Larry's Wild West Show
History
The Ocean County Board of Agriculture held the first annual "4-H Achievement and Agricultural Ocean County Field Day" on September 6, 1947. There were approximately 500 people there. By way of comparison, for the 1967 show, that number was up to 60,000 people.
It started at the Ocean County Park in Lakewood, but outgrew it in the 1980s. It was then relocated to the Robert J. Miller Airpark in Berkeley Township. The first four-day fair was in 1982.
  It used to be an agricultural show for local farmers to show off their crops. However, as farming gave way to housing and commercial development, there are very few farms left locally. The 4-H has taken on the agricultural aspect of the fair, showing off what families have grown and nurtured.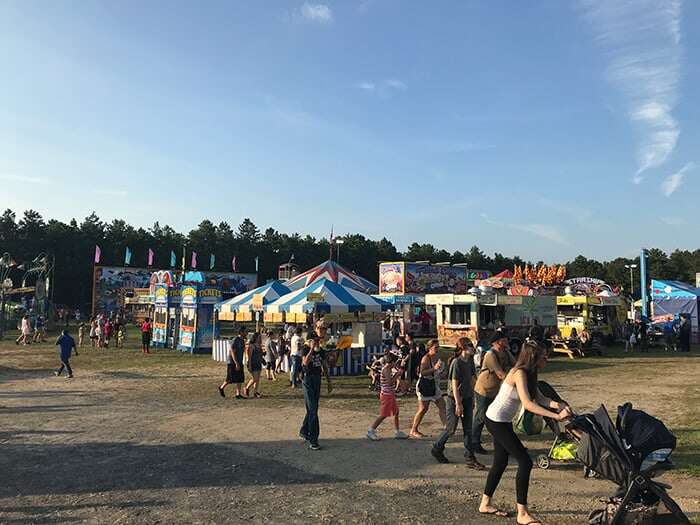 The fair was cancelled in 2020 due to the pandemic. At that time, the statement put out was that "Rutgers Cooperative Extension/4H has put a hold on all 4H activities through August. 4H is such a strong partner of the fair that we cannot see a way forward without them this year." The fair is run by volunteers, and without the 4H and other groups, they were shorthanded.
In 2021, it had been scheduled. However, in April of that year it was cancelled because capacity restrictions were still in place and 4H was limited from having large gatherings.
The 2020 fair would have been the 73rd year of the fair. The only years they missed were 2020 and 2021.