TOMS RIVER – Cheers, cheers and more cheers for Toms River Township baseball.
Perhaps best known for its beautiful Atlantic Ocean beaches and the pristine waters of the Toms River and the Barnegat Bay, the town has carved out a pretty fair reputation as a baseball incubator as it has produced five – count 'em, five – major leaguers.
Its first four exports to make it to The Show are Jerry Dipoto, who pitched for North and is now the Seattle Mariners' general manager; ex-North pitcher Mark Leiter Jr., now with the Chicago Cubs, and former South standouts Jeff Frazier, an outfielder who played briefly for the Detroit Tigers, and two-time All-Star Todd Frazier, a third baseman.
Latest player to roll off the Toms River Township Major League Baseball Assembly Line is ex-North standout Ronald Marinaccio, now pitching for the New York Yankees. Marinaccio joined Mark Leiter Sr., and Mark Leiter Jr.'s, uncle, two-time All-Star Al Leiter, former Central Regional pitchers, Todd Frazier and ex-Point Pleasant Beach pitcher Bob MacDonald as Ocean County products who have played for the Yankees.
  It didn't take long for Marinaccio, a righty reliever, to make a positive impact on the Yankees and a negative impact on their bitter rivals, the Boston Red Sox.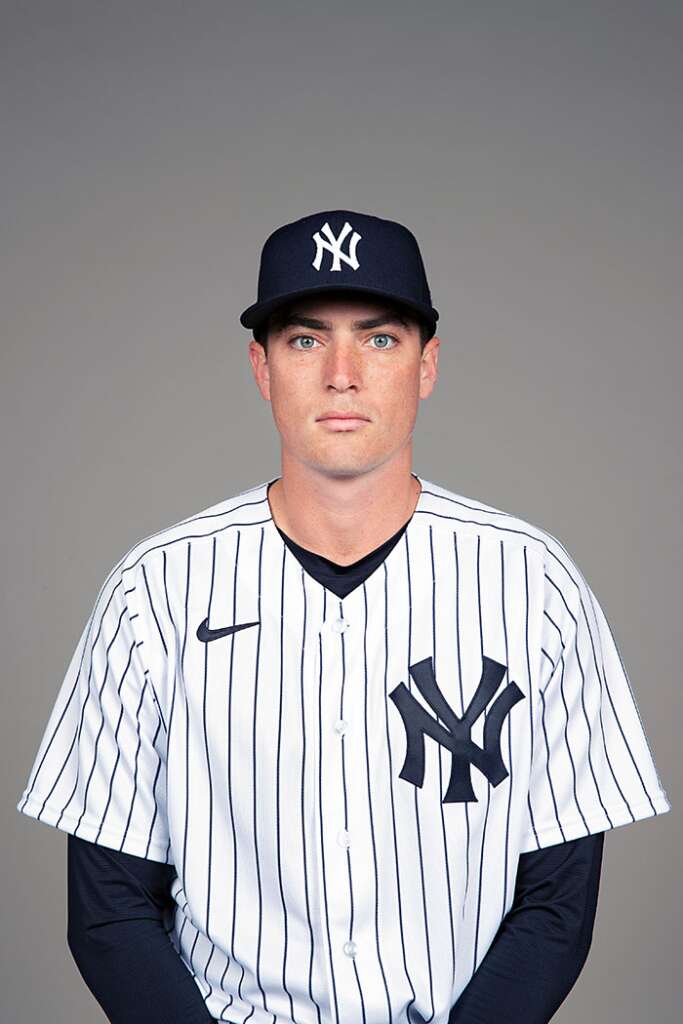 Marinaccio, who came on for starter Luis Severino, wriggled out of a fourth-inning jam in the Yankees' 4-2 victory in his major-league debut.
Severino allowed a leadoff single. Marinaccio whiffed first baseman Bobby Dalbec with his signature pitch, a changeup, for his initial major-league out and strikeout. With runners at first and second, Marinaccio induced Jackie Bradley Jr. to hit into a fielder's choice with a ground ball to second base. Marinaccio caught Christian Bradley looking at a front door slider, ending the inning.
With a crowd of 46,882 patrons roaring its approval, Marinacco slapped his glove with his right fist as he hopped off the Yankee Stadium mound.
"That's as special of a moment probably as I could have come into, I think," Marinaccio said after his debut. "Yankees, Red Sox. Glad I kind of got to kill two birds with one stone. Got the debut out of the way and it was an exciting situation, pitching in that part of the game as well. That first game was pretty cool. Yankees versus the Red Sox. You can't draw it up any better than that. I was more calm than I felt I would be. I had to find my release point. It's definitely a different feel out there."
"I love his makeup," New York manager Aaron Boone said. "I knew he'd get through it."
Marinaccio's fifth major-league pitch sailed high above the strike zone as the crowd moaned. Prior to the next pitch, Marinaccio received visitors in first baseman Anthony Rizzo and catcher Kyle Higashioka.
"I definitely needed it," Marinaccio said. "After ball five, Rizzo came out there and said, 'Just give me a deep breath,' and that's exactly what I needed at that point. Higgy told me, 'We're going to go slider (on the) next pitch.' I had confidence in him and landed the next one."
The pitch evened the count to Dalbec, biting back into the strike zone and setting up the strikeout.
"It thought it was perfect timing for Rizz and Higgy to go out there and tell him, 'Trust your stuff. You're in here and on this team because you're more than capable,' " Boone said. "I thought he locked in from there and started executing pitches like he can."
  Living in the moment, Higashioka presented Marinaccio with a game ball during a break in the action.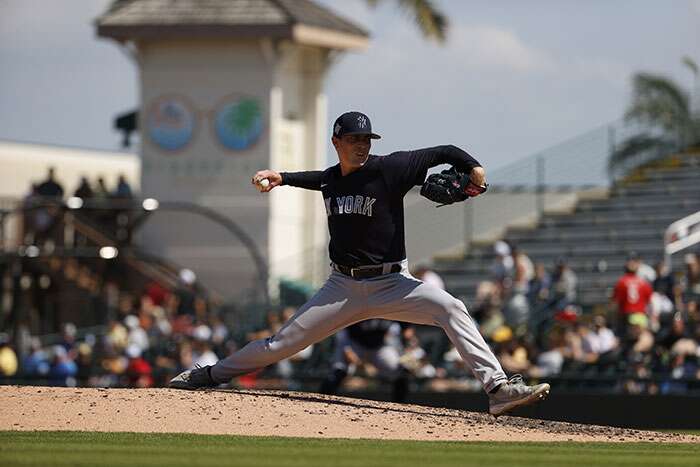 "New York fans are tough," said Marinaccio's father, Ron Marinaccio, who viewed the game near the field. "When he threw those four balls, they hollered, 'C'mon, ya bum.' I had to bite my tongue. Once they learned my son was on the mound, Boston's fans cheered for my son and clapped. After the inning, I was elated and crying and screaming, 'Oh yeah. Oh yeah.' "
The Yankees' sixth reliever of the game, Marinaccio faced four batters in his lone inning. He walked one. Of his 19 pitches, 12 were strikes.
He said it is important to establish an effective routine.
"In the bullpen," he said, "it's all hands on deck. The guys who have five and six years of service all have their own routines. The biggest thing is finding the routine that works the best for you. You feel the game out and stay as loose as you can. You don't want to sit there for two hours doing nothing. You never want to get caught with cold feet. You want to stay in the game mentally and not get caught off guard when your name is called.
"Getting into the right routine is the key to success – that and staying mentally neutral."
Through his first three games of the regular season, Marinaccio posted a 5.40 earned run average. Through 3 1/3 innings, he allowed two hits, two runs – both earned – and two walks. He hit one batter, whiffed four and put up a 1.20 WHIP (walks and hits to innings pitched).
"Like pitchers, I have learned that hitters are also human," Marinaccio said. "I have to prove to myself that I can get big-league hitters out. They are more advanced at this level than they are in the minor leagues. You need more of a plan here. You can't just rely on your stuff. The Yankees have a good analytics department that gets us the best plans."
Team Marinaccio was well represented during its idol's first weekend as a Yankee. At least 100 family members and friends were in the stands. At least 10-15 persons, led by his parents, Ron and Renee; brother, Pat, and fiancee, Gianna Fiore of Cherry Hill (the couple will marry Dec. 2, 2023), were seated in the second level of the family section on the first base side.
Later during the game, Ron and Renee Marinaccio wound up sitting in the seventh row of the stands in padded seats behind the plate while their son pitched.
"We explained to a security guard that Ron was from a local family," Renee Marinaccio said, "and she was kind enough to let us move down from the family section. My husband and I made friends with the security guard. When Ron was pitching, it was surreal. It feels pretty good to be the mother of a Yankee. Ron was in their farm system for five years. This is what we have all been waiting for. Ron worked very hard. He was always a natural talent. Now, he's at a whole new level."
"We were close, probably just outside television range," his father said.
A bottle of Dom Perignon found its way to the family's deck with a balloon containing the number 97, Marinaccio's jersey number, after his promotion to the Yankees.
  "We will drink it with Ron after the season," Renee Marinaccio said.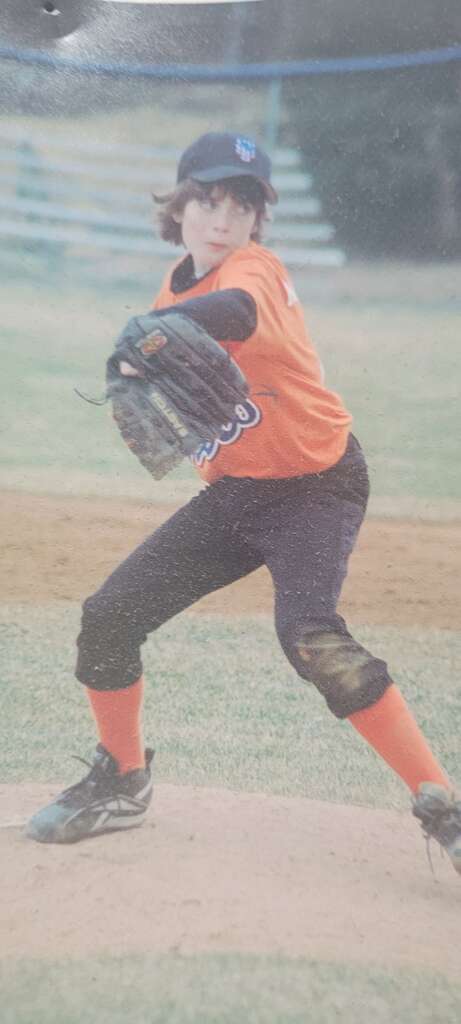 Renee Marinaccio and her husband spoke to their son in a tunnel leading to the field after the game.
"We said, 'Congratulations,' and that was pretty much it," she said. "We met Michael Kay (the Yankees' veteran broadcaster on the YES Network) in the tunnel and that was kind of cool."
"We were pretty much there all weekend, waiting for Ron to get his opportunity," Pat Marinaccio said. "We saw him warming up and it was so surreal that it was about to happen. It was a very emotional moment for my family, knowing how much time he put in and the sacrifices he made. It all came together and it was like, 'Wow! This is really happening!' We were all super nervous, but at the same time we were so excited for what was about to happen."
Marinaccio said Kay spoke well of his son.
"Michael said Ron is a nice young man who looked poised on the mound," he said. "He said Ron did well and has talent. He said, 'You must be proud of him ' I was tearing up."
The debut was emotional for then-North coach Ted Schelmay, who guided Marinaccio for three seasons during his days as a Mariner.
"I was sitting on my couch watching the game," Schelmay said. "When he got that third out, I went to tears. To see a local Toms River kid and a Mariner be successful … I cried. It gave me some chills."
Marinaccio, 26, was informed by Boone on the final day of spring training that he would be on the team's Opening Day roster. On the day after Opening Day, he made his major-league debut.
"He told me, 'I want to let you know that you deserve this. You earned a spot on the team. You will be coming to New York,' " Marinaccio said. "The first person I informed of the news was my fiancee. I texted her. Then, I gave my folks a call. It's exciting. It did not hit me until I got into the clubhouse and began working out at the stadium. I am trying to come here and help the team win in any way I can. This is a dream come true, definitely.
"I am here because I compete and am a good guy around the clubhouse. The organization and the coaching staff know I will continue to work and keep getting better. They know I will be there to help the team. I hoped for this all along. I gave it everything I've got. It's super exciting to be here."
Marinaccio, a lifelong Yankees fan who has attended nearly 11 of the team's games, earned his pinstripes April 5 – his dad's birthday.
"When he was promoted, it was a blessing," his father said. "We knew he was going to the Bronx. That made my day."
Having the proper outlook is important.
  "You want to stay as neutral as you can mentally," Marinaccio said. "It's a long season. You will have some great games and not so great games. You can't get too high. You can't get too low. My goal is to get better each day so that I am more prepared each time I go out to the mound."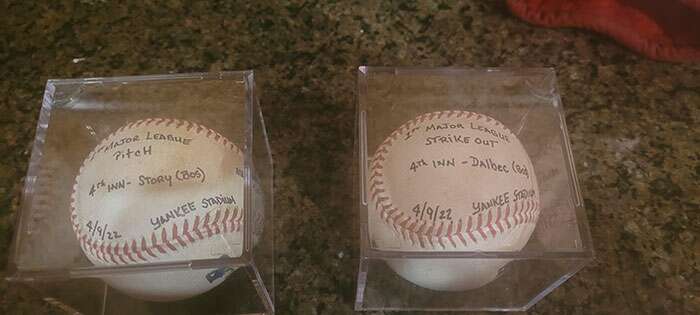 Marinaccio, a 2013 North graduate, whiffed a batter in the championship game of the Ocean County Tournament during his senior year when he told Schelmay he felt something pop. With his elbow in tatters and facing Tommy John Surgery, Marinaccio played center field for the Mariners in the Shore Conference Tournament final and helped the team to the title.
Marinaccio earned a scholarship to the University of Delaware where he split time as a starter and closer. As a redshirt junior, he posted a 4-3 record and a team-best 2.09 earned run average, 28th in NCAA Division I. He appeared in 22 games and started eight. He whiffed 68 in 64 2/3 innings.
"There is good data regarding the surgery," Marinaccio said. "The recovery is pretty good. I was still young and I definitely wanted to give it a go."
The owner of a criminal justice degree from Delaware, he was selected in the 19th round, 572nd overall, by the Yankees in the 2017 Major League Baseball Draft following his third season of eligibility.
Marinaccio posted a 4.18 earned run average at Single-A Charleston in 2019. Despite the COVID-19 pandemic which canceled the 2020 minor-league season, Marinaccio still managed to work out and chase his dream. He spent his days at North in the area beyond the outfield where a batting cage and bullpen served as some of training equipment.
"He was there – literally – like clockwork," said current North coach Andy Pagano, who worked with Marinaccio during his sophomore, junior and senior seasons as an assistant coach under Schelmay. "Ron was there with his weighted balls … and throwing (bullpen sessions), throwing to nets … he was just working his ass off to be honest with you."
"The 2020 season could have been a lost year for Ron," Pat Marinaccio said. "He could have decided to sit back and wait for things to clear up. He silenced all of that. He put his head down and worked. He adjusted his diet and workout schedule. He took off in 2020. Prior to 2020, he lacked speed on his fastball, throwing it at 90-92 miles per hour. To get to the majors, he knew he had to put the time in to throw harder. He came out of 2020 a completely different player and mature in every aspect of the game."
The hard work paid off. Marinaccio's fastball averaged about 90-91 mph in 2019. Its velocity increased to around 94-95 mph in 2021. It increased the effectiveness of his other pitches as he posted a 2.04 earned run average with 105 strikeouts and 27 walks in 66 1/3 innings split between Double-A Somerset and Triple-A Scranton/Wilkes-Barre in 2021.
"During COVID, Ron drove from Toms River to Medford where he found a great trainer who pretty much turned his life around," Renee Marinaccio said. "His fastball became faster and his mental attitude changed as well."
"I told Ron during COVID, 'God has a plan. Keep going. Don't give up until they cut you or let you go,' " his father said.
These days, Marinaccio's fastball crackles past the plate at 93-97 miles per hour.
"I want to clean up my mechanics to the point where it will be 95-97 miles per hour," he said.
  His changeup has been clocked between 82-85 mph.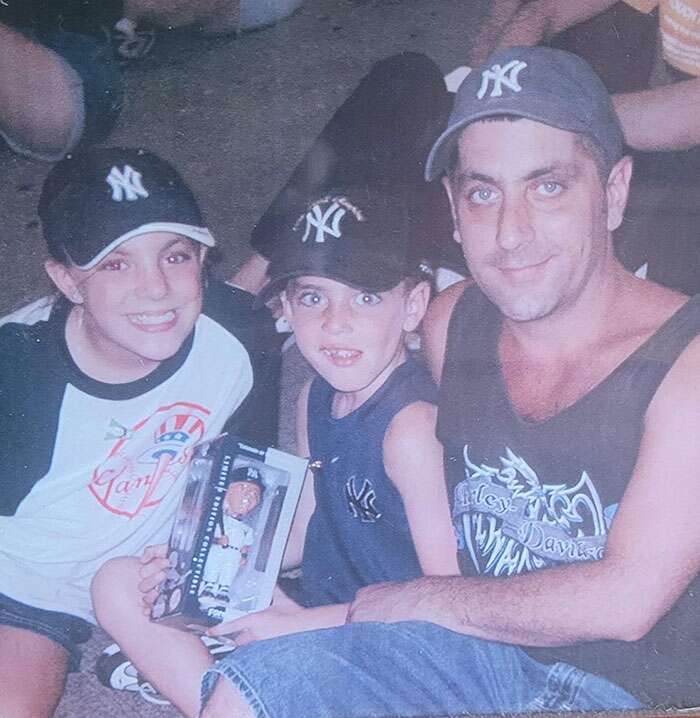 "I have been throwing it for my whole career," said Marinaccio, who also slays hitters with a slider. "In 2018, I learned the grip. Analytics opened my eyes to it last year so I got my usage up. My goal is to get more movement on it."
Marinaccio closed Severino's no-hitter last season for Somerset. Marinaccio appeared in 88 games, all in relief, as a minor leaguer, posting a 5-3 record, a 3.16 earned run average and 18 saves. He hurled 148 1/3 innings, striking out 214, walking 57 and allowing 106 hits, including five home runs. His WHIP (walks and hits to innings pitched) was 1.10.
The 6-foot-2 Marinaccio turned enough heads to land on the Yankees' 40-man roster last November. He fared well enough to earn 11 berths in the bullpen. The Yankees tried to safeguard their arms after spring training was shortened because the owners locked out the major-league players.
"Growing up," said Marinaccio, a lifelong Yankees fan, "you envision this in your backyard your whole life. For me, I really started thinking about it probably toward the end of last year … and then getting added to the 40-man roster … so I had a long time to think about it … a lot of anticipation. There was a ton of adrenaline (during his major-league debut). It lived up to it, definitely."
Marinaccio said his phone blew up once the news of him broke of him making the team, including pictures of his family of a 6-year-old Marrinaccio sitting with the Bleacher Creatures beyond the outfield fence at the old Yankee Stadium. He said he receives six tickets for games with the team.
Schelmay said he learned of Marinaccio's promotion to the big club while golfing in Hilton Head, S.C.
"I received text messages from my ex-players and ex-coaches and my phone started blowing up," he said. "His dad, Ron, texted me and said, 'We're going to the Bronx.' I gave one of my big yahoos on the course. Deb (Schelmay's wife) and I like to travel. We want to see Ron either play on the road or spend a weekend in the city and catch a few games."
Schelmay coached Marinaccio for three varsity seasons. Marinaccio put up a 0.72 earned run average during his senior year with the Mariners.
  "Ron's stuff was never overwhelming, but he had a very good curve and was very intelligent," Schelmay said. "He also had a changeup, which he began to develop. It was very effective. Ron was calm, cool and collected – the way he is now. He was neither overbearing, outgoing or aggressive, but he knew how to play the game. He knew how to win and how to be successful. He spoke when he needed to. He was an excellent listener and very coachable."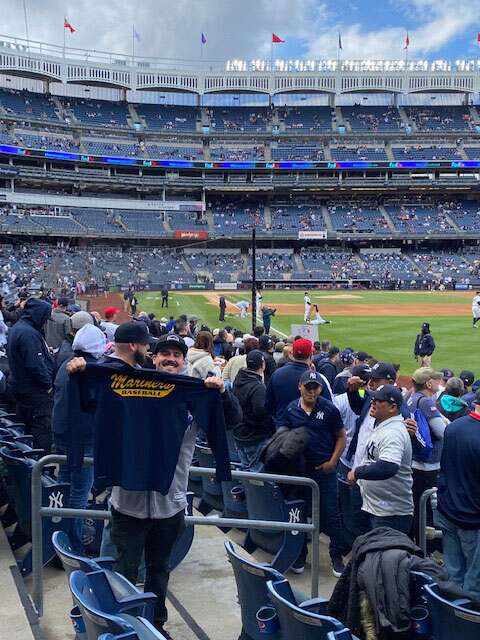 Pro scouts showed limited interest in Marinaccio during his days as a Mariner.
"They liked how he played the game, but not many attended his games because he was not physically dominating at the time," Schelmay said. "Arizona and San Diego looked at him. We always had a scout come by from the Yankees. He'd be on the left field line and he waved to me. Ron did not throw in the 90s at all back then. He was in the mid 80s. That's why he deserves a lot of credit for developing the way he did.
"A lot of local colleges looked at Ron when he was at North. He hit it off with the Delaware coach. Ron's parents and I talked and he made the choice the next day to choose Delaware."
Schelmay said he is proud of Marinaccio.
"Ron has worked so hard and I am so happy for him," Schelmay said. "Deb and I walked the track at North during COVID-19 and saw Ron long tossing. He built his arm and body to where he would have the opportunity that he has now."
Marinaccio attended baseball camps run by Schelmay and Pagano at North. Pagano said he liked Marinaccio's mental makeup.
"He was the toughest and strongest kid I ever coached," he said. "He was a competitor. He always wanted the ball in big spots. He was not super mouthy. He was one of those guys who had a quiet intensity. He always had pinpoint accuracy with his pitches. He added muscle to his skinny body and that got him a lot more on his fastball. He was always one of our best kids. I would not say he was a late bloomer."
Pagano said he, too, is proud of Marinaccio.
"I am happy for him," Pagano said. "He deserved a shot. I hope he gets more shots. It's cool that he is living everyone's dream. To be a hometown guy and pitch for the Yankees … he watched them a lot and now he has a chance to do it all for them. That is very special."
  Marinaccio played for the Mets in the Toms River Little League's Major League. One of his coaches was his father.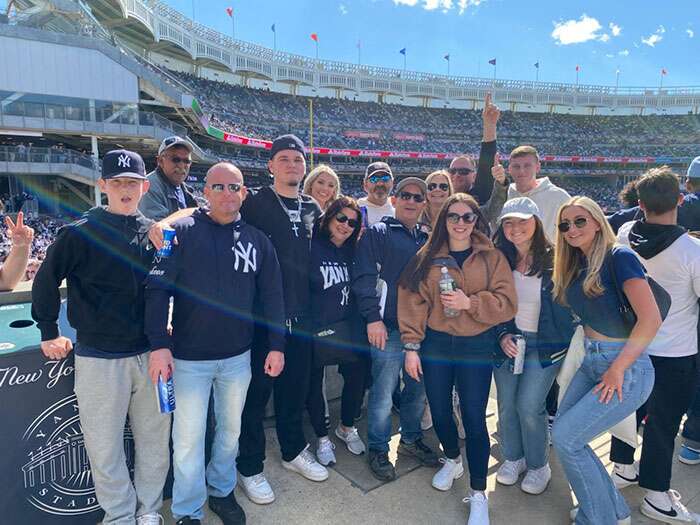 "He was drafted as a Yankee and traded right away to the Mets," his dad said. "He stood out a little bit, but he was not the top player in the league. He was never the tallest or the biggest kid. He was lanky. He always threw strikes. He had good control at an early age. He began playing when he was four or five years old. He also played shortstop."
Marinaccio and Al Leiter crossed paths during a function at the field of the Toms River East American Little League, winner of the 1998 Little League World Series.
"Al pitched to both teams," Mr. Marinaccio said. "Ron caught Al, throwing the ball back to him. Al said, 'Your son has a good arm.' I believe Al signed a ball for him."
Marinaccio attended the North Dover Elementary School and Toms River Intermediate School North. He played basketball at guard for the Mariners of coach Rory Caswell as a junior and senior on the varsity.
The brothers often competed against each other.
"We played either baseball or basketball every single day," Pat Marinaccio said. "That is where Ron's competitive nature came from."
Pat Marinaccio said his brother is in control of his situation.
"He handles everything very well," he said. "He has become a pro real quick. He's ready for this moment. Years ago, he saw this opportunity. I feel he will have a good career as he has such a great work ethic."
"It's still hard to believe that he actually made it," his dad said. "How many can say they played major league baseball? To say that Ron made it as a Yankee is even better. It's all a dream, a miracle from God. We are all very grateful. I'm still pinching myself. It's probably easier to hit the lottery."
NOTE: The New York Post, si.com and mlb.com contributed to this article.