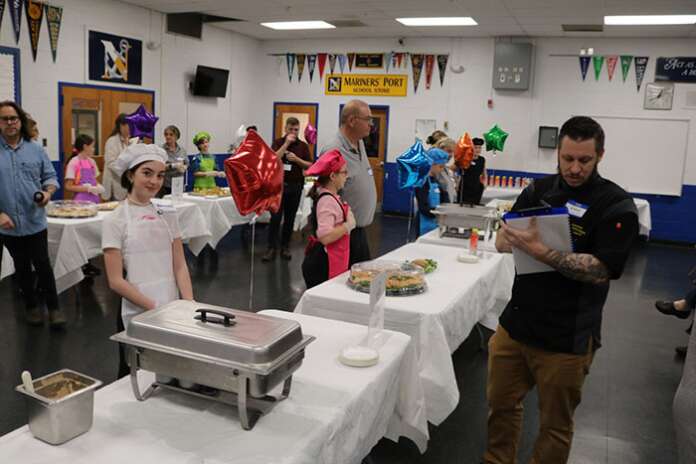 TOMS RIVER – When Food Services Director Jeff Hanaway came aboard at the beginning of the 2021-2022 school year, he knew that one of the initiatives he wanted to implement was a junior chef competition. April 7, that dream became a reality, as student chefs representing each school competed to see who among them made the best healthy sandwich.
And more so than just bragging rights, the stakes were raised when JBJ Soul Kitchen not only agreed to help judge the event, but offered to feature the winning dish as its lunch special next week, with the winning student preparing it themselves.
Speaking of judges, in addition to JBJ Soul Kitchen Executive Chef Rob Wood, judges included soon-to-be Superintendent Mike Citta; Assistant Superintendent Rich Fastnacht; Board Member Kathy Eagan; and Business Administrator Bill Doering.
As for the contestants, it was a who's who of student sandwich makers and their specialty:
Cedar Grove: Julia Damiano, Toasted Cinnamon Apple Grilled Cheese
West Dover: Brianna Lawrence, Creamy Chicken Salad Pinwheel
North Dover: Enzo Mauro (top right), Enzo's Club
East Dover: Liam Marshall, The Salad Sandwich
Silver Bay Elementary: Lyla Morton, The Plane Classic
Citta Elementary: Julia Duffy, Dino Sandwich
Beachwood: Carter Whartnaby, Juicy Bear
Hooper Avenue: Gavin Gutowski, Mac Attack
South Toms River Elementary: Cristel Morales-Cruz, CC Sandwich
Walnut Street: Aliyah Fraley, Tea Sandwich
Pine Beach Elementary: Keziah Bennett, Splendiferous Crunchy Turkey Sandwich
Washington Street: Charlotte Henkel, Pesto Sandwich
While a couple school winners were unable to compete, 10 junior chefs withstood the heat in and out of the kitchen at High School North, including West Dover's Chef Isabella, who utilized her classmate Brianna's recipe for a creamy chicken pinwheel sandwich. Each chef had the advantage of one of their school's trusted cafeteria workers to serve as an extra set of hands (and to calm any pre-presentation jitters). Judges were advised to evaluate based on originality, healthy attributes, ease of preparation, kid appeal, and plate presentation.
The concept of the junior chef competition was something Hanaway became familiar with at a previous stint, and he immediately recognized its impact.
"I thought it was a great concept, and I wanted to incorporate it here as a way of building the relationship between the students and the Food Services department, especially since coming back from the pandemic," he said. "I also feel it's a great tool for students to break away from their devices to spend valuable time with their family, and maybe learn a recipe passed down from generations."
Building the knowledge of healthy eating and having elementary students exposed to the preparation of healthy meals is key to reducing childhood obesity, Hanaway added.
Thursday's event was, more than anything, a fun celebration of students' culinary talent. Music played in HSN's Blue Cafeteria as students finalized their platters in the kitchen and as their families proudly gathered to cheer them on. Judges then casually sampled the sandwiches, talking notes and asking questions. While the judges conceded that every sandwich was delicious, there did come a time to name the top three:
3. Julia Duffy's Dino Sandwich
2. Julia Damiano's Toasted Cinnamon Apple Grilled Cheese (Judge Rich Fastnacht was overheard exclaiming, "This is amazing.")
1. Brianna Lawrence (recipe) and Chef Isabella's Creamy Chicken Pinwheel Sandwich
West Dover's Brianna and Isabella will both go on to help create the sandwich at JBJ Soul Kitchen alongside Chef Rob Wood.
Hanaway hopes to make the TRRS Junior Chef Competition an annual event which will continue to educate young minds about healthy eating habits and teach them lifelong skills. If Year 1 is any indication, the event is well on its way to becoming a fun and tasty tradition.