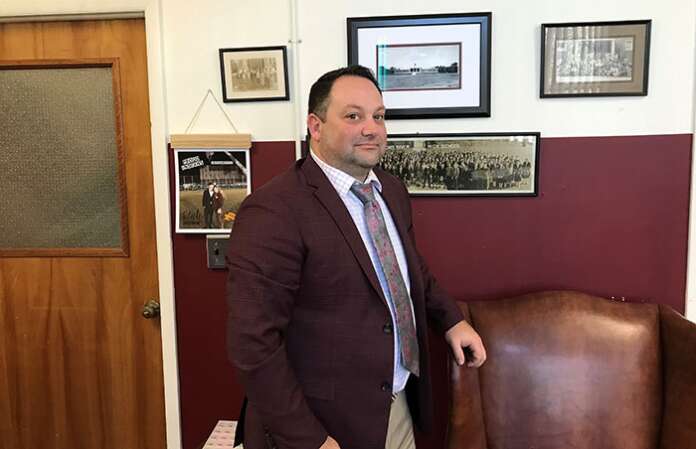 TOMS RIVER – In Michael Citta's office in High School South, he is surrounded by memorabilia from the building's roots as Toms River High School. It's fitting for someone who has a legacy here.
Citta will be stepping into his role as superintendent on May 1. He sat down with Toms River Online a few months ago, just after his appointment was made.
"First and foremost, I'm proud to be an educator for 24 years and to give back to the kids," he said.
He's a home-grown leader, having grown up here. The public wanted someone local from within the district to take the helm, and he has skin in the game. He began as a history teacher, then moved up to assistant superintendent. When the district lost funding, he said he voluntarily stepped down to become principal of Hooper Avenue Elementary. He's been the principal of High School South for the last four years.
"I think the uniqueness of Toms River – 54 square miles, a send/receive district plus being regional, the demographics – is different than any other district," he said. "We are so large, but we feel so small."
Each of the schools have their own identity and distinct needs. "Some need different resources and we recognize that. It's not one size fits all."
From being part of the district in a number of ways, from student to teacher to administrator, it's given him the experience to know it inside and out. "I feel like I've really been given the background and tools to succeed."
  Although his first day as superintendent was May 1, but the process began months ago so that he could hit the ground running. He was brought in to aspects of operations he wasn't already part of, met staff he hadn't met, and reached out to stakeholders in the community.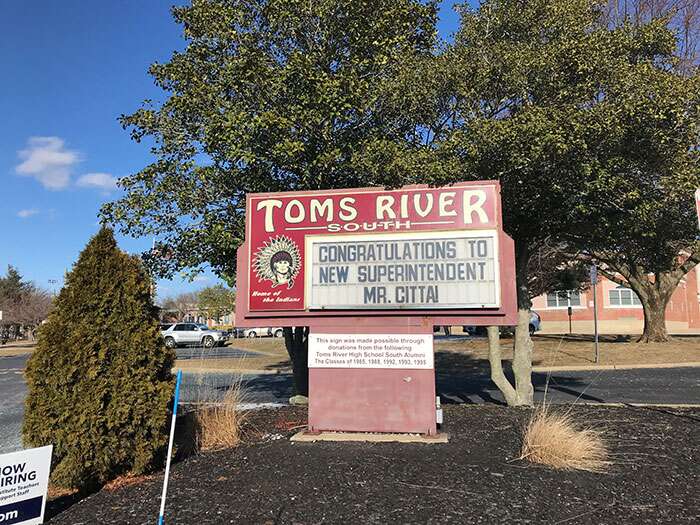 What's In A Name?
There was some criticism about Citta being chosen based on his name. His uncle, Joseph A. Citta, has a school named after him. According to the Toms River Regional Schools Hall of Fame, into which he was inducted in 1988, he was a local real estate agent and attorney. The World War II veteran received many awards based on his service to the town, which included significant contributions to the Ocean County College Foundation.
"I'm very proud of my name and my family," Michael Citta said. Being raised in that family, he had people to look up to. Carrying that name, he had to work harder to prove himself.
Challenges
Citta has his work cut out for him.
The district has been suffering from cuts to state aid for several years now. Trenton decided that certain districts were "overfunded," and they lost aid. Toms River is one of many local districts that have been seeing decreasing enrollment lately, which also contributed to the lowering state aid.
Politics, unfortunately, rears its ugly head a lot in school districts, something that he says should never happen.
"Anyone who loves kids will step up to the plate to help. Politics have to step aside," he said.
His goal is to bring people together. "We need to correct the wrongs of (state aid funding). We just can't wait for it to be fixed. We have to re-evaluate our priorities to make sure we are student- and program-driven."
Students are adjusting after having a year and a half of COVID restrictions. Because of that, he doesn't expect to be making any big changes early in his tenure.
"To come in and do massive changes, when we haven't had a routine, would be a mistake," he said.
Instead he plans on building relationships with others, to be "comfortable and confident in our plans, so people know the district is run with compassion, consistency, and respect for each other."