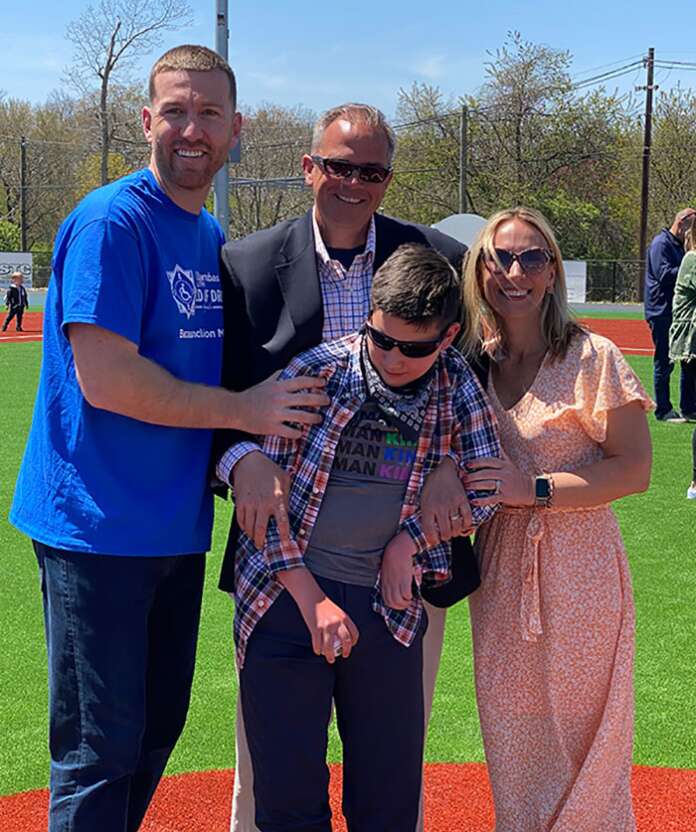 TOMS RIVER – Fans watched in heartful appreciation as 11-year-old Gavin Kane made his way to throw the ceremonial first pitch at Toms River's Field of Dreams last Saturday.
The scene was even more breathtaking than Kevin Costner's epic emergence from the cornfields to the pitcher's mound in the movie that bears the same name.
Gavin's father, Christian, held him upright from underneath both arms as the young boy used all his might to make the throw.
Tears of joy and applause overtook the crowd as Gavin's pitch landed squarely in the catcher's mitt waiting behind home plate. The unassuming man in a blue volunteer shirt who made the catch immediately raced toward the pitcher to congratulate him.
Well-known as a professional baseball third baseman, local sports icon Todd Frazier appeared equally humbled and elated to change field positions to make the ceremonial first catch.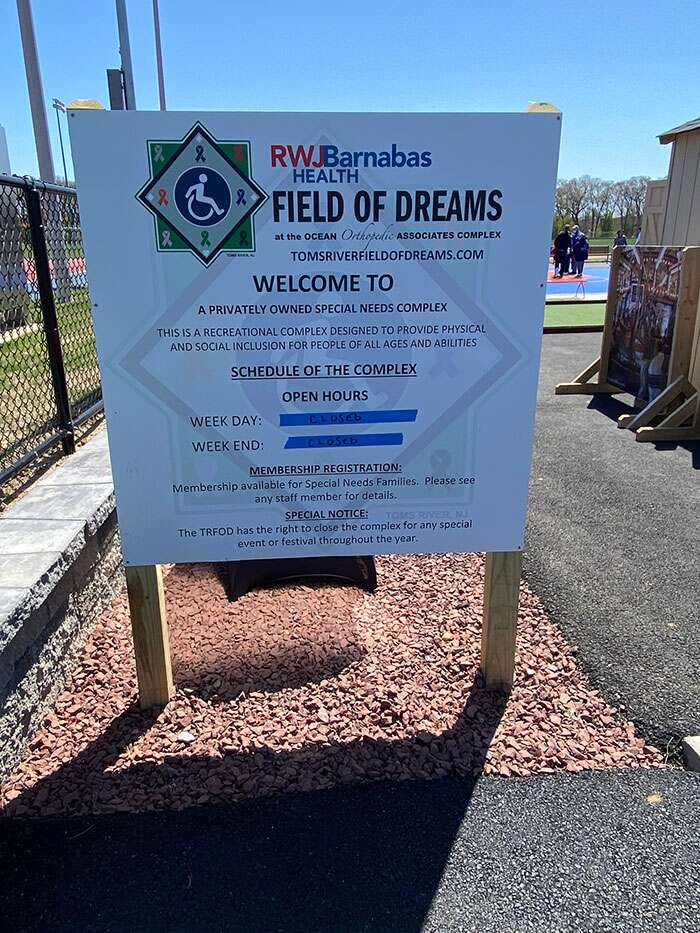 These are the things dreams are built on – and well reflects a line from the popular movie that made it to the big screen in 1989.
"This field, this game: it's a part of our past… It reminds us of all that once was good, and it could be again."
The past led to the inspiration for the creation of Toms River's Field of Dreams. The Kane family's life changed dramatically when Gavin suffered horrific injuries nearly ten years ago in a motor vehicle accident.
Gavin was just nineteen months old when a truck crashed into the back of the van his father was driving to make the turn by Toms River North. Christian Kane's rendition of the moments immediately following the accident represents every parent's worst nightmare.
As he lifted his son from his car seat, Christian said his shirt was so covered in blood that it looked like he'd been shot. The months and years that followed changed the family's life and brought them to some sharp realizations.
People readily associate Christian Kane as the face of Toms River's Field of Dreams. After all, he's been at the forefront of raising awareness and funds for a vision that took five years to come.
On Saturday, Christian acknowledged he is only one part of the team that brought everything together as he introduced his wife Mary as co-founder of the project.
"Mary and I are a team," said Christian. "We've been a team since we brought our two families together. We've been a team when dealing with Gavin and getting him better. Mary's fingerprints are all over this place."
The love between Christian and Mary Kane was more than palpable as Mary took the microphone from her husband. During her remarks, Mary said the two had beaten the odds when it comes to tragedy striking the lives of couples.
"All of our kids, with the exception of one, were under ten years old, and I was expecting our sixth," Mary shared. "We said we would do this together, and we haven't stopped."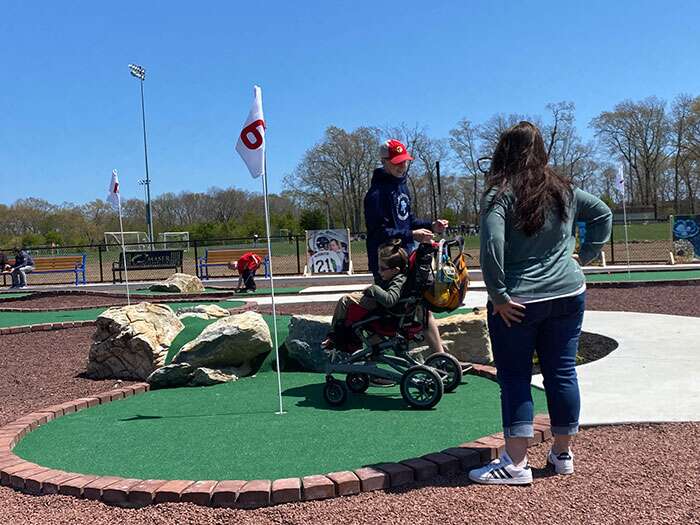 Mary said the couple's introduction to the community with special needs led to meeting a fabulous group of unbelievable people. She ventured beyond the obvious wonderment the Field of Dreams complex offers to individuals of all ages and abilities.
"I wish for my special needs family to feel a place of utter joy and no judgment," said Mary. "I have been on the other side where I brought Gavin someplace, and maybe his diapers stuck out, or his feeding place showed. People just looked."
"I want to change that," Mary continued. "…I want people to ask questions…to learn…I want to change the conversation. I want to take out the word 'handicapped.'"
The dedicated mother received a thundering round of applause as she told a story from a 1980s sitcom that featured a role with someone who used a wheelchair. Mary recalled the character correcting someone who called her handicapped and called herself "handi-capable."
"I don't want people to be seen for their disabilities," emphasized Mary. "I want them to be seen for their abilities – the ability to love and the ability to feel."
Mary said that the Toms River Field of Dreams represents a place where everyone can feel the kindness in one place and hopes the concept will catch fire worldwide.
  Abilities shown even before Mary spoke of them. An incredible rendition of the National Anthem came from a gentleman named Ron Brooks, described as a representative of the late President George H.W. Bush, Points of Light member, and the Wrestling Hall of Fame member.
During the grand opening speeches, a young boy stood next to Gavin's wheelchair. The two exchanged playful smiles and displayed a special bond that Connor's mom explained from the stage.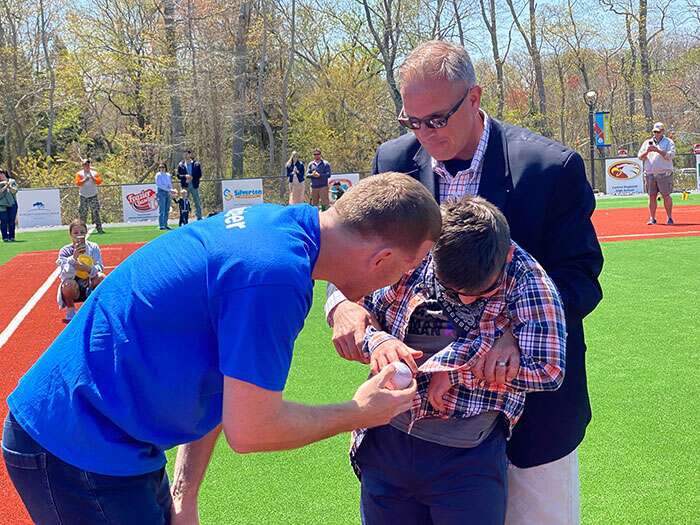 Michelle Minelli said Connor always made friends quickly and that the two boys first met as classmates in September of 2015. Connor included Gavin's name in the list of other friends he saw every day.
"We learned the story of Connor's friend Gavin when my mom picked up Connor from daycare in March 2016," Minelli explained. "My mom pointed out a green ribbon in Connor's backpack and said I needed to ask Connor about the green ribbon."
Connor told his mom he got the ribbon at school during the day and that it was for his friend Gavin.
"He has a boo-boo on his brain," Connor said. "Sometimes his head falls down, and we have to push it back up. Sometimes Mrs. K. has to wipe his mouth. Sometimes, I have to help."
Connor never suggested there was anything different about Gavin in the six months he came home talking about his school friend. The details didn't seem to matter to him.
When it was Connor's sixth birthday, Michelle and her husband, John, came up with an idea for gifts. They'd read about Mary and Christian's dream to start an inclusive playground and talked to their son about it.
"We explained to Connor that instead of getting gifts for his birthday, he would give a gift of donations to Gavin," shared Minelli. "He understood the playground and the field would be where he and Gavin could play together."
"Connor wholeheartedly believes that his little birthday party built this entire complex," Minelli continued. "Naturally, John and I wanted this birthday party, playground, friendship and this experience to be a life lesson for Connor. But ultimately, it has been the greatest life lesson for our entire family."
During a recent tour with Toms River school administrators, Christian stressed his goal to make inclusion vital within the complex. Many of the volunteers at the day's events were students from the district, and all wore big smiles as they interacted together.
The sounds of laughter and sights of people enjoying themselves created a sense that goodness comes in all forms and shapes. While the experiences were priceless, Christian is the first to acknowledge the many benefactors that made the $3.6 million facilities possible.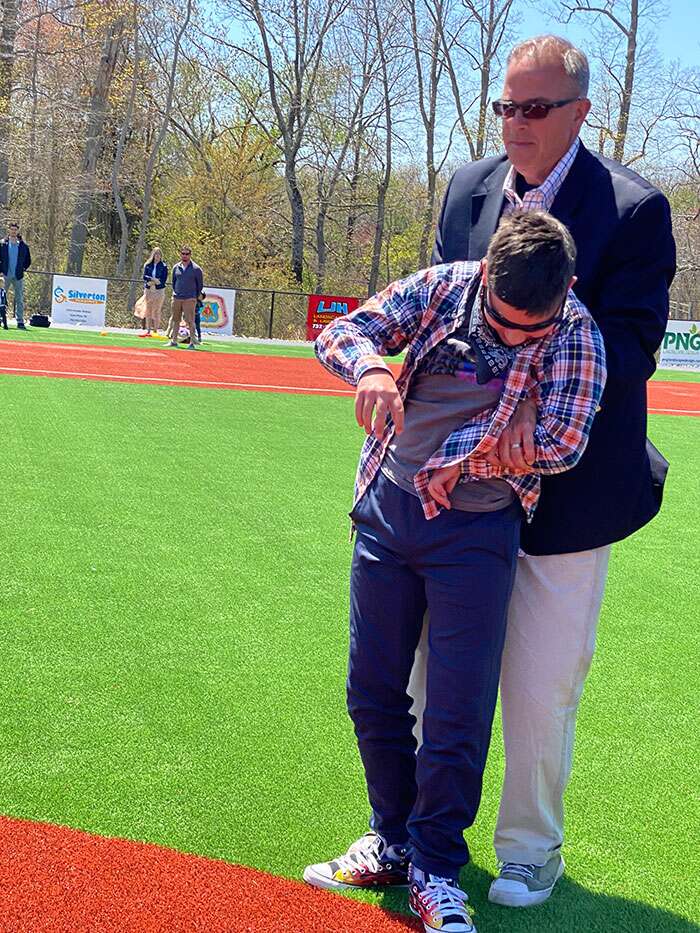 Officially named RWJBarnabas Health Field of Dreams at the Ocean Orthopedic Associates Complex, many other contributors have earned naming rights throughout the space.
"Over our five-year journey, we've come to realize that RWJBarnabas isn't just about hospitals," said Christian. "In our eyes, they've now become the leaders for inclusion and equality with home health care and health services. We thank them for believing in our journey and continuing to make sure that inclusion isn't just an obscure word."
Barry Ostrowsky, Chief Executive Officer of RWJ Barnabas Health, said that the Field of Dreams was emblematic of a mission to ensure a particular community was served appropriately.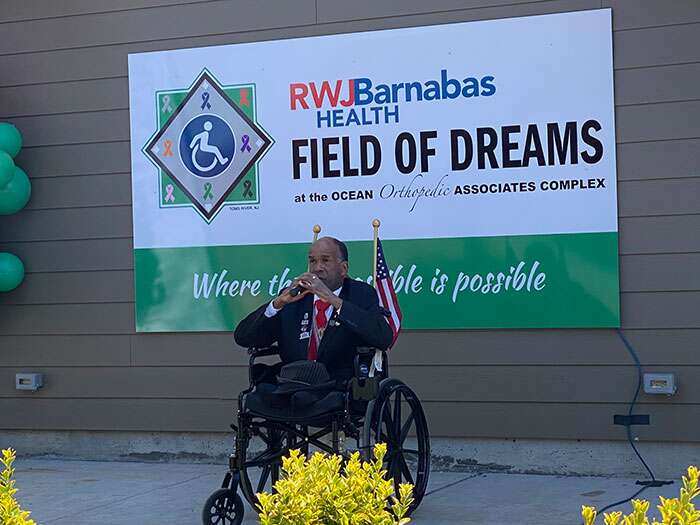 "There are groups of people in society who have been underserved in different ways," Ostrowsky said. "Among them are those with special needs, particularly those with needs to recreate and congregate to be proud of exactly who they are."
The Toms River Field of Dreams is located at Bey Lea Park on North Bay Avenue. According to its website, the schedule for open play will be announced shortly.