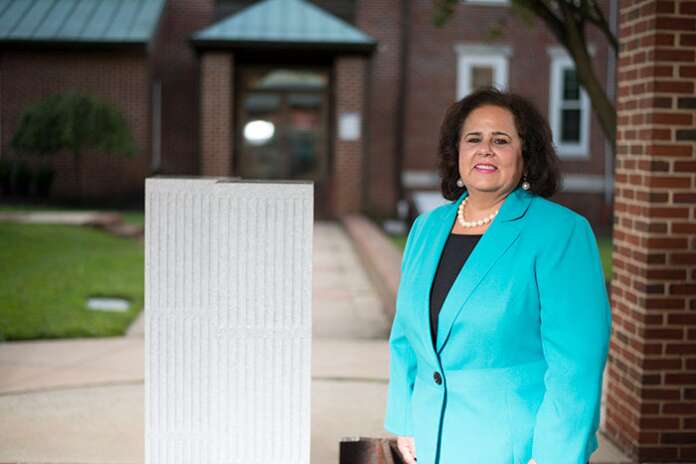 TOMS RIVER – Former long-time Councilwoman Maria Maruca was appointed as the Director of the Department of Human Services. 
This department oversees the township's senior services and outreach, municipal alliance, and the animal control facilities.
"We're fortunate to have a person with Maria's compassion, management ability and leadership join the administration in this very important role," said Mayor Maurice B. "Mo" Hill. "Maria is uniquely qualified to fill the very big shoes being left by JoAnn Benson. No one works harder than Maria nor advocates as strongly for the people she serves."
Benson is retiring. She has worked 36 years in town, with the last 19 years heading the department.
Officials noted that under Toms River's form of government as defined by the Faulkner Act, department heads are appointed by the mayor with the consent of the council.
"I am honored to accept this opportunity to continue to be of service to the people of Toms River," Maruca said. "The Department of Human Service provides critical services to our seniors, those struggling with addiction through the municipal alliance, and the animal shelter. I pledge to continue to provide high quality compassionate services to the residents who depend them."
Maruca spent 18 years on the Township Council, from 2004 through 2021. Current Councilman Justin Lamb had bested her in a vitriolic primary election last year.
During her time on council, she served Ward 1, which included waterfront areas during the time of Superstorm Sandy. During her tenure, the township has saved about 500 acres from development. Some of this was through purchases with the town's Open Space Tax fund. But for larger buying power, the town partnered with groups with deeper pockets, such as the Ocean County Natural Lands Trust Fund, the Trust For Public Land, and state Blue Acres and Green Acres.
Prior to this appointment, she was the manager of the New Jersey Motor Vehicle Commission office on Hooper Avenue for 10 years. Before her public service career, Maruca worked for her family's business, Maruca's Tomato Pies.
She was the Executive Director of Seaside Heights Business Improvement District from 2000 through 2012. She volunteers at the Pop the Trunk food distribution which is held at the Presbyterian Church on Hooper Avenue every Friday.
She had been either a volunteer or a board member of a number of worthy organizations, such as the American Cancer Society, the Toms River Chamber of Commerce, Ocean of Love, scouts, and the Toms River East Little League.
During an interview with The Toms River Times after she left the council, she had said "I will continue to work to make Toms River a place where everyone is welcome and a great place to live."