TOMS RIVER – Children were greeted with warm smiles by the members of the crimson clad American Legion Post 129 Women's Auxiliary as the Legion Post was transformed into a holiday wonderland for their annual holiday party.
The afternoon event included, food, snacks, presents, a variety of games, and videos of holiday favorites like Frosty the Snowman.
"I oversee the Children/Youth Committee," said Danielle DiBenedetto who coordinated the event. "We have 15 of our members helping out right now. We have amazing people here that are always willing to help out. We raised $513 to help out with this from a collection we started a month ago."
Among the American Legion members present were Post Commander Pete Chafatelli, First Vice President Ralph Moranz and member Samuel "Sam" Saporite.
"All of the food, presents and related things come out of their (Women's Auxiliary) budget but sometimes people will donate money for them to buy the things for this party," Saporite said.
Another aspect of this was an Explorers Crew 129 or EVS 129 (Exploring Venturing and Sea Scouts) which falls under the umbrella of the Boy Scouts organization but is actually separate.
EVS members and the leaders Melissa and Gerome Townsend provided a craft area for the children. "We've been doing this for many years with the Scouts and affiliated with this Post for 25 years. Any time the American Legion needs anything we come and volunteer our services."
Of course, the party wouldn't be complete without a visit by Santa Claus who arrived at the conclusion of the event to give out presents.
The party also featured other special guests: Miss Ocean Sands Halley Marx, 20, and Miss Veterans Day Sarah Maxwell, 23. The duo sang, told holiday stories and provided some gifts for the children's party.
Marx said, "we were both lucky enough to win our titles which were both local around here in Toms River and because of that we are candidates for Miss New Jersey. We are both singers."
"We actually competed in two competitions before we were awarded these titles together," Maxwell said.
Marx noted that while they were both from south Jersey, they have been spending a lot of time in Ocean County since they won their titles last autumn. "I love coming here. I basically live here part time."
  Maxwell said, "we both promote a social impact issue that we work on. I was born with club foot and I want to help children who were bullied or those who are going through that corrective process with their body and I want them to be comfortable with who they are and have developed a mentorship program."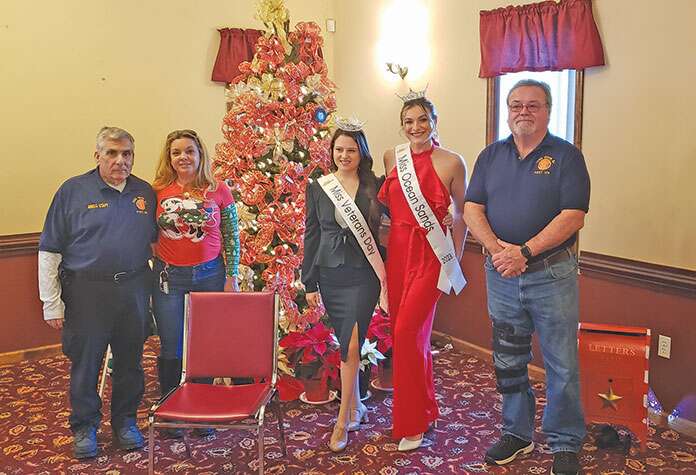 "Mine is Lifeline for suicide prevention. I lost some family members to that last year and now my mission is to talk to as many people as possible to prevent that from happening to them," Marx added.
"We really like working with veterans because one of the biggest points of our competition is to represent veterans and care about them with everything they have done and that goes beyond our social impact," Maxwell said.
"It has only been two months but it has been a whirlwind of activities. We have done a lot of parades and we had the honor of taking part in the honors flight when veterans went down to Washington, D.C. and came back to Toms River so we helped serve them and we hung out with them when they got back," Marx said.
The two ladies were present at AL Post 129 on Veterans Day which Marx said, "was probably the best thing I think so far."
Maxwell added, "we've done some fundraisers here and there. I've actually raised $24,000 for Alzheimer's and Halley helped out with me that day. So many people want to get to know us but we want to get to know all of them which is really a rewarding aspect."
Marx said, "the new year is when we'll be hunkering down and really going hardcore as we prepare for the Miss New Jersey contest."
"We'll be doing a lot of interviews and keeping up with our organizations that we do volunteer work for. It really is a full-time job," Maxwell said.
"Beyond that we are still full-time college students. I go to Rowan University. I am a pre-law student," Marx said.
Maxwell added, "I go to Drexell University and I am a fashion design student and I've started to work with the university's veteran's affairs association so I've gone to about eight of their events in the past month."