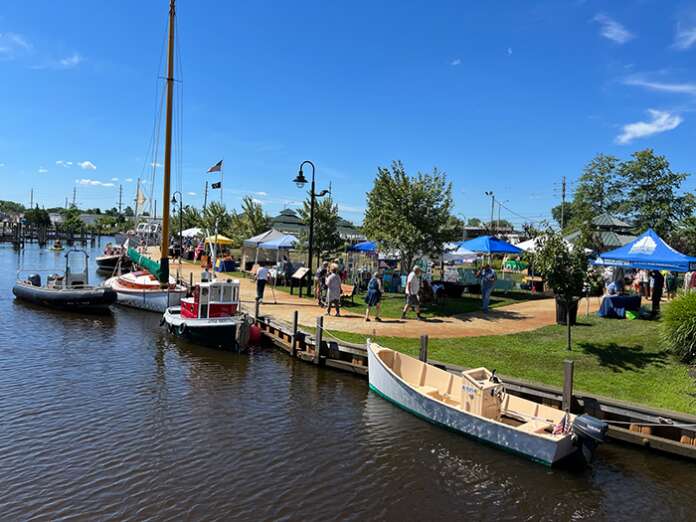 TOMS RIVER – Crosby Stills & Nash released their memorable hit song "Wooden Ships" in 1969. Decades before, at least one of the vintage boats on display at Huddy Park last week came into existence.
In the lyrics, boating on easy waters is a metaphor for getting along despite differences. Likewise, the vintage boat show sponsored by the Toms River Seaport Society brought together people from all walks of life.
Judy Nichols brought her boat here from New Gretna. She couldn't say enough about her classic wooden Hibbard displayed on the Huddy Park lawn.
"Creeky is a 1940 Hibbard and was built in Mantoloking," said Nichols. "She's probably the only Hibbard left."
  Nichols said she was rowing around in a canoe when she saw Creeky's bow sticking out of the water amongst a bunch of jet skis. When Nichols' black lab jumped out of the canoe and into Creeky's bow, it seemed pretty obvious the pup liked the vintage boat.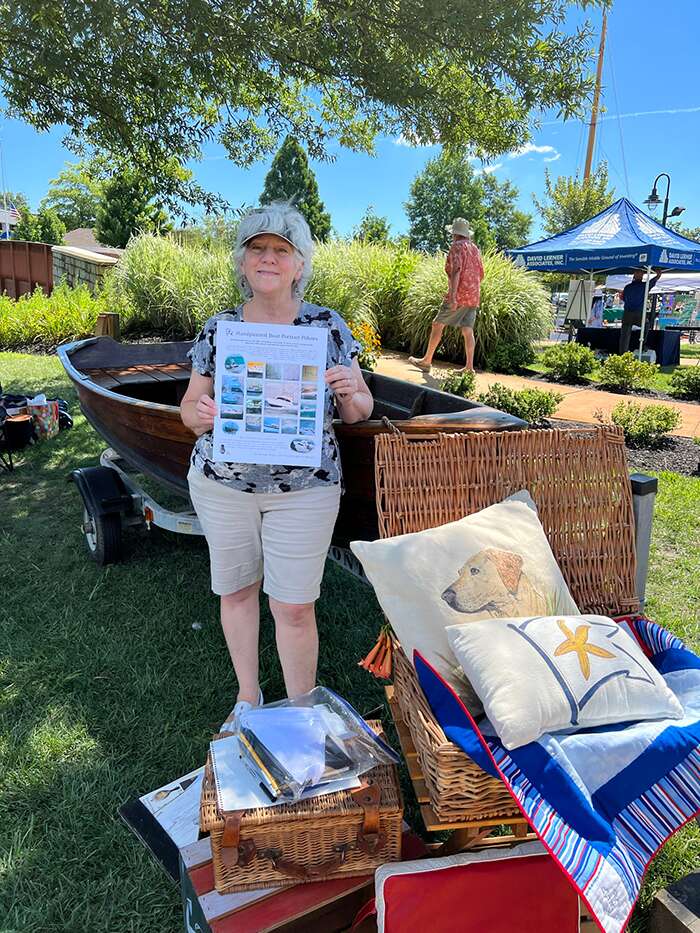 "I fell in love with Creeky from that moment as well," Nichols shared. "The man who owned the boat was standing on the dock and began laughing at my reaction. I offered to buy her on the spot."
After clearing it with his grandson, the man agreed to sell Creeky to Nichols for the tidy sum of $500. The boat was painted all types of crazy colors, including blue and green and red and pink.
Creeky's had some major improvements since then and is a regular beauty queen entered in shows as far south as Palm Beach, Florida. Nichols says she refers to Creeky as a "she" because all boats traditionally take on female personas. Research confirms that ancient shipowners relied on goddesses to keep them safe – and honored them with feminine monikers.
Richard Farina of Delaware proudly showed off a boat he said was made from two kit boxes back in 1952. The Rosa Lee is a Chris-Craft Boat and unlike Creeky has a 10-horsepower motor.
"I bought her from Arthur Sutton who lived right over the Toms River bridge," said Farina. "He was a carpenter, and it took him years to complete."
  "When I bought her ten years ago, I brought her home and did the restoration work myself," Farina continued. "It took me about three to four years to redo everything, including the inside."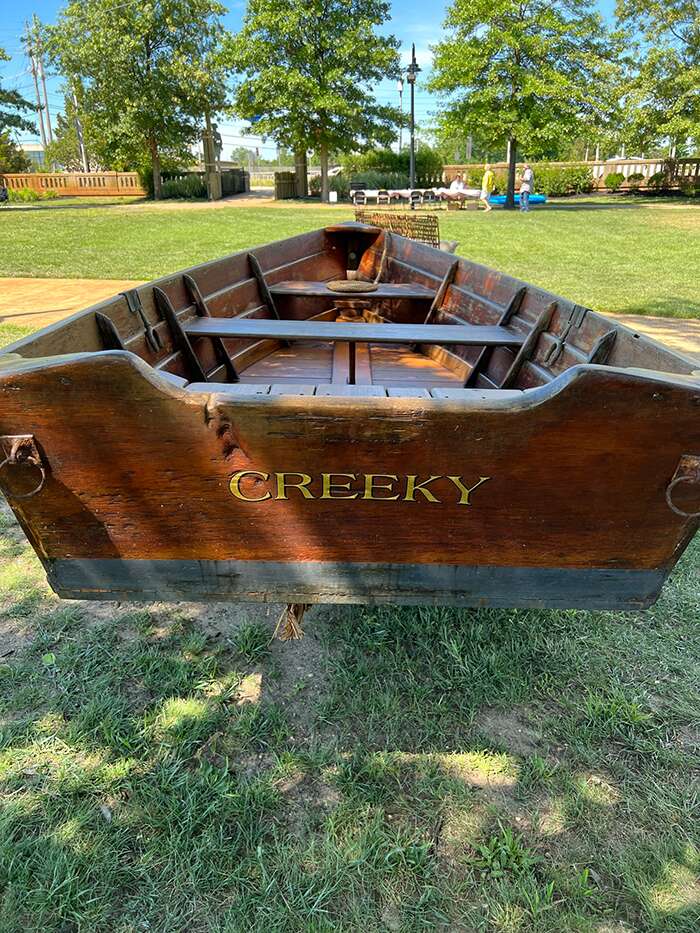 Thomas Marinovich of Boonton said he hasn't named his Yankee Tender rowboat that he took ownership of just a couple of years ago. The wood itself shone with brilliance.
"I found the boat in a very nasty area in a construction yard," shared Marinovich. "It was surrounded by heavy machinery, which just wasn't the right place for it."
Marinovich noticed there was water collecting in the hull, together with an assortment of leaves. He spoke to the owner and asked permission to bail the boat out and get it dried. Ultimately, Marinovich made a deal to buy the boat and fixed it.
While there were many other boats on display both in and out of the water, some smaller specimens were also eye-catching.
  Heinz Ricken of Cranford heads up an organization called the Scale Ship Modeler's Association of North America. His radio-controlled boats are all models made to scale.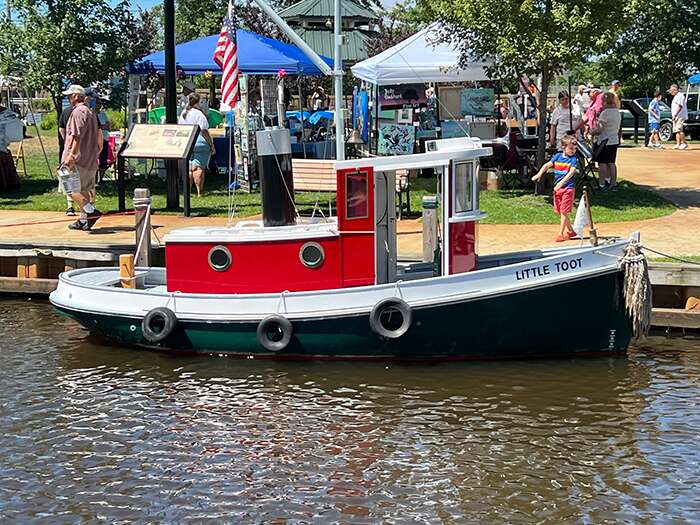 "They all go into the water and can be controlled with a transmitter," Ricken said. "It's like a little box similar to the ones kids use to play on the computer."
  Ricken said his organization has attempted to spur the interests of young people in the scaled models. To his disappointment, kids seem to prefer playing video games.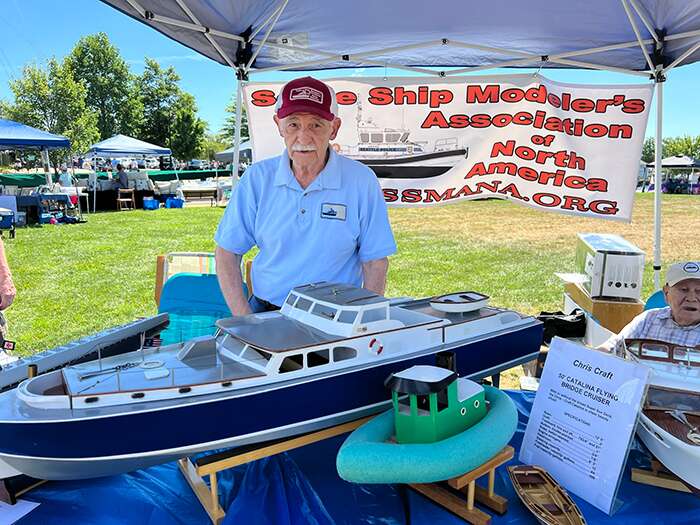 Vendors took over much of Huddy Park, while sea loving people stopped to take in the sights. Both the United States Coast Guard and a Sea Scouts unit participated in the event.