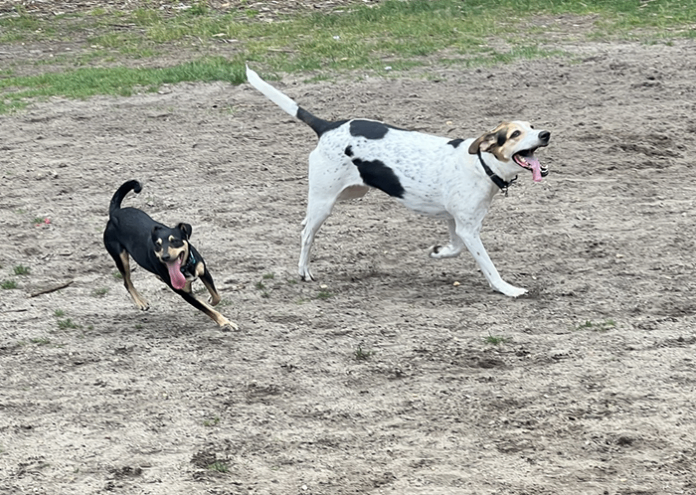 TOMS RIVER – Seven months after its "paw-some" debut, a local dog park has already unleashed a flurry of tail-wagging fun and playful romps.
The rear of Silverton Park serves as the premier location for dogs of all sizes to sniff out some new friends. The park, located at 71 Maine Street, features separate sections for small and large pups and plenty of space for them to run and play.
That's not to say that some tinier breeds aren't ready to run with the big dogs.
Tammy, a pint-sized Manchester terrier weighing no more than 15 pounds, fearlessly assumed the lead as she rallied a couple of larger canines in a thrilling chase on their side of the fence.
  "She's a year and a half and can sometimes be an instigator," admitted Tammy's owner, Chris Chudzik of Brick. "She likes to play with the big boys over here."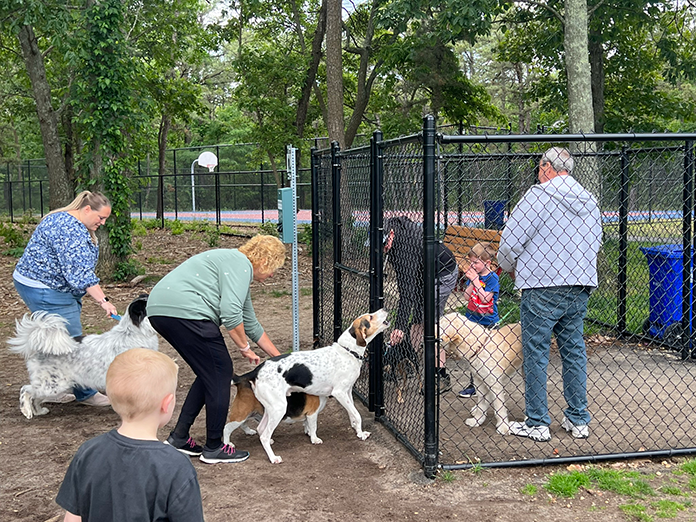 Indeed, the scene inside the gated area for more pint-sized pooches showcased a different model. Rather than frolic on their own, the smaller breeds preferred to huddle close to their human companions.
Meanwhile, in the big dog area, Ben, a treeing walker coonhound, and Tucker, a husky/great Pyrenees mix, never did catch up with the spirited Tammy. And then there was Garth, a senior beagle who just took it all in.
Sandy Peace and her daughter Megan said they bring Tucker and Garth to the park as many as five days a week. Sandy's mom, Regina Anagnostis, joined in her family's praises of what the three consider an invaluable neighborhood asset.
"Garth is the mayor here," Sandy added. "He doesn't play; he just oversees."
Embracing her role as a devoted grandmother, Anagnostis made it a point to ensure Tucker also received his fair share of recognition. In her eyes, there was no doubt about it – her younger grand pup was absolutely the sweetest dog out there.
The accolades for Tucker also appeared related to his response to a newcomer considering entry into the unleashed area. Tucker and Ben had stopped chasing Tammy and were now focused on barking their minds.
Eager pups and their human companions walk into a separate gated vestibule area where their leashes are usually released. This transitional space also allows owners to observe the bustling dynamics within before venturing further. However, any delay in entering can sometimes unsettle the dogs already enjoying their off-leash adventures, particularly if the newcomer remains leashed.
It's a delicate balance, where anticipation mingles with cautious introductions, as tails wag and eager eyes await the moment when all paws can play freely together. Unfortunately, however, it doesn't always get to that point.
Despite the absence of growls or lunges, the resounding chorus of loud barks can sometimes dissuade humans from stepping inside with their beloved pets. After all, there's no one around to translate whether the woofs are friendly or threatening in nature.
  In this case, the owner of an elegant designer dog finally decided to take the chance and come inside. It wasn't until he unleashed the beautiful pup that the incessant barking from the others came to a halt. After a quick sniff, the rest of the dogs returned to releasing their energy.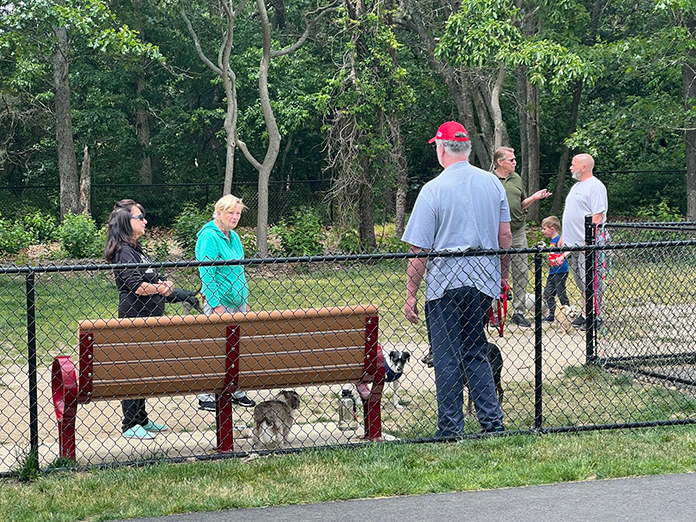 The dog park not only gives area canines a place to exercise off-leash. It also allows them to socialize. Newly acquainted pups remarkably thought nothing of doing nose dives together as they drank from the same water bowl.
Benches set up inside the perimeter of both parks serve as more than just a resting stop for canine parents. They act as a catalyst for human interaction and have resulted in some newfound friendships. With wagging tails and spirited play as the backdrop, these chance encounters serve as a testament to the power of dogs to bring people together.
Rules for the dog park are somewhat standard. The hours are 6 a.m. until dusk. Humans can only accompany two pups in one visit. Puppies under six months old are restricted from the park. All male dogs must be neutered, and owners are expected to secure off-leash dog permits from the township at a cost of $5 per dog.
While there are other regulations, one should not come as a surprise. Owners are required to clean up after their pooches have done their business. Waste bag stations and receptacles for doggy deposits strategically dot both sections of the dog park.
Silverton Park stands as the only dog park in Toms River and came with an investment cost of $235,235. The park's establishment appears to have sparked widespread appreciation from both the canine community and dog lovers alike.