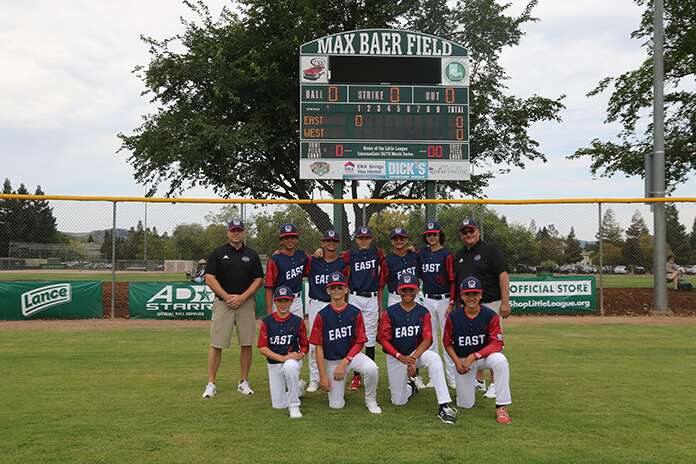 TOMS RIVER – The Toms River East Little League Intermediate All-Stars enjoyed a summer chock full of championships.
There was a District title. There was a sectional crown. There was a state championship. There was a regional championship. And the team placed seventh in the world and fourth in the United States at the Little League Intermediate 50/70 World Series Baseball Tournament in Livermore, Ca.
The club completed its summer with a 12-2 record. Its players were 13-year-old boys.
"What a summer," said manager Paul Mika, who doubled as the league's president. "It was a crazy ride. We fought all summer without two of our best players. They were lost to injury. I am so proud of our boys. The boys never gave up. We gave it our best shot. We came up a little short."
Mika said the team hopes to qualify for next summer's Junior World Series in Taylor, Mich.
"The boys are still hungry," he said. "Let's see what next year brings."
The team consisted of Steven Malato, Carson Frazier, Jason Verderrosa, Cole Garrison, Jayden Luongo, Max Mika, Cailen Cimorelli, Adrian Bilotti, Tyler Arnesen, Jalen McLean, and Joey DiMeo.
Garrison, Cimorelli, Frazier, Bilotti, Mika, McLean, Verderrosa, Malato and DiMeo played on last year's East team which was 1-2 at the Little League Baseball World Series in Williamsport, Pa. Frazier earned a berth on the Northeast Stars team of the USA Baseball National Team Identification Series World Cup in Cary, N.C.
"The boys have become young men," manager Mika said. "They are not the little 12-year-olds they were at this time last year. This is the second year in a row when they were away from their parents so they matured through the process. They learned many life skills along the way. We boarded a plane and went to California. The players were without their families on the plane. They stayed in hotel rooms without their families."
He said the players have known each other for a long time.
"The boys had a confident personality as some of them have played together since the age of five," he said. "When we won the state title for the second straight season (the team captured the crown last season on its way to Williamsport), the boys were so confident and ready for their regional run (in Comack, N.Y.). We added Arnesen and Luongo. They stepped up in a big way and contributed to our success. The boys who returned from last year's team killed it. The boys showed why they were one of the best teams in the world.
"We truly believe we would have won the whole thing in California if we did not have two of our better players get hurt. We rolled in California with only nine players and gave teams a run for their money."
East's coaches were Charlie Frazier, Bobby Arnesen and Paddy Matera. Charlie Frazier, a former Toms River High School South standout and Carson's dad, advanced to Double A in the Marlins' minor-league system. His brothers, Todd and Jeff Frazier, the former South and Rutgers University stars, are retired major-league players.
"I will forever be grateful to Charlie, Bobby and Paddy for coaching this team," Mika said.
In the Intermediate Division, the pitcher's mound is 50 feet from home plate. The bases are 70 feet apart. In 12-year-old play, the mound is 46 feet from the plate. The bases are 60 feet apart.
Mika said East began practice May15 and practiced each day on non-game days. He and his coaches chose the players. Little League International paid all expenses for players and coaches. He said the parents paid their own way.
The team had a motto: "One team. One dream. Never quit," Mika said. "I loved all the boys like they were my own sons. The boys have grown so much over these last two years. They have become responsible young men. I have coached most of them for the last seven to eight years. We had good team chemistry as most of the boys played on our team of 12-year-olds last year."
Manager Mika said he has cut back on his duties.
"I am semi retiring," he said. "I am not coaching in the fall for the first time in 13 years. I am also stepping down as president. I need a break. I need to recharge my batteries. "What I enjoy the most about coaching youth baseball are the relationships I have formed with the players and the coaches. Baseball is a very close community. We are competitive on the field and gentlemen off the field."