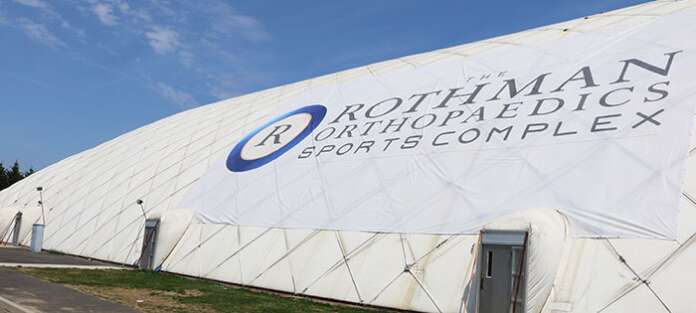 TOMS RIVER – The popular sports venue, the Toms River "Bubble" has official revealed its new name: the Rothman Orthopaedics Sports Complex at the John Bennett Athletic Center.
Alexander R. Vaccaro, MD, PhD, MBA, President of Rothman Orthopaedic Institute which is known for its work in musculoskeletal health and medicine, stated that the organization wanted to connect with the local community through high school sports.
"We are thrilled to partner with the Toms River School District on the naming rights of the Bubble," said Vaccaro, who also serves as the Richard H. Rothman Professor and Chairman of the Department of Orthopaedics, and Professor of Neurosurgery at Thomas Jefferson University and Hospitals. "We've served the Toms River community for years and are honored to develop a true partnership dedicated to supporting and educating youth athletes."
The complex now has a new signage with the name draped between its two entrances facing the newly-renovated parking lot.
"This venue is eminently recognizable, and serves as an important physical asset for student athletes throughout New Jersey, as well as a financial asset for this district," Superintendent Michael Citta said. "This new partnership with Rothman Orthopaedics maximizes that value, while also bringing attention to the great work being accomplished by the practice, which is especially helpful for the athletes and families utilizing the complex throughout the year."
The complex is located on Hooper Avenue between Intermediate East and Hooper Avenue Elementary School. The new name coincides with the numerous improvements the structure has undergone in recent years due to the district's Rebuilding Our Schools initiative. Some upgraded features included new lighting and mechanical infrastructure upgrades, the addition of brick-and-mortar restrooms and a newly paved parking lot.
The sports venue is used year-round and attracts hundreds of athletes as it is a major hub for the NJSIAA's track and field meets. Peak season is usually between the months of January through April.
"This whole idea was born of the desire to connect to this community through sports," Shore District Advertising President Angelo Scialfa said. "It's a testament to everyone involved that we find ourselves here, poised to do just that, embarking on a long-lasting partnership that promises to benefit many people."
The Bubble had originally been christened Bennett Indoor Athletic Complex, named after John Bennett, who was superintendent from 1960 to 1977.