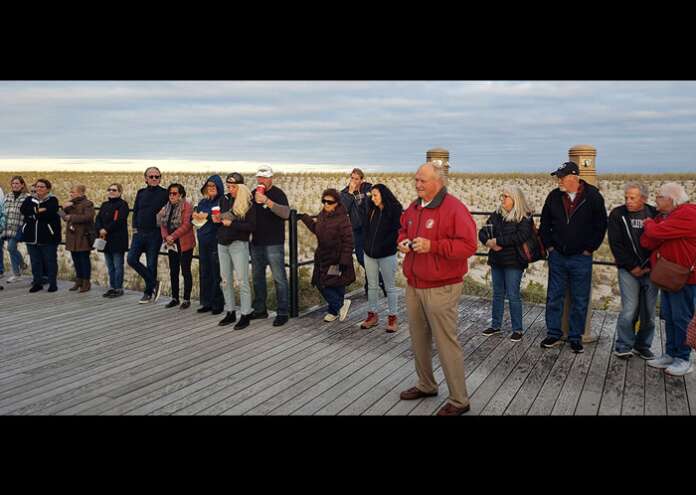 ORTLEY BEACH – It was a bittersweet gathering at Saint Elisabeth's Chapel by-the-Sea as public officials and SuperStorm Sandy survivors recalled the anniversary of that storm's impact on the community.
Ortley Beach was considered Ground Zero for the storm which struck the state, paralyzing areas of the Jersey Shore and in shutting down the Barnegat Beach Island in particular. The ceremony was held at the restored chapel which had been destroyed during Sandy.
Noting the devastation in Florida's recent Hurricane Ian, the theme of the day was to "pay it forward" to help those who now need the same type of services and support that Superstorm Sandy survivors received a decade ago.
  Father Dennis Eberly opened the ceremony at the chapel and recalled the catastrophic event that occurred on October 29, 2012 when "our lives and the history of our chapel were changed forever."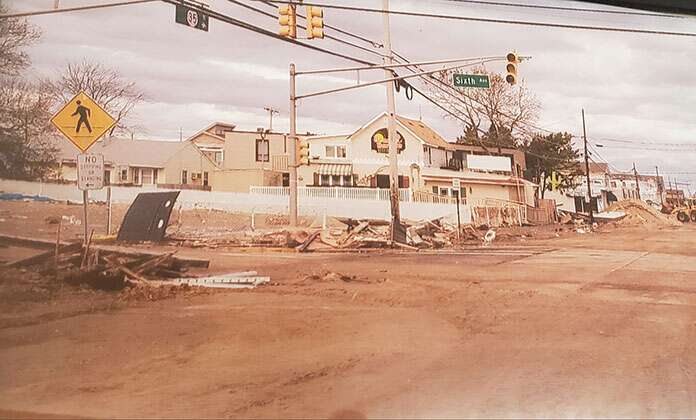 While most of the Barnegat Beach Island (barrier island) had already evacuated, the Chapel and Fellowship Hall was buttoned up. The chapel and the residence across the street from it were a vacant piece of land by the next morning. Both buildings – among others in the vicinity – were washed away by the storm surge.
"People talk about how bittersweet it was. No one really wants to remember. One person said it was the worst time of my life and the best part of my life. The worst, we lost so much but the best because the best of humanity came together to help and that is what we need to focus on this evening so we can pay it forward," former Councilwoman Maria Maruca said as the ceremony shifted to the oceanfront boardwalk of Ortley Beach in front of a lifeguard station that had been restored since the storm.
Toms River Mayor Maurice "Mo" Hill recalled the fateful period of the days that followed Superstorm Sandy. "Ten years ago, today we were ground zero for Superstorm Sandy. There were 13,000 properties that received some flooding, 8,000 homes were flooded, 4,000 were substantially damaged. The thing that I think impresses me the most is the way this community came together. It was a real sense of community with neighbor helping neighbor.
"My mother had a property on Green Island and I can remember all of us going out and getting the furniture out of everybody's house and leaving it on the front lawn and public works coming to pick up the debris. The dunes behind us were the result of Sandy, they should have been here before Sandy. That dune project over the last two years is doing its job," the mayor added.
Mayor Hill said that if there was another major storm, "I think that would be our most major defense at this point. We do lose sand and we will be having replenishment hopefully by this spring. That project will cost the barrier island towns a little over $7 million. The County has been very generous in covering half of that cost. The barrier island mayors have sent a letter to the governor and we are hoping that the state will help us with the other $3.75 million. To give you an example, Bay Head has a total budget of $6 million a year. Their cost, with the county, is almost $800,000. Same thing with Mantoloking which has an $8 million budget and the local communities can't sustain that."
  "Our community came together and now we will be paying it forward to the Fort Meyers beach in Florida that got hit. Please be generous and thank you for the donations," Mayor Hill said.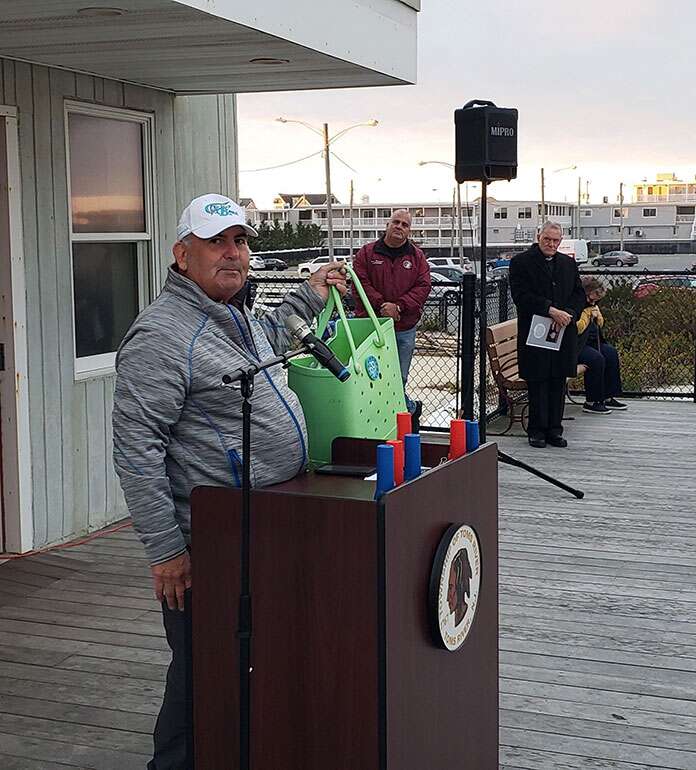 Sheriff Michael Mastronardy was the chief of police in Toms River Township during Sandy and he recalled the horror he saw after the storm was over. He noted the flooding from the bay end of the inlet as well. "We were blessed to have a team here in Toms River. Fire, EMS and our police officers. We had a program that let us know what property was there and right at the corner here on Third Avenue a lady left me a phone message and I called her. She thought she was coming down here for Thanksgiving dinner and she wanted to know if her house would be ready and when I pulled up, the house was totally gone."
Mastronardy added, "I looked it up on my computer in the car and I said to her that I hated to do this over the telephone but that her house was no longer here. I walked out on the property and tripped over a piece of debris, I fell to the ground, my hand went down to the sand and I came up with a Menorah. I got back to the car and I said the only thing left here was a Menorah and she said, 'yes, that was my grandmother's.'"
"A month later she came to headquarters and she broke down as I did. You get choked up from those memories. We also found a Norman Rockwell plate and that was the only thing left of that gentleman's house. Those are the memories that stick with you as you drive through here," the Sheriff added.
  Council President Kevin Geoghegan lived in the Silverton section of Toms River considered the mainland side of Ground Zero. "Sandy affected each of us here in different ways. One way is that each of us have a bit of anxiety when a storm comes up and streets flood in front of our homes. It is safe to say we all have some PTSD (post-traumatic stress disorder) when it comes to all of this. I know I do. Back in 2005 under then Chief Mastronardy I was one of the first wave of officers to be deployed in New Orleans for Hurricane Katrina relief efforts. I thought I saw the worst devastation of my life but I was wrong. When Sandy happened, this was larger than anyone could have imagined. This was a war zone."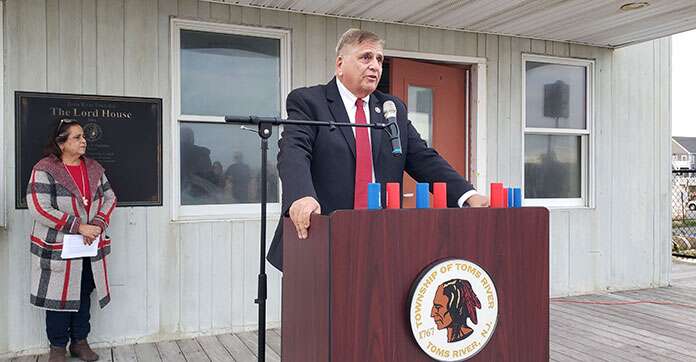 Sharon Quilter and her husband Anthony Colucci were and continue to be involved in support efforts for disaster relief. They urged donations to relief organizations helping the victims of Hurricane Ian.
Ortley Beach resident Paul Jeffrey recalled efforts like those of the Bucket Brigade that helped Ortley Beach residents with cleaning materials and support by various other organizations like Pay it Forward, the Salvation Army, Samaritan's Purse and the Red Cross.
Area resident Doug Quinn said "in this country, we do disaster relief wrong. When another community gets hit, we all start from scratch. There is no continuity with what we've learned."