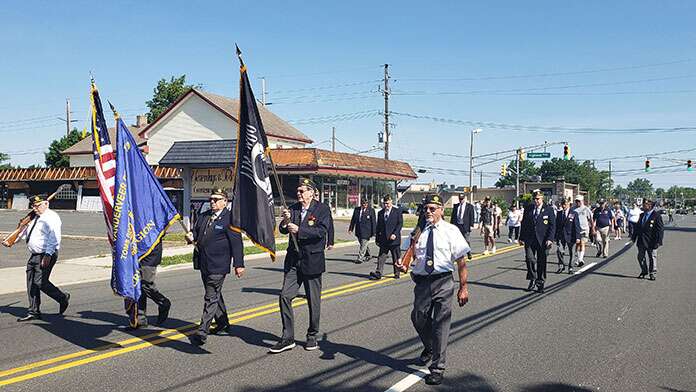 OCEAN COUNTY – After a two-year hiatus due to the COVID-19 pandemic, the Ocean County Memorial Day Parade returned to the streets of Toms River.
  The parade, sponsored by the George P. Vanderveer American Legion Post 129, kicked off Memorial Day morning with participants gathered at the Toms River Shopping Center on Route 37. Various groups marched south on Main Street (Route 166) and then moved east onto Washington Street for the event.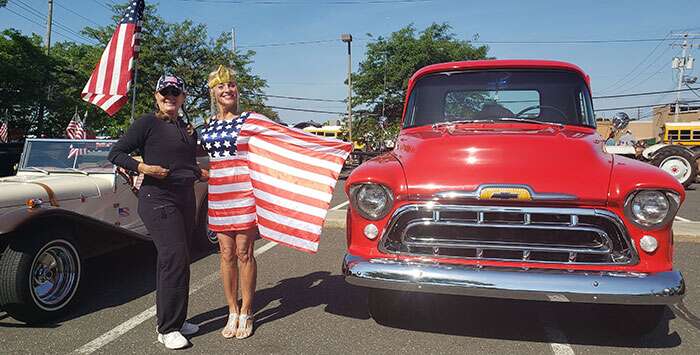 Among those who participated in the parade were local high school marching bands, several military vehicles, first responders, elected officials, civic groups and vintage cars.
  While this marks the official return of the parade, veterans who paid the ultimate price were remembered last year through the efforts of long time Ocean County figure Joseph Placente. He is well known throughout Ocean County and beyond for marching in patriotic attire, carrying a large American flag and sporting a big smile on Veterans Day, Fourth of July and Memorial Day.
Last year, in the absence of the official Memorial Day Parade, Placente marched down the usual parade route by himself to honor veterans. His many friends wouldn't let him do it alone, however. They joined him for that march with vehicles, military trucks, bicycles and antique cars.
The senior citizen noted that the true meaning behind the holiday was to remember those who served their country and died protecting it to preserve our nation's freedom.
  "God bless our deceased vets. God bless America!" he told JerseyShoreOnline prior to the parade's start. He elaborated later saying, "We're lucky with this weather. The good Lord is with us. He is shining upon those here."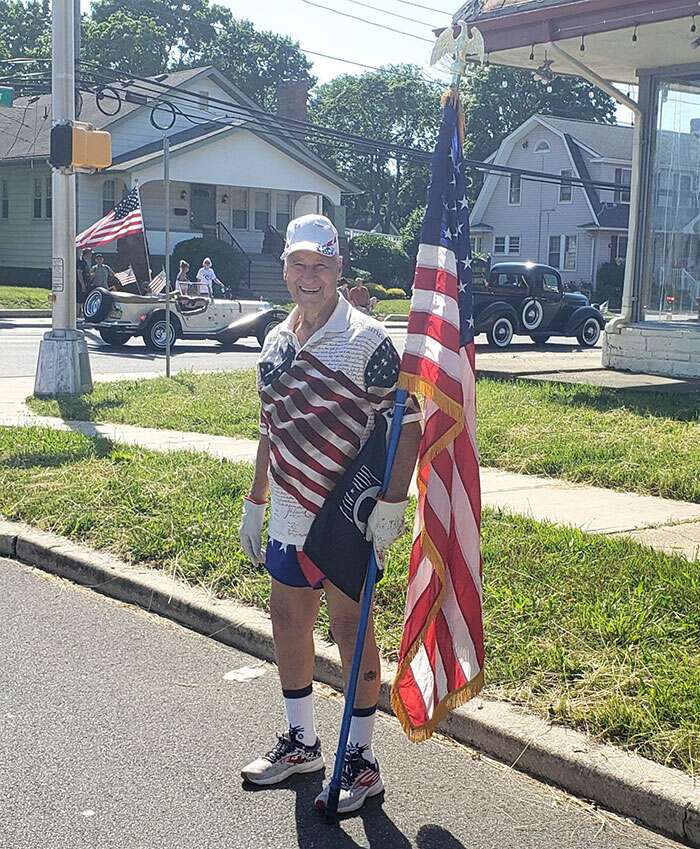 A parade watcher recalled seeing Placente as a child on a prior Memorial Day carrying the large American flag along Route 37. "I wondered who this crazy guy was," they joked.
"It has been a long run but it has been a good one," Placente said.
The parade spectator quickly added, "you're not done yet!"
Local Boy and Girl Scouts participated in the parade. The Boy Scouts carried a large American Flag up the parade route.
Among the military support organizations was the Disabled American Veterans Ocean County Chapter #24. They rode down the parade route in a large float.
  The Tin Can Sailors' vehicle featured a large model of a Navy destroyer. The group's commander, Jarrell Correll said, "We are here to support those who came before us who can't be here. People get Memorial Day and Veterans Day mixed up but Memorial Day is the day to remember those who came before us, laid the groundwork for this great country and we are here to remember them. It isn't just a weekend for barbecues and fun.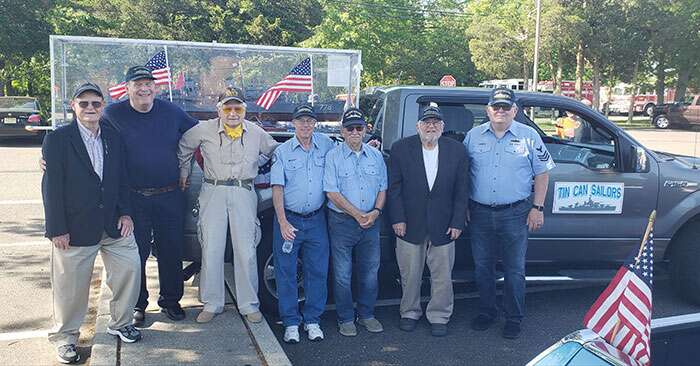 "It is nice to see us all get out here again. Every year we come out for the Veterans Day Parade and the Memorial Day Parade. The Tin Can Sailors have kind of rebranded ourselves beyond those who served on (U.S. Navy) destroyers to bring in some younger veterans because they don't relate to tin can sailors as we older guys do," Correll added. "We are trying to beef up our ranks like everybody else and it was very difficult during the whole COVID thing and getting people back involved."
Before the parade started, a short distance away from where the Tin Can Sailors were lined up, were two women standing next to a bright red vintage Chevrolet pickup truck awaiting their turn to move onto the parade route.
  "This is the first time we're doing this," Karen Kelly said. She was wearing an American flag dress and a gold tiara. Her fellow Toms River resident, Susan Gilham, owned the classic 1957 truck.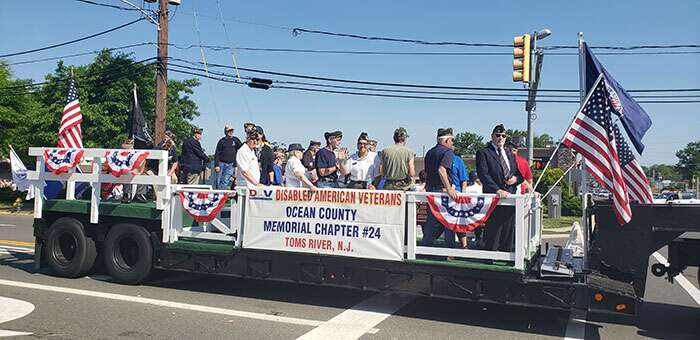 The ladies were already looking forward to their next parade appearance. "We're also going to do a Fourth of July parade, whoever has a parade," Gilham said.
  Following the parade, a ceremony was held outside Toms River Town Hall with speakers and honored guests. A rifle salute was held prior to the placing of wreaths on the veteran's monument in front of the municipal complex.