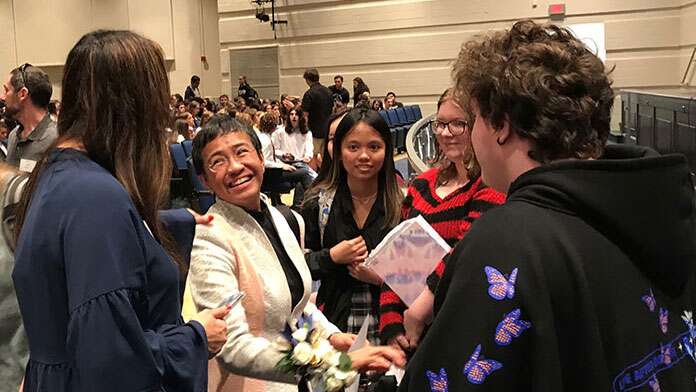 TOMS RIVER – Perhaps it was her dedication to recording the truth that made Maria Ressa take pictures from the stage at High School North. For most of the morning, people were taking pictures of her.
In 2021, she won the Nobel Peace Prize for her work with Rappler, a publication aiming to uncover dirty politics in her native Philippines. In a ceremony, the auditorium was named after her.
This was a stage she spent a lot of time on when she was a student. The 1982 graduate sang, acted, danced, and played eight instruments.
Family and fellow students from her time in high school came out to celebrate her, joined by faculty that guided her education. Hundreds of students from the three high schools came out to the dedication.
Principal Edward Keller said she was voted "Most Likely To Succeed" in her yearbook, which wound up being prophetic. Yet she was humble. She didn't speak of her own accomplishments, but instead directed the students to think of what they want to accomplish.
  "Whatever you choose to do," she said, "All of us look for meaning."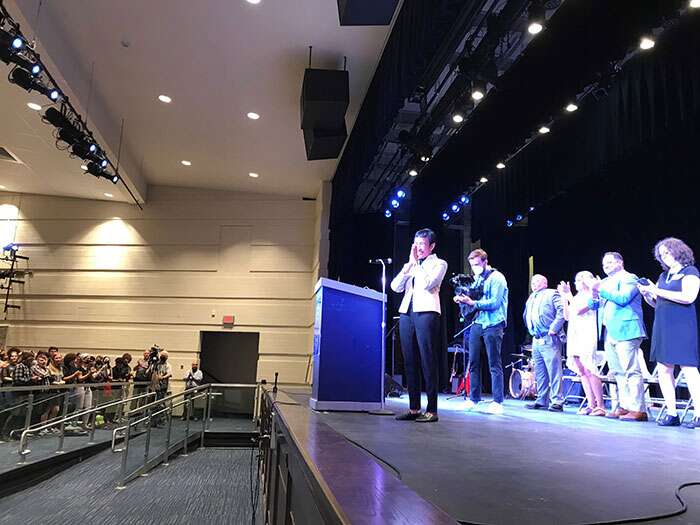 Everything you do now will color the way you see the world, she said. It might not be in ways you realize. She didn't think that acting classes in her past would prepare her for the present, where she is taking on politicians. However, it has informed who she is and how she looks at the world.
Be careful in what you choose to make important in your world, she warned. Especially in terms of what ideas you consume.
"What gets your attention is what will give your life meaning," she said. "We live in an attention economy. The battle for our minds is waged and won not by helping you think but by manipulating your emotions."
Social media, in particular, has become a tool used by politicians to create anger and make us fight amongst ourselves, she said.
"Families are broken apart, a spectator sport has become gladiatorial violence," she said about the political divide.
"My generation has failed and we are handing you a broken world, which means you have to be stronger and smarter than we were," she said.
She said her present country was a test subject for what happened in other countries. A campaign of distortion online manipulated the masses, causing the Philippines to usher in dangerous leaders. This was then spread to Brexit and the 2016 U.S. election, in which there are hundreds of pages in a report showing how Russia meddled in our election.
  "We were the guinea pigs and you were the targets," she said.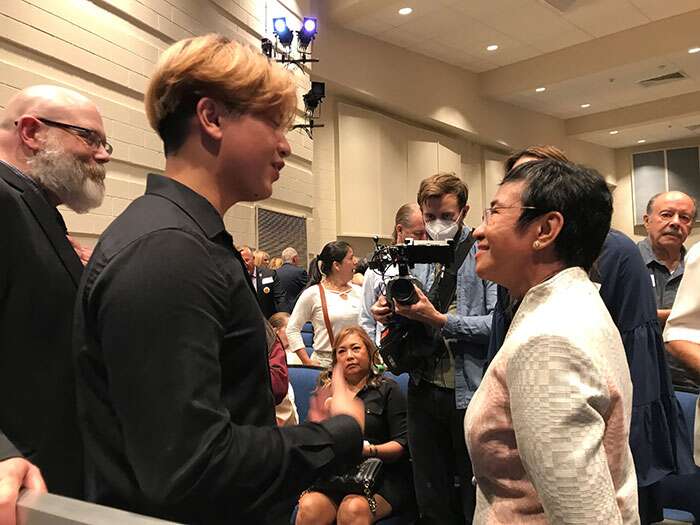 "There's always a cost for the choices you make," she said. "When I go back to Manilla, I might go to jail for the rest of my life just for telling the truth."
Solving Social Media
After explaining the problems with social media she listed solutions. First and foremost was to limit your exposure to social media and don't let it take you away from something happening in your present life. If you're talking with someone in person, don't take out your phone.
You must imagine yourself in someone else's shoes in order to understand them, Ressa said. And also, to understand yourself you must be honest with yourself.
Social media will create a moral outrage, which spirals as people share the same stories and memes – not bothering to check if they are true. That becomes a mob mentality.
"If you feel angry or if you feel hate toward a group, take a step back," she said. "This thing is literally rewriting our brains."
"Think for yourself. Be skeptical of what you read on social media because it's designed to manipulate you," she said.
Toms River Is The Setting
"I owe a lot to Toms River and my friends and family," she said emotionally.
Ressa shared that her parents drove four hours into the city to work because they loved the educational system in Toms River.
Before the dedication, her former English teacher had quizzed her on a Shakespeare quote, which she in turn asked the crowd if they knew. ("Though she be but little, she is fierce," from "Midsummer Night's Dream.")
Her friend, Shelly Bromberg, recalled rushing out to McDonald's during their lunch period, and how she was the first person in their friend group to get a car.
  Ressa said how she still remembered all the places to avoid the hall monitors (since she was one), and the ins and outs of the stage and school.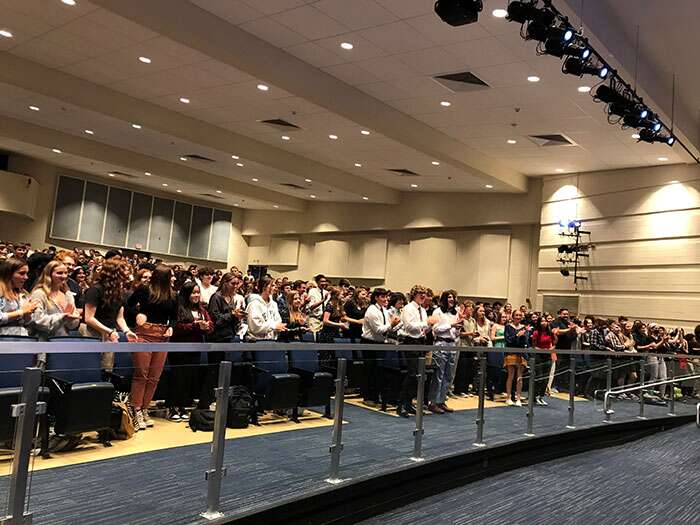 The past is prologue, the school is the setting and the plot is what they did as kids. But who were the characters of this story – of your story? That's the people who you spend the most time with.
"What you remember are the people whose lives touched you and whose lives you've touched," she said.
Born in Manila, she moved to Toms River early in life. She graduated cum laude from Princeton University in 1986, with a degree in English and certificates in theater and dance. She won a Fulbright scholarship to study politics at the University of the Philippines Diliman. She had spent two decades as a lead investigative reporter in southeast Asia for CNN. She had been included in a collection of journalists noted in Time's Person of the Year 2018.
She has taught courses at both universities she graduated from. She has written three books: Seeds of Terror: An Eyewitness Account of Al-Qaeda's Newest Center (2003), and From Bin Laden to Facebook: 10 Days of Abduction, 10 Years of Terrorism (2012); and the forthcoming How To Stand Up To A Dictator (2022). It shows how "democracy dies by a thousand cuts" and that a web of social media and fake news is created to spur anger and hate to keep people in power.