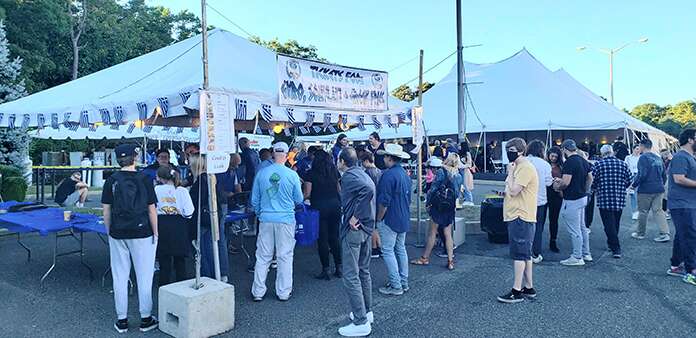 TOMS RIVER – You know autumn is coming when you start to see signs featuring a Greek dancer drawn in blue against a white back drop. Those signs can be seen just about everywhere along Route 37, Hooper Avenue and elsewhere to remind everyone that the Greek Festival is coming.
The festival arrived recently, being one of the biggest autumn events around Ocean County and drawing thousands of people during a three-day period to Saint Barbara's Greek Orthodox Church on Church Road.
  The inside-outside event has grown and evolved over the decades and Reverend Father Paul Pappas said "the Greek Festival brings together people of all backgrounds to celebrate all things Greek: the church, the food and of course, the dancing."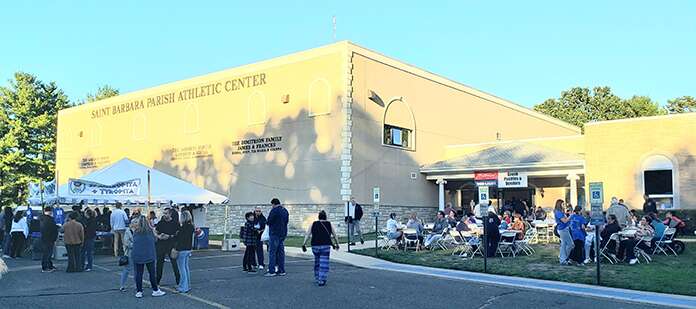 He noted that it takes "army of volunteers over 40 hours of baking" to make thousands of pieces of baklava and other Greek pastries and desserts as well as the cheese pies pastitsio, moussaka and other delicacies that brought out attendees who feasted inside the church hall as well as outside from various tent vendors.
For nearly four decades the event has been held. Due to the parish hall's expansion, more vendors could be a part of the event. The parking lot area accommodated vendors and there was also place for the Greek dancers to perform.
The groups of dancers varied from beginners to experts, providing traditional dances which have been performed for hundreds of years.
The young dancers performed under the tent with grateful observers showering them at times with dollar bills as per custom. Tours of the church were also held and the "Kafenio" (coffee shop) was a popular place to stop before you picked up your after-dinner pastry dessert.
  Menu items also included baked lamb shanks, short ribs of beef, broiled fish (but only on the Friday of the weekend event) stuffed green peppers and roast chicken oreganto.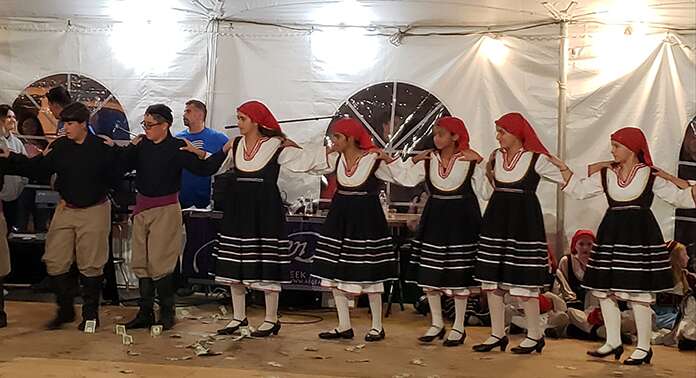 Along with soft drinks there was wine, Greek beer, Ouzo and mixed drinks. The outside tents provided gyro bowls, gyros and souvlaki and spanakopita (spinach pie).
Vendors based inside the church's Athletic Center provided a wide variety of items including artwork, jewelry, T-Shirts featuring various Greek slogans and many ethnic items. There were children's books about Greek culture and stories available for sale as well. Outside you could play a game of chance and possibly win a stuffed animal.
Along with Pappas is Savvas Kyriacou the parish council president, Sotris Sergiou, the festival chairman and Denise Galazzo the festival co-chair and numerous volunteers who sported the blue and white shirts signifying they were servers, cooks, and cashiers for the event.
  The church encourages all of its members to participate in service, outreach and improvement in their community as well as the global community "of which we are all part of" Rev. Pappas said.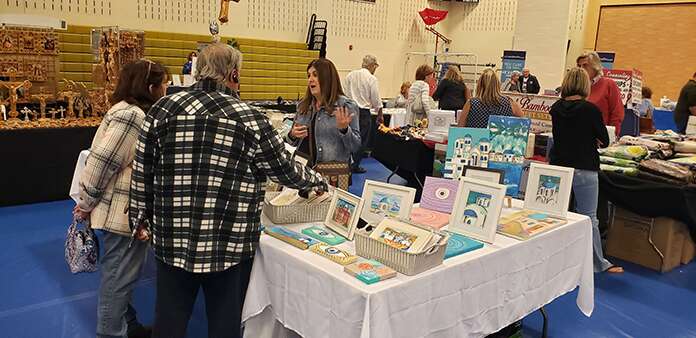 This year marked the 50th anniversary of the church founded in 1972. "The festival is about coming together as friends, having a good time and saying Efharisto' – thank you to our community for enabling us to continue supporting our youth projects, the development of our community and many charitable organizations within Toms River," Rev. Pappas added.