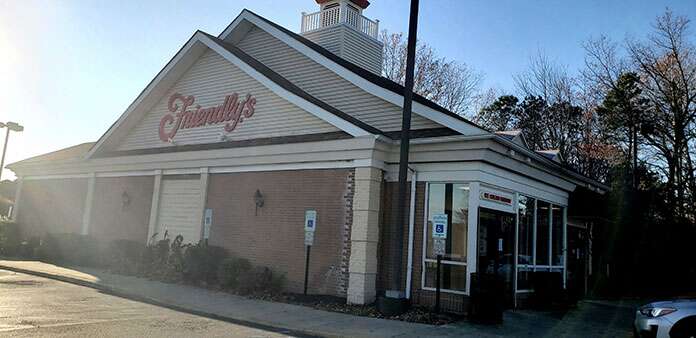 TOMS RIVER – Township resident Bob O'Keefe wanted some ice cream on a Tuesday afternoon so he stopped at a familiar location, the Friendly's on Route 37. The marquee sign advertised a free sundae with every "Happy Ending" menu item.
O'Keefe was disappointed because all he got was an ending. The long-time restaurant/ice cream parlor had closed its doors to the public a day earlier on November 21. Staff members were still working inside and referring those who stopped in to go to the nearest – and now only – Friendly's location in Ocean County, on Hooper Avenue in Toms River.
O'Keefe was a frequent patron of the Route 37 location. "I came for some ice cream. That's a shame. I knew the owner of Friendly's years ago. I worked for Rolls Royce Automobiles. The owner of this Friendly's came from Connecticut and he owned 12 Rolls Royce's. He was a very rich man.
"He offered me a franchise way back when he first started which I think was 1965. I met him at Teaneck when he opened up one there. When he opened up in Teaneck he was there and I looked at his Rolls Royce and I said I work for Rolls Royce and the company is right around the corner," he said as he sat in his car in the Friendly's parking lot.
  O'Keefe added, "we were talking and he said to me 'would you like to open up a franchise' but I told him I had four kids and it would be tough for me to make a change like that and I told him I was with a good company. I always loved their ice cream and their food and I never had a problem with them."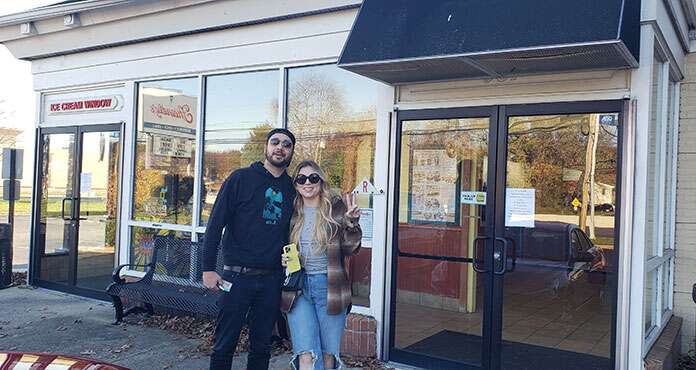 "If he was still alive this wouldn't have happened. He ran things with an iron fist and he was good."
The Friendly's that closed bordered Berkeley Township. The home of the Fribble and various specialty ice cream sundaes is down to one Ocean County location after closures in other areas of Toms River and Brick Township.
At one time there were four Friendly's restaurants in Toms River alone. Years ago, you could enjoy a club sandwich and a Fribble milkshake at a Friendly's inside the Ocean County Mall. Todd Walker remembers those days because he worked there at the time.
He and Annie Lederman live in Los Angeles but they returned for the holidays and stopped by for a dinner and a sweet treat only to make the same discovery that O'Keefe had made moments earlier.
"When I was a boy, I would come here all the time but I used to work at the one at the Ocean County Mall a long time ago," Walker told The Toms River Times.
"We are back for the holidays and he just got Lasik eye surgery and we wanted to enjoy a Friendly's. We wanted to come yesterday but his eye still hurt," Lederman said.
"We just missed it," Walker said in disappointment.
"We wanted to get some ice cream. I wanted a little cone hat," she said.
"Some waffle fries too," Walker added.
Lederman added, "I wanted a fried clam sandwich. They used to have those. We're sad but we're glad the one on Hooper Avenue is still open. We're going there now."
In years past a family could enjoy a shopping spree at Toys R' Us across from the Ocean County Mall on Hooper Avenue and then drive or walk a short distance to Friendly's in the same plaza.
That standalone Friendly's is still operating, unlike the Toys R' Us that closed its doors a few years ago. There was also a Main Street Toms River location but that was sold years ago and currently houses Shut Up and Eat, a restaurant where customers are encouraged to show up in their pajamas for a breakfast discount.
In a year where Ocean County residents have noted the closure of fixtures like the AMC movie theater at the Seacourt Pavilion and the shutdown of Joe Joe's Hotdogs on Route 37 which was replaced by Chomps that closed in less than a year, this closure is another blow to those who enjoyed some signature eateries and entertainment attractions in the area.
According to their corporate website, Friendly's only has 13 remaining locations in the state although one in Voorhees is classified as being temporarily closed while a Marlton location which reportedly closed in August, is still listed as being open.
The closures occurred after the chain filed for bankruptcy protection on several locations – most of which occurred in 2020. At that time managers faced the challenge of the COVID-19 pandemic and the loss of many of their employees.
  According to Fox Business, the chain was bought in January of 2021 by Amici Partners Group which added a "Sweet Rewards" program and new menu items to entice customers back and to improve business. JB Restaurant Partners however owns several of the area Friendly's restaurants including the one that just closed.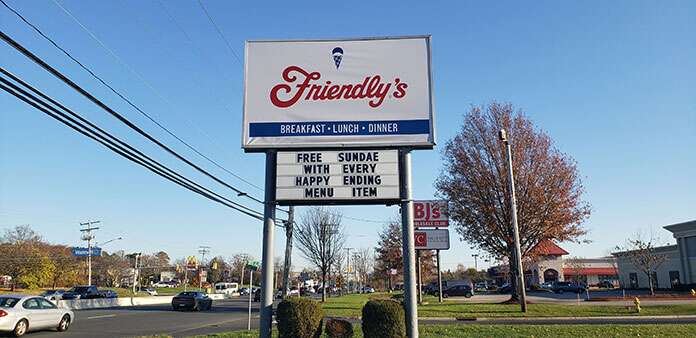 It was reported that employees only learned of the closure on November 21. Management present at the site would not confirm or deny that situation when they spoke to The Toms River Times. Management did however provide the phone number to Friendly's corporate office which connected to JB Restaurant Partners.
JB Restaurant Partners representative Joe Vitrano was contacted for a comment by The Toms River Times but at press time no response had been made.
The restaurant chain was founded in Springfield more than 80 years ago and includes 130 corporate-owned and franchised locations.
Friendly's ice cream products are also sold in super markets. The company also has an ice cream plant based in Wilbraham, Mass. which is now owned by the co-operative Dairy Farmers of America
Like many restaurants, during the pandemic, the now shuttered Toms River location on Route 37 had to close its interior restaurant for months but sold food and ice cream from the lobby area. That became a popular dessert stop for pickup orders.
The restaurant interior dining room eventually reopened for sit down meals. It also featured popular costumed characters each week prior to the pandemic for the enjoyment of children. Their presence was advertised on a marquee sign in front of the store and during the holidays, Santa Claus and other holiday characters were also known to stop by.