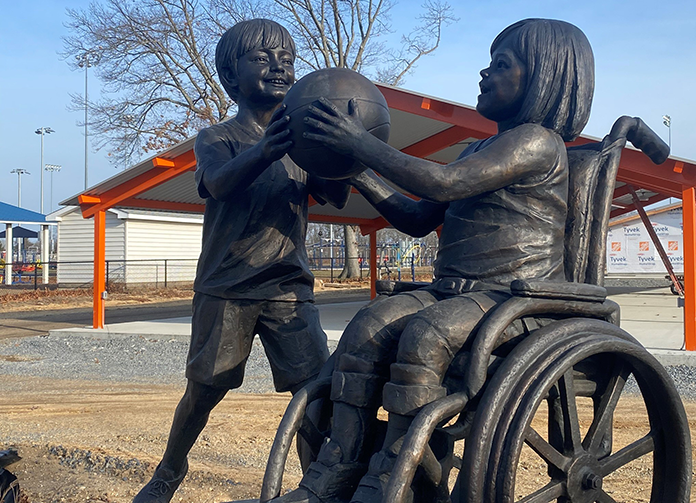 TOMS RIVER – To somewhat borrow a line from the "Field of Dreams" blockbuster hit, people will soon be coming to Toms River for reasons they can't even fathom.
Passersby to what was once a part of Bea Lea Park on North Bay Avenue may catch a glimpse of a new baseball field and not necessarily think of it as anything remarkable. A few yards away sits a bronze sculpture of a non-disabled boy passing off a basketball to a young girl in a wheelchair.
The two have everything to do with one another and begin to tell the story of the Toms River Field of Dreams – with a grand opening planned for April 30.
As far as the baseball field, it's actually quite extraordinary as its design allows people in wheelchairs to play a couple of innings with friends – with or without physical limitations. However, that's just a tiny part of what the new complex offers to the special needs community.
Handicapped spaces closest to the complex entrance far exceed the number of regular parking spots. Plans include a number of large special events that will undoubtedly create a tremendous demand for accessible parking spaces.
  A specially designed bocce court came at the suggestion of some of the local senior communities. Murals from 50 artists will soon line the walking path that also has workout equipment along the way. The basketball court, the playground, the mini-golf course all offer an opportunity for fun regardless of physical challenges.
There's even a trampoline that accommodates a wheelchair for kids of all ages to experience. In addition, two adjoining buildings that look like storage sheds open up to bring amusement games traditionally found on the boardwalk.
A corner behind the mini-golf course will include a three-sided pavilion with rubber seating around the perimeter. The area will serve as a quiet area and came at the suggestion of a mom with two autistic children.
Ongoing plans for the construction of the bathroom facilities includes far more than standard handicapped access. For example, changing tables will come equipped with lifts to make it easier for caregivers providing assistance to disabled adults and children.
The design of both the snack bar and pavilion also makes it easier for wheelchair access. The latter will accommodate everything from festivals to concerts to movie nights.
Christian Kane, a Toms River North math teacher, provided a personal tour of the complex. His eyes told a tale of pain mixed with determination as he explained both the inspiration and overall objective of the project.
  "This has never been done before," said Kane. "We are trying to educate people to understand what life is like when you have a special need. It can happen to anybody in a split second."
Kane spoke as the voice of experience as the father of a child severely injured when a beer truck rammed into the back of his vehicle. Now aged 11, his son Gavin was just 19 months old when the accident happened. He suffered a completely fractured skull, a traumatic brain injury, brain sheathing, and a right orbital fracture.
Most recently, Gavin underwent spinal fusion therapy. His dad said he's getting better.
"Gavin's now like Stephen Hawking," Kane shared. "He actually knows what's going on; he can read, he can laugh; he can do everything."
Meanwhile, neither Kane nor his wife Mary intended the Field of Dreams to be just about Gavin. One of the many colorful benches lining the walking path bears Gavin's name. However, when local artist Brian Hanlon created the beautiful bronze statue that will ultimately sit inside the complex, Gavin's parents declined the suggestion their son's likeness be part of it.
  Toms River Township actually owns the land where the complex is located and leases it to the Field of Dreams for just one dollar. The location itself is not mere happenstance.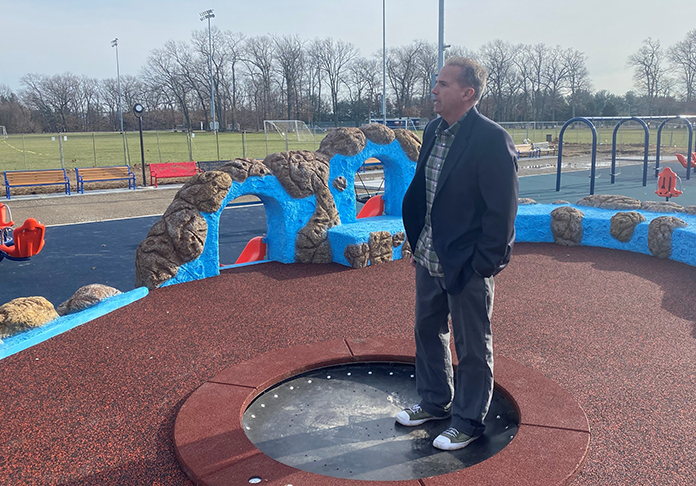 "I drive by where the accident happened every day," said Kane. "Building this here was basically to make my trip to work a little bit easier."
What started as just the ballfield in 2017 has evolved into an unimaginable dream. While Kane joked that he is just some crazy math teacher, his approach to getting the job done sounds a bit genius.
Rather than wait for special government grants, Kane took on major fundraising to accumulate over $3 million. The official name of the complex is RWJBarnabas Health Field of Dreams at the Ocean Orthopedics Associate Complex – crediting the major sponsors of the project.
Many of the benefactors to the project received naming rights as a result of their contributions. For example, the boardwalk games bear Lucky Leo's name. The snack bar is the Jersey Mike's Snack Shack.
The number of entities that have donated over $10,000 currently totals 47. However, others have stepped up to be part of the project or offered their services at reduced costs.
Inclusion plays a significant part in the operation of the Field of Dreams. Kane anticipates that each of the Toms River high schools will create their own Field of Dreams clubs. Students will have the opportunity to join in the fun as volunteers.
  "This basically gives the caretakers a break and they get to see their loved ones interact," Kane said. "It's also building a foundation for kids to see what a special need is – as it can happen to anyone in the blink of an eye."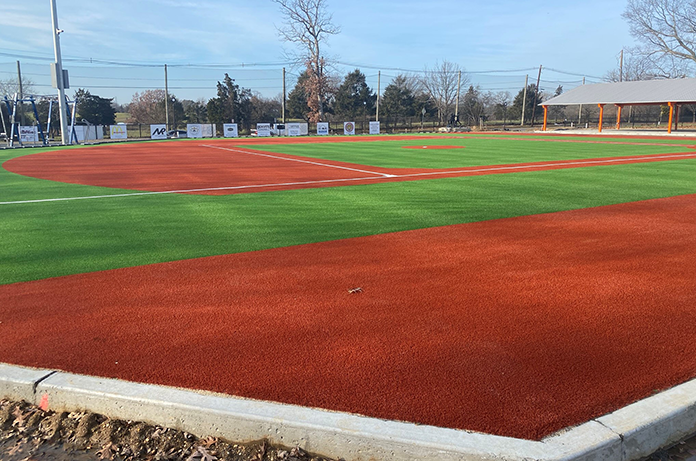 "We assume that once people see this, they are going to want to model after it," Kane shared. "There's no complex like this anywhere in the country altogether in one place."
  More information about the Field of Dreams project can be found here: tomsriverfieldofdreams.com.