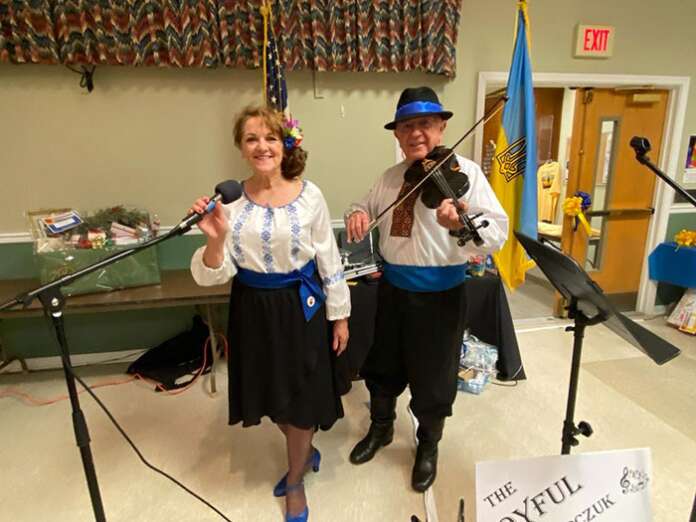 LAVALLETTE – A community effort packed Saint Pio Roman Catholic Church during a recent Saturday evening and raised around $45,000 for a good cause.
  Event coordinator Jack Sauer, a borough resident, was more than pleased with the capacity crowd turnout of 250 people for the benefit aimed at helping those uprooted from military attacks from Russia.
Sauer and his wife, April, spearheaded the fundraiser that had a ticket price of $50 per person and filled the parish hall. The event was actually sold out a week prior to when it took place. Jack Sauer described it as a "zero cost/100% benefit" fundraising dinner to assist with this massive humanitarian challenge.
He added, the committee that ran the larger fundraiser worked with "Saint Stephen Ukrainian Catholic Church in Toms River to deliver the funds raised via the church in Ukraine quickly and with no erosion of funds to corporate overhead."
He credited the event's success to the many generous donors made up of individuals, organizations and local businesses. Because of them, the fundraiser came at zero cost for "all food, materials and services. Every dollar will go to aid those who need it most. This was a grass roots, community driven effort and it wasn't just the Lavallette community that was involved but our broader community up and down the island as well as across the bay.
"In addition to the horrors that we see on the news every day, we believe that many in our community were also moved by the fact that we have a significant Ukrainian immigrant population in our area and that in past summers, many young Ukrainians have been a vital part of our seasonal economy," Jack Sauer added.
Borough Councilwoman Anita Zalom served on the organizing committee and said that the group had been meeting at least weekly since before the event was announced. She told The Toms River Times, "we had so many beautiful gift baskets prepared and carefully arranged a few days prior to the event."
"It was a great event. We had a couple who sang Ukrainian songs during the night," Zalom said, referring to "The Joyful Duo" performers Olek and Stasia Skrypczk.
"Our thought was to set the minimum donation request low enough so that anyone in our community could afford to join us for a deeply meaningful evening, even given the current burden of inflation," Jack Sauer said.
He said during the planning stage of the event that the committee's "fervent hope, given the magnitude of this humanitarian crisis, those who could do more, would do the most that they could."
And they did. Sauer said, "early ticket sales were averaging $120 by individuals who had the capacity and desire to do more."
He thanked those who provided donations of food including Mueller's Bakery of Bay Head, Castaway's Pub, Crabs Claw Restaurant, Little Mia's Pizzeria, Meg's Grill, the Ohana Grill, Lenny's Pizza and Italian Grill, Lava Java House of Lavallette, Dariusz Polish Deli of Toms River, Fumosa Bakery and Mia's Pizzeria and Café, Vito's Sandwiches and Specialties, the Acme of Ortley Beach, The German Butcher based in the Forked River section of Lacey Township, Klee's Bar and Grill of Seaside Heights, Lala Gourmet Cookies of Brick, The Saw Mill of Seaside Park and Patti's Kitchen in Normandy Beach.
Sauer added the Sunflower donors who provided a $1,000 donation or more included the Crabs Claw Inn, Faith Lutheran Church of Lavallette, The German Butcher, Lester Glenn Auto, Toms River, Pine Belt Subaru of Lakewood, Timothy E. Ryan Funerals Toms River and Lavallette, Schlosser Real Estate of Lavallette, The O'Shea Group Keller Williams Shore Properties of Ortley Beach and The Wickery of South Toms River.