TOMS RIVER – The luck of the Irish worked its magic as Washington Street overflowed with bright smiles at Toms River's Inaugural Irish Fest.
Organizers took a chance on unpredictable March weather before the regular emergence of spring sunshine to the area. Amazingly, the event came together with whimsical insight in less than a month.
The Downtown Toms River Business Improvement District ("BID") began closing off a portion of Washington Street on nice evenings and during special events. Word of mouth traditionally attracts locals and vacationers to join in festival fun, including the opportunity to enjoy food, drink, and entertainment outdoors.
"We've done an event each month and found the downtown nights out were quite successful last year," said Gary Morrison of Battle River Brewing. "Things usually don't start until May, and when we thought about it, we decided March was a great time for a St. Patty's Day event."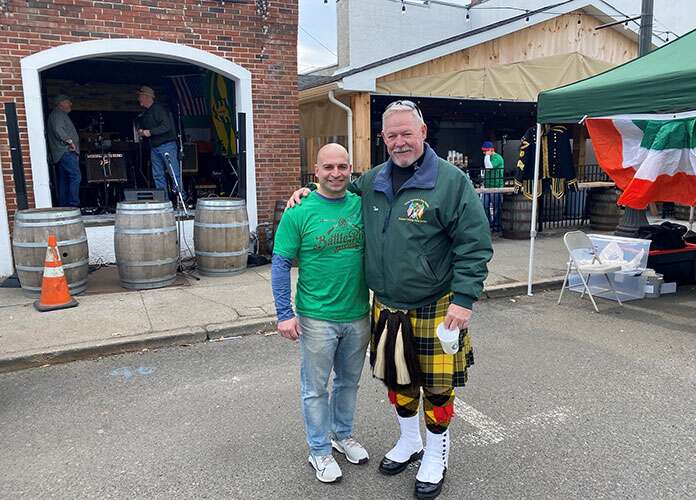 Morrison said he and other downtown business owners got together with Kim Dippolito, the BID's Marketing Director, and went to work. One of their first contacts had more than a few connections in planning local Celtic activities.
Thomas King, who serves as the Parade Chairman for the Ocean County St. Patrick's Day Parade, shared his role in planning the community's first Irish Fest.
"Gary asked for some advice in putting this together as a fundraiser," King said. "We guaranteed him the Ocean County Parade Committee would give him all the help he needed."
Legend has it that kissing the Blarney Stone instills one with the gift of persuasiveness. Whether King's ever embraced the tradition or not, he's well-skilled in getting things done quickly.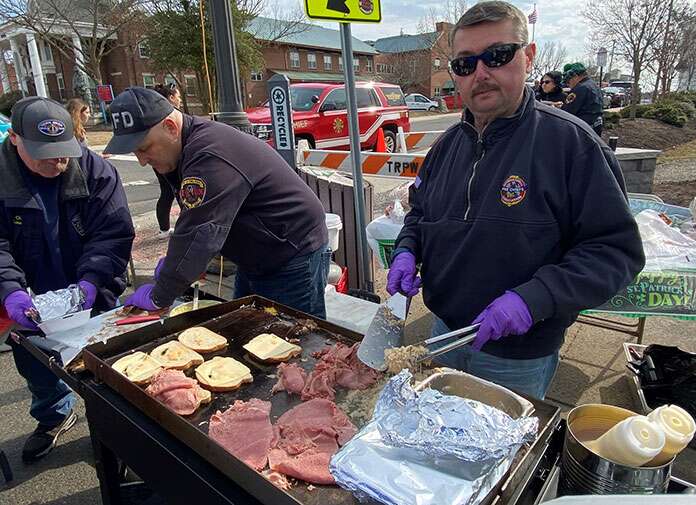 With just three weeks' notice, King arranged for fifteen vendors to offer a wide variety of products. People strolled down the street to pick up Irish-themed wares and other types of merchandise. Some buyers even got in on pre-sales for 2022 Ocean County St. Patrick's Day Parade commemorative shirts.
Toms River firefighters shot up their grills to offer corned beef and cabbage at one end of the Fest, while one restaurateur made sure to add bangers to their outdoor menu. Other local eateries designed special menus for those who preferred indoor dining. Even slices on pizza transformed to Irish fare for the day, with beer among the plentiful staples for the day.
Devotees of outdoor activities had the opportunity to engage in an off-beat game of targeted darts or try their hand at ax-hurling in a specially caged area.
The festival included a full afternoon of music, with performances from Ocean County's own Shamrock and Thistle Pipes and Drums and Ballyhaunis, an American and Irish band.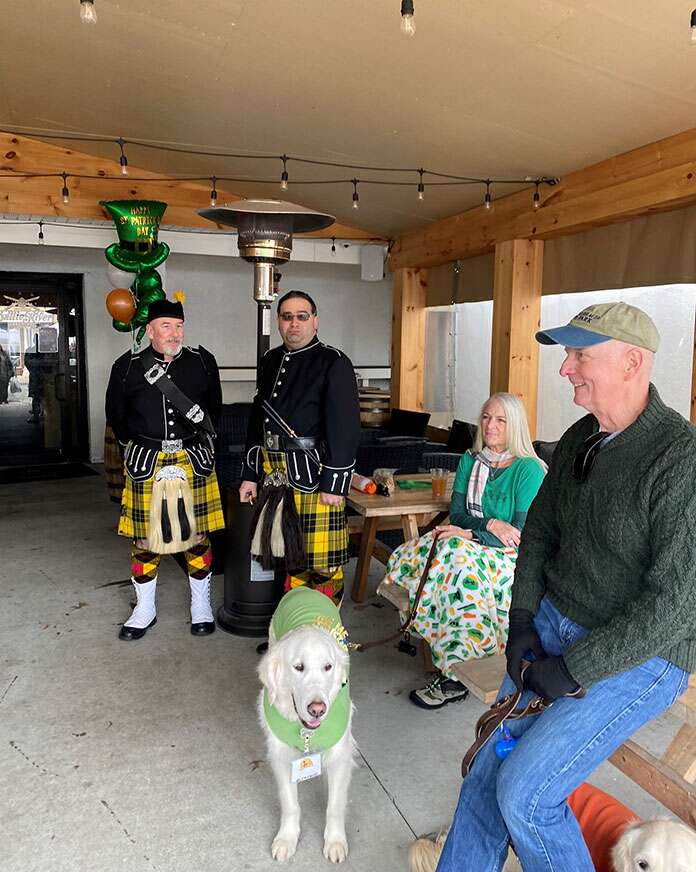 Attendees took to the streets in different shades of green as part of a tribute to the Emerald Isle or the green in the Irish flag. One lady laughed, joking she wore green to avoid any pinches from wayward leprechauns. Apparently, that's one of the fanciful stories that came when Irish folks immigrated to the states years ago.
Even a few pups donned festive green attire, while many gents outfitted in colorful plaid kilts strolled the block to add to the sights.
"I thought the event was outstanding, and that everyone had a great time," said Toms River Mayor Maurice "Mo" Hill. "Hopefully, it will become an annual St. Patrick's Day event."
More St. Patrick's Day celebrations continue this week in Ocean County. The parade itself begins at noon on Saturday, March 12, in Seaside Heights.
"We're dedicating this year's parade to first responders," shared King. "The cops, firemen, and EMTs have gone through a very bad situation for the past two years. We think it's important to show them how much we appreciate them."
The Ocean County Parade Committee marched for the first time in 1975. However, due to COVID-19 restrictions, they limited the parade to the boardwalk last year.
"We still wanted to do something to get the people out there," King said.