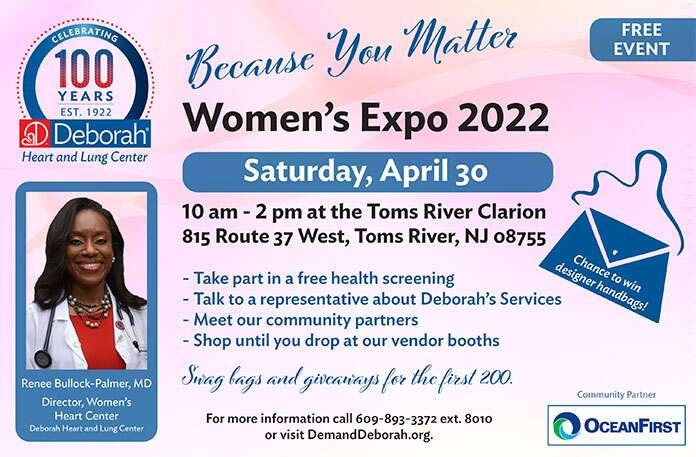 TOMS RIVER – "Because You Matter," Deborah Heart and Lung Center is hosting a Women's Health EXPO on Saturday, April 30 at the Toms River Clarion on Route 37 West from 10:00 a.m.-2:00 p.m.
The event features a full array of health, wellness, and fun activities. A wide range of complimentary health screenings will be available, including blood pressure, pulse oximetry, body fat analysis, sleep apnea, peripheral artery disease, lung and skin cancer, and hearing. As well, physicians and health professionals from Deborah Heart and Lung Center will be on hand to discuss test results, chat about any ongoing health concerns, and share information about nutrition, health, and wellness. The American Heart Association and the Ocean County Office of Senior Services will also be available with important community health resources.
EXPO participants will be able to shop over a dozen vendors offering the latest crafts, cosmetics, jewelry, and home goods; as well as enjoying a chair or arm/hand massage from therapists at the New Jersey School of Massage; a health cooking demo by Emmy award winning chef Christina Pirello; or try a Reiki demo with Reiki Master Mary Petto.
The first 200 visitors will receive a swag bag and giveaways, and all participants will have an opportunity to win a designer handbag.
"It is vitally important that we gather women together to focus on themselves," said Renee Bullock-Palmer, MD, Director of Deborah's Women's Heart Center. "Women often put themselves last on the list, but we want them to take some time out for themselves, pause and take stock of their physical and emotional health. We are so excited to bring this opportunity to Toms River."
The Women's Health EXPO is being supported by Event Sponsor Janssen Pharmaceuticals, and Community Partner OceanFirst Foundation. Additional support comes from premium partners Aristicare; Bayada Home Health Care; Hampton Behavioral Health Center; and the New Jersey School of Massage.
The Women's EXPO is Saturday, April 30, 2022, from 10:00 a.m.-2:00 p.m. at the Toms River Clarion, 815 Route 37 West, Toms River, NJ 08755. For more information, call 609-893-3372. Deborah will follow all required COVID-19 protocols in place at the time of the event.