Our Directory covers swimming pools, pool supplies, pool builders, pool opening and closing, spas, pool maintenance, hot tub sales, and service.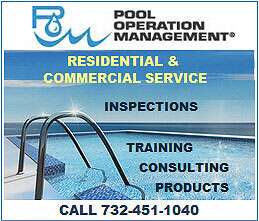 Showcased Listings
Gorlin Pools and Spas
684 Rt. 70
Lakehurst, NJ 08733
732-323-8200
Website: www.GorlinPools.com
Kinney Pools & Spas
2155 Route 88
Brick, NJ 08724
732-899-7060
Website: www.kinneypool.com
Paradise Pools & Spas NJ
The Backyard Place
515 Brick Blvd (Top Tomato Plaza)
Brick, NJ 08723
732-920-7727
Website: www.paradisepoolsandspasnj.com
Pool Operation Management
231 Chambersbridge Road, Unit C,
Brick, NJ 08723
732-451-1040
Website: www.pooloperationmanagement.com
Facebook: www.facebook.com/PoolOperationManagement
*To advertise in our affordable business directory, call 732-657-7344 ext. 206 or fill out our advertising form.
——————————————————-
Alphabetical Listings
Admiral Pool Service
Toms River, NJ
732-473-0888
Affordable Pool Service
10 Waldwick Court
Toms River, NJ 08757
732-240-9636
A&K Pool Service
632 Grinnell Ave
Toms River, NJ 08757
732-557-5066
Amazon Pools
Brick, NJ 08723
732- 330-4714
Aqua Pro Spas
225 Atlantic City Boulevard
Bayville, NJ 08721
732-237-2782
Aquarius Pools & Spas LLC
PO Box 473
Island Heights, NJ 08732
732-678-4566
At Home Recreation, LLC
1886 Route 88
Brick, NJ 08724
732-955-8288
Berkeley Pool & Spa
549 Route 9
Bayville, NJ 08721
732-269-8405
Blossom Pool Service & Supplies
642 Clifton Ave
Toms River, NJ 08753
732-505-1414
Buena Vista Pools & Spa, Inc
718 Bernice Court
Toms River, NJ 08753
732-281-6666
Carlton Pools
1740 Lakewood Rd (Route 9)
Toms River, NJ 08755
732-244-1359
CharNel Pools
649 Mantoloking Road
Brick, NJ 08723
732-477-8688
Christian Pools
968 Fischer Blvd
Toms River, NJ 08753
732-270-5400
Clear Water Pool & Spa
895 Royal Lane
Toms River, NJ 08753
732-288-2899
D Hudson Pool & Spa
Brick, NJ 08723
848-448-0077
Dover Vinyl Products
1746 Lakewood Road
Toms River, NJ 08755
732-244-1444
Evros Pools Inc
87 Nicole Dr
Brick, NJ 08724
732-785-5787
Fred Bott Pool Service
2266 Midway Ave
Toms River, NJ
848-333-7149
Gorlin Pools and Spas
684 Rt. 70
Lakehurst, NJ 08733
732-323-8200
Website: www.GorlinPools.com
Hot Tub Central
1770 Hooper Ave, unit 2
Toms River, NJ 08753
732-255-2200
Jersey Cover Corp
1746 Route 9
Toms River, NJ 08755
732-286-6300
Kinney Pools & Spas
2155 Route 88
Brick, NJ 08724
732-899-7060
Website: www.kinneypool.com
Leslie's Swimming Pool Supplies
10 Route 37 East
Toms River, NJ 08753
732-797-1770
Leslie's Swimming Pool Supply
1930 Route 88
Brick, NJ 08724
732-836-9585
Mirage Pool Service
33 Roberts Rd
Toms River, NJ 08755
732-779-2121
Nicholas Pools & Supplies
1820 Lakewood Rd (Rt 9)
Toms River, NJ 08755
732-505-0404
Offshore Pools
260 Brick Blvd
Brick, NJ 08723
732-477-7073
Omega Pool Structures
2091 Church Rd
Toms River, NJ 08753
732-255-0231
Paradise Pools & Spas NJ
The Backyard Place
515 Brick Blvd (Top Tomato Plaza)
Brick, NJ 08723
732-920-7727
Website: www.paradisepoolsandspasnj.com
Pool Butlers LLC
1820 Lakewood Rd
Toms River, NJ 08755
732-505-0404
Pool City Inc
1808 Route 37 East
Toms River, NJ 08753
732-506-6212
Pool Designs by Poolside
1580 Route 9
Toms River, NJ 08755
732-557-5599
Pool Helpers
1 S Main St, Ste 15
Toms River, NJ 08753
732-503-6302
Pool Operation Management
231 Chambersbridge Road, Unit C,
Brick, NJ 08723
732-451-1040
Website: www.pooloperationmanagement.com
Facebook: www.facebook.com/PoolOperationManagement
Pools Unlimited
57 Morning Glory Ct
Toms River, NJ 08755
732-244-3441
Poseidon Pools Construction
1889 Lakewood Rd (Rt 9), Unit 96
Toms River, NJ 08755
732-240-2080
Pyramid Pools
Toms River, NJ 08753
732-244-6263
Roc Solid Pool Cleaning
80 11th Street
Toms River, NJ 08753
732-600-3362
Scotty Bees Pool Service
802 Marbro Ave
Brick, NJ 08724
732-616-6151
See the Bottom Pool & Spa Service
Toms River, NJ 08753
732-818-1123
Shielded Pools
732-984-8152
Sonny Kuhl's Powerhouse Pool Service
44 Brand Road
Toms River, NJ 08753
732-421-5951
Specialized Pools
338 Mantoloking Road
Brick, NJ 08723
732-477-1311
Tiffani Pools & Spas
1837A Hooper Ave
Toms River, NJ  08753
732-279-0674
United Pool Service
516 Anchor Ave
Beachwood, NJ 08722
732-240-0086
Water Works Pool Service and Supply
212 Route 9
Pine Beach, NJ 08741
732-349-2837