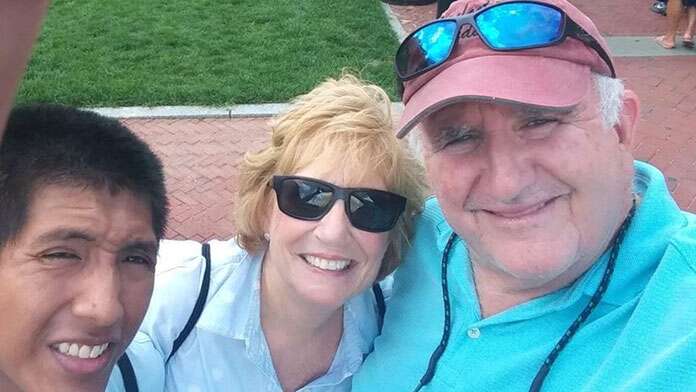 TOMS RIVER – How does the Bob Petruski Memorial Track and Field Complex sound?
It's time for the Toms River Regional Board of Education to honor the legendary Petruski, who coached Toms River High School East's girls cross country and indoor track and outdoor track and field teams to numerous championships.
The founder of what he dubbed the Lady Raider Track Factory, Petruski lost his battle to cancer. His obituary noted he reached life's finish line at the age of 71 on Friday, June 17, passing peacefully at his Waretown home.
  For the complex not to be named in his honor would be a shame. He was the Vince Lombardi, the Warren Wolf and Ken Frank of his beloved profession.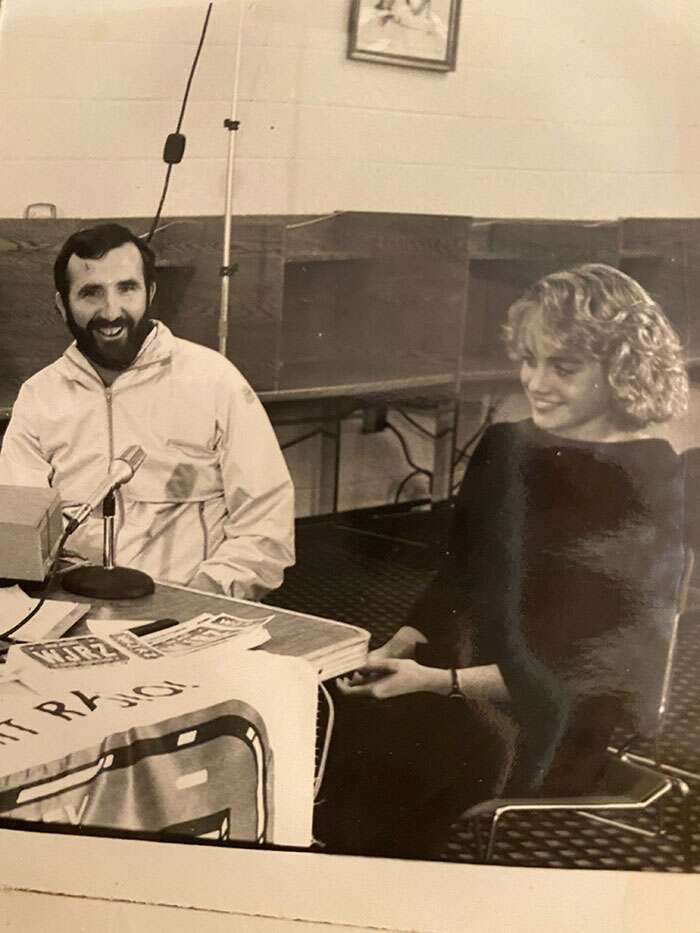 He coached the Raiders for 24 seasons. His 1982 Raiders were inducted into the Toms River Athletic Hall of Fame. Several years later, Petruski was inducted. From 1974 until his retirement in 2011, Petruski pursued a career in education, spending most of his years as the coordinator of TEAM (Together Everyone Achieves More), a peer education program, according to his obituary.
Following his retirement, Petruski became a New Jersey State Interscholastic Athletics Association track and field official.
"He and his son, Michael, enjoyed sharing the job's duties," the obituary said. "Petruski continued his passion for the sport by creating a running camp for children where he encouraged and inspired them to develop a love for the sport,"
Petruski was inducted into the Shore Coaches Hall of Fame this year.
He enjoyed traveling throughout the world and spending time with his family. He guided the Raiders to two NJSIAA Group IV state titles in cross country and two Group IV state championships in indoor track and field. He produced numerous individual champions.
Set aside two hours on a Saturday morning in early May when the weather theoretically will be at its best for a ceremony. Have his former athletes and students speak. Have his family members and colleagues speak.
Term the ceremony A Celebration of Bob Petruski.
Have Toms River Township artist Brian Hanlon unveil either a sculpture or drawing of Our Beloved Bob to take root at the complex. Either the sculpture or the drawing should contain Petruski's picture and coaching highlights. Hanlon produced a magnificent sculpture at the War Memorial at Bey Lea and his artistic touch would be a natural.
"YES!!!!!," the complex should be named for coach Petruski," said Kelly McDonnell-Phillips, the Raiders' former distance running queen who enjoyed success competing for Auburn University and in coaching at the collegiate level. "That man did everything for Toms River East and for Toms River running. He worked with people ages 5-50. He never stopped helping people get better as runners. More importantly, he helped runners grow as people."
McDonnell-Phillips, who perhaps would be the best speaker at a ceremony, said Petruski served as a role model on and off hill and dale and on the track.
"I don't think there is enough time to tell you how he touched my life," she said. "He was a father to me. He was my first gym teacher. He tried to get me to come out for cross country. I thought he was crazy and I felt I was way too cool for that. I'm pretty sure at one point he called me a punk and said something to the effect of, 'What? You're gonna keep hanging out with your burnout friends? You too cool to run?' I took on the challenge because he made me mad.
  "That man basically saved my life. Not sure where I would be without him."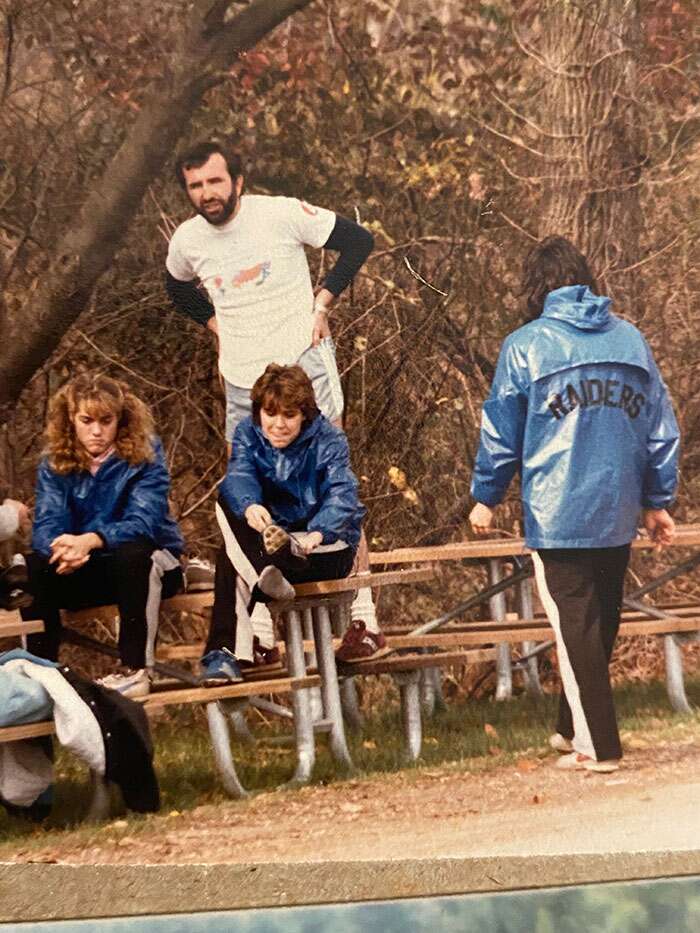 McDonnell-Phillips' career got off to a slow start. As a freshman, the 1986 East graduate was the Raiders' lone athlete to not receive a championship jacket. The team consisted of more than 30 athletes.
"I didn't get a jacket because I missed more than half of the meets as I was visiting my dad–or at least that was the lie I said so I didn't have to go," she said. "Well, he felt compelled to tell my mom why I didn't get a championship jacket. He said, 'I understand she has to go see her dad, but I have to be fair to the other kids on the team.' My mom said to him, What? Is that what she told you? She hasn't seen her dad in over a year!'
"Well, that was the last time I missed a meet because he would come pick me up and drop me off. I lived about 25-30 minutes from school so it was a lot of driving for Petruski."
McDonnell-Phillips said she stayed with the Petruski family for one month during her junior year at East. Petruski's wife tutored McDonnell-Phillips in History.
Petruski took me on some of my college visits and made sure I found a good school," McDonnell-Phillips said. "The coaching part was such a small part of what he did for me. I don't think I will ever be able to express how much he did for me."
"If the district named the complex after Bob, it would be an incredible honor," said retired Brick Township High School girls cross country and girls indoor and outdoor track and field coach Bill Mcuire. "And extremely well deserved."
The battles between the Raiders and McGuire's Green Dragons were the stuff of legend.
"Our coaching rivalry and relationships served to make us both better coaches," McGuire said. "I always felt that I needed to sharpen my focus and knowledge to compete with his. It probably propelled both of us to the achievements we shared. He handled the few losses like a true professional. He may have been disappointed, but it never affected his sportsmanship and friendship.
"Bob was successful in everything he put his effort into," he said. "The reasons are many, but some things come to mind immediately. His passion. His expertise and knowledge. His motivational skills. And certainly his devotion to his athletes. I always believed that our intense yet friendly rivalry was derived from our passions and our goals to be among the state's most successful teams. We just happened to be in the same division, Shore Conference Class A South, which of course sharpened the competition even more."
Despite the rivalry, Petruski and McGuire got along with each other.
"My relationship with Bob was always friendly," McGuire said. "We often conversed on the phone and we may have even revealed more than we should have as rival coaches, but that was always because of the respect we had for each other and our honesty."
  McDonnell-Phillips said Petruski was demanding during practices.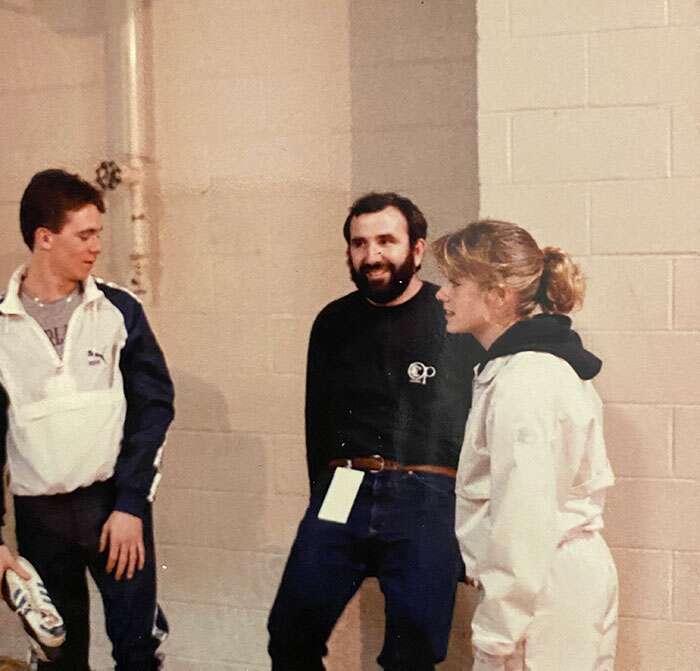 "Oh boy, where do I start?" she said. "They were hard, I mean at times really hard, but he never overtrained us. He pushed us physically and mentally. He made us believe and gave us self-confidence without us even knowing what was happening. When you got through his workouts, you felt so accomplished and knew that no race would be harder than what you did in practice."
Each Raider performed 100 pushups and 100 sit-ups after every practice.
"He instilled in us discipline and routine," McDonnell-Phillips said. "He used to play the song, 'Pressure,' by Billy Joel over the loudspeaker. Sometimes at our home meets we would all come out dressed exactly the same in lines of two and wouldn't talk. We had this intimidation factor and it was fantastic. We may not have had the most talented teams, but we had teams that worked hard, fought for each other and didn't know anything but winning. Petruski taught us that."
Petruski often put his cross country teams through workouts in the sand and water at ocean beaches in Seaside Park.
"We ran a lot in the sand and in the water and it was great!" McDonnell-Phillips said. "I believe it really kept us from getting hurt. We did a decent amount of barefoot running on the beach and I think it kept our feet really strong. I don't remember anyone having a stress fracture like you hear kids today get. Coach Petrusk was old school, but it worked!
"Fundamentals of running weren't really such a big thing in the 80s. We didn't think about how or why we did things. We just did it. Now that being said there were underlying things that we now call fundamentals. We did a lot of drills and plyometrics and sand running, but not necessarily weight training. However, we were strong. We did a lot of race strategy within our own team. Because we had such a big group, we always trained in large groups. You learned how to run when you were really close to people and maneuver through people, which really helped us as I got older and raced in college."
McDonnell-Phillips established 14 school records at Auburn. She earned All-American honors indoors at Auburn in the mile and outdoors in the 3,000 meters as a senior in 1991. She was the first middle-distance or distance runners to gain that distinction in program history. She earned her degree in marketing and spent the next two years as a graduate assistant with the Tigers.
She qualified for the 1992 and 1996 U.S, Olympic Trials at 1500 and sped to a gold medal in the 1995 Olympic Festival. She was fifth in the 1500 at the Pan American Games in Argentina. She enjoyed highly successful coaching careers at Florida State University, the University of Miami of Ohio, the University of South Florida and Purdue University.
"Coach Petrusk really set the tone for how and why I coached," said McDonnell-Phillips, 54, now enjoying family life in the San Diego suburb of Del Mar, a beach community. "I was tough at times with athletes and at times they resented it, but over time they always knew it was because I cared about them. Coach Petrusk was so successful because he cared about each and every person. While he loved to win, that's not why he did it. He didn't care if you were either the best or the worst person on the team. He treated everyone the same.
"Yelled at you when you needed to be yelled at and hugged you when you needed to be hugged. The Bob Petruski Experience as a whole was unforgettable. I hope I had half the impact on a runner or two that he had on me."
Petruski also coached at Toms River intermediate schools West and East.
"His personality was essentially the same in every endeavor that he entered," McGuire said. "He gave 100 percent commitment and effort."
Another man who should step to the podium is retired High School East head baseball coach and assistant football coach (defensive coordinator) and educator Ed Sarluca. They were East's first two physical education teachers. They knew each other for 43 years.
"We consistently stayed together with 15-20 mostly retired Toms River teachers during periodic breakfast meetings at the Four Seasons Diner near High School East," Sarluca said.
Petruski's teams were closely covered during the middle 1980s by Tom Benn, then the assistant sports editor of the Ocean County Observer in Toms River.
"I remember Bob as being very cooperative when I asked him questions," Benn said. "It was obvious to me that he knew he had a good bunch of girls running for him and he wanted the publicity for them rather than himself. I don't know how he trained his runners, but I saw that they knew and practiced the fundamentals of running. Of course, it helps to have had fillies like Kelly in your stable.
"Of course, I am saddened to hear of his passing. The constant memory I have of him was his determination to bring the most out of his girls and the joy he shared at their success. I think the honor of naming the complex in his honor is a no-brainer. It's appropriate."
McDonnell-Phillips attended Petruski's hall of fame induction.
"Petruski!, hall of fame," she recalled on her Facebook page. "I don't remember any of the championships or any of my times, but seeing this guy and all of my old teammates, WOW! A rush of great memories with some wonderful teammates."
Petruski's passing resulted in hundreds of positive messages on Facebook.
Ex-Toms River High School South athlete James Handscuch said of Petruski, "You made the world a better place for many individuals!"
"He was my first babysitter," Robert Fox said. "He used to hide in closets and scare us. Rest In Peace, coach. You will be missed."
"So sad …" said Paul Gerhauser, who played baseball under Frank at Toms River South, graduating in 1981. "He was my favorite teacher when I moved down here from North Jersey to attend Intermediate West … I'm heartbroken … such a wonderful person. Rest in Peace Always, Coach."
Highly protective of his cross country runners, Petruski tracked their progress on his black bicycle. A firm believer in his methods and opinions, Petruski often began his sentences with "Listen."
Petruski touched thousands of lives – including mine – with his outgoing personality and wit.
  Seeking to shed a few pounds, I took up long distance running. Enter Petruski, who furnished me with advice on training, nutrition, workouts and gear.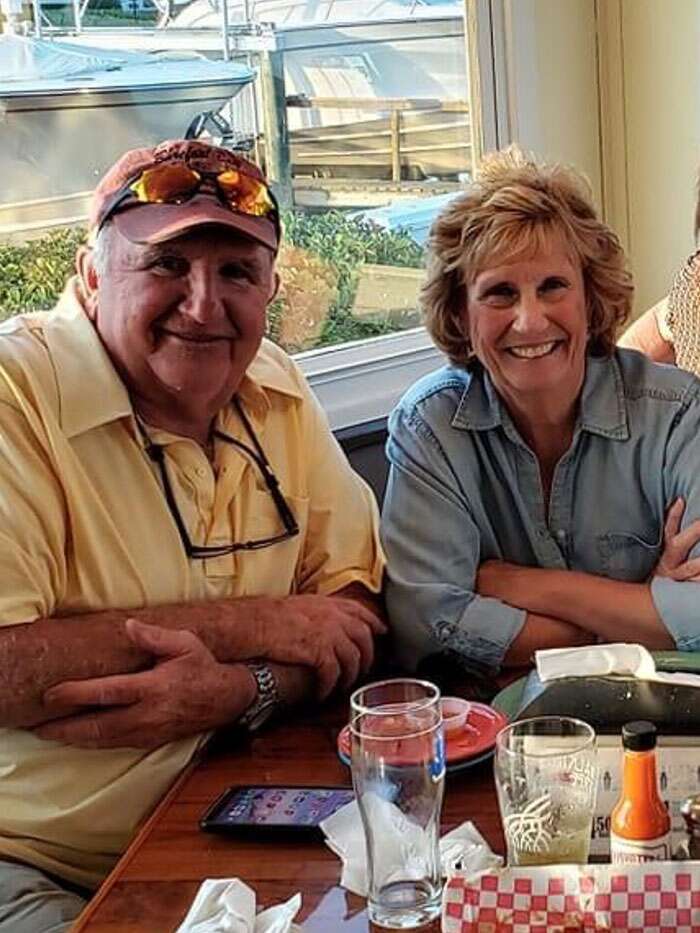 The two of us competed with hundreds of others in the Ocean Running Club-staged Seaside Half-Marathon, a 13.1-mile event that wound through Seaside Heights, Seaside Park, South Seaside Park and Island Beach State Park.
At the 11-mile mark in South Seaside Park, there was this voice.
"Christopher, it took me 11 miles to catch you, but now I am going to blow your doors off," Petruski said with his trademark smile as he sped past me.
Who greeted me with water and an orange at the finish line? Petruski, belovedly known as coach Petrusk.
Petruski was close friends with Point Pleasant Beach High School coach John Cancro, who owned a store, the Running Room, which sold equipment. Seeking to unload merchandise, Cancro utilized the basement of Petruski's home in Toms River. Numerous members of the running community scooped up the merchandise.
One piece of merchandise was a red, white and blue winter hat labeled Running Room. I bought the hat – only to lose it. The loss bothered me for many years. I informed Petruski of my loss and sure enough he furnished me with another hat, beaming as he presented it to me.
Born in Perth Amboy, Petruski at the age of six moved to Toms River where he spent most of his life. He graduated from Toms River High School (later known as Toms River High School South) in 1969. He competed in cross country and track for the Indians and earned varsity letters in both sports in which he earned Shore Conference recognition. He graduated with a degree in Health and Physical Education from Shepherd University in 1973. "'We are all devastated by Bob's passing," said Ted Gillen, the athletics director of the Toms River Regional School district and a former East and Penn State University soccer standout.