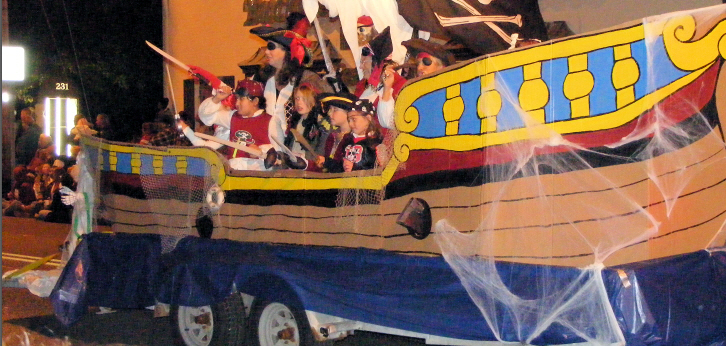 Toms River Halloween Parade - 2018
The Parade takes place on Wednesday, October 31st, 2018 at 7pm. Trick-or-Treat for Toms River happens on Tuesday, October 30th.
VIDEO LINK for live coverage.

Postponement Date: Thursday, November 1, 2018 at 7pm.

If you wish to MARCH in the Parade, you must Register. There is no pre-registration. All participants must register in person at the firehouse on Robbins St in Toms River. There is NO registration fee, however donations are welcomed. (GPS location of the fire house = 26 Robbins Street, Toms River, NJ 08753) Note that you must conform to Rules & Regulations.

Parade Route: Parade information and start location is at the Toms River Shopping Centre on the corner of Rt. 37 & Rt. 166 (Main Street). The Parade will travel down Main Street, turning left onto Washington Street and finishes at the corner of Washington Street & Hooper Ave.

Spectator/Participant Parking: It is suggested that you park at the Ocean County Parking Garage which is located on Madison Ave. between Hooper Ave. & Hadley Ave. Any vehicles parking on any side-streets off of Main Street MUST be 1,000 feet off the corner of the Parade and not blocking any driveways or fire hydrants. DO NOT PARK IN THE TOMS RIVER CENTRE. If you are in a group and can do so, please car pool to drop off spectators/participants.

This year is the 80th Halloween Parade hosted & sponsored by Toms River Volunteer Fire Co. #1.





------------------------------------------------------


External links on Toms River Online are made available to visitors for informational purposes. Toms River Online is not responsible for any consequences resulting from visiting (clicking on) external links.